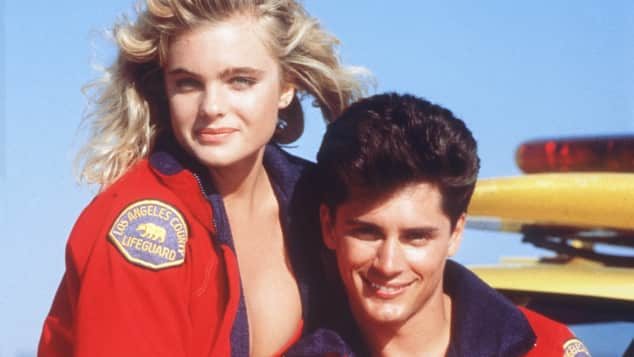 If you were thinking that Billy Warlock was born with his name, which would be kind of cool since it does sound at least a little impressive, you might be kind of disappointed since his birth name is William Alan Leming, which is kind of a far cry from the fearsome-sounding surname he took on eventually. His father's last name was Warlock however, and his father actually did stunt work for Kurt Russell apparently. It was also his father that helped to get him into the business since he helped him get a part as Robin Williams' stunt double for an episode back in 1980. It's not all that much to mention really but it's still something, a start if you will that helped him get into the swing of things and take a step in the right direction. Eventually he did go on to lead a fairly successful life on camera as he was one of the original cast members of Baywatch and lasted for three seasons. He even had his fair share of movie appearances, though by 2011 he was pretty much done and made his exit from show business. He did manage to get in on a few horror movies such as Society and Halloween II, but apart from this and Baywatch his career eventually turned into something that was moderate to not as memorable for a lot of people.
At this point in history there are likely to be some folks that could recite the full cast of the first season of Baywatch, but for those that just liked to watch the show for the shots of the women running down the beach and the guys in just their shorts and nothing else it's likely that many might not remember Billy since not only has it been a while, but Baywatch, despite reaching cult and even legendary status, has still become more or less a show that people are as apt to make fun of as remember with any fondness. When asked why he left after three seasons though Billy gave the same reason as Erika Eleniak, that they didn't like the direction the show was going in. A lot of people could be heard to say this in the past since the show did eventually change directions and a few people didn't like it while many thought it was just fine. For Billy though it was a chance to expand on his career and to push out in new directions that would allow him an opportunity to see what was out there and how it might benefit him from a professional standpoint.
On top of starring in movies he also made his way to the soap opera scene where he experienced a good deal of success as he became a recurring and even main character for a time. Angelica Acevedo of Insider has more on this. To say that he managed to keep up with those around him is fair, but to state that he became a character that would be remembered by the next few generations would be kind but not entirely accurate since at this point if anyone asked who Billy Warlock is there are likely to be some folks that would stand to attention and tell those that wanted to know, while there would be plenty of people that would look blankly at the person. This is unfortunately the stigma of being an actor that comes from a different decade, as there are plenty that started out in the 80s and 90s that are still remembered, but it's because they kept going, and their career became something of legend or at least gained them enough notoriety that made it possible for people to recall who they were and still are and why they're considered important to show business. Billy Warlock might still be remembered by diehard fans, but at this point trying to convince others of his importance would be an uphill climb that many people aren't willing to make. The truth of it though is that without actors such as Billy it's very likely that the stars that endure wouldn't be remembered as much since the load they would have to carry would be enormous, as folks like Billy take on the effort of backing up the stars and trying their own hand at being famous.
It doesn't always work, but thanks to the internet and to the memories and existing documentation it's obvious that the records are bound to remind people that folks like Billy were there and were important at one time in their own way. One thing you can say about Billy is that he did have a moderate to successful career, and it allowed him to remain a part of something that people still talk about to this day. While it's true that a lot of folks don't remember him it doesn't matter since he was there when it started and helped it to get off the ground.
Tell us what's wrong with this post? How could we improve it? :)
Let us improve this post!