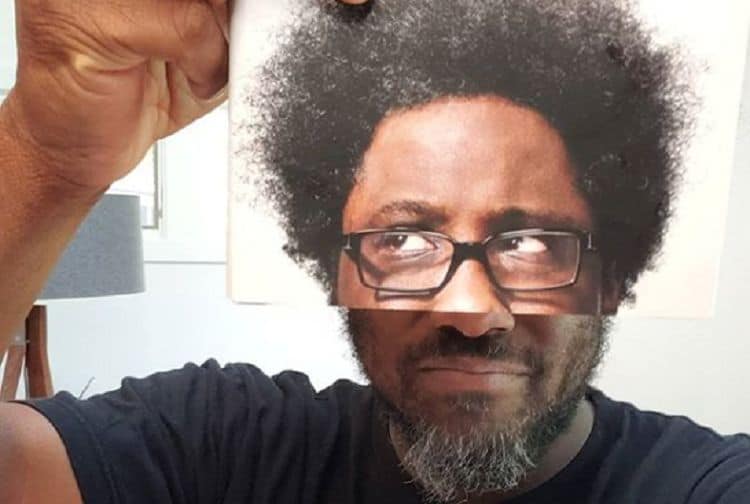 In the world of comedy, it can be tough to be funny and taken seriously as the same time. However, W. Kamau Bell (in case you were wondering, the W stands for Walter) has managed to do both. He has been a stand-up comedian for about 15 years. is work in comedy eventually led to other opportunities including having his own show called Totally Biased with W. Kamau Bell from 2012 to 2013. Since 2016, he has been best-known for hosting the CNN show, United Shades of America, where visits different parts of the country to discuss issues that impact their communities. Not only has W. Kamau established himself as a serious presence on CNN, but he's also seriously funny. Keep reading for 10 things you didn't know about W. Kamau Bell.
1. He Went To UPENN
If you've ever seen W. Kamau Bell on TV, it was probably very apparent that he's an intelligent person. Apparently, the Ivy League would agree. W. Kamau was accepted at the University of Pennsylvania and attended for two years before deciding to drop out. During an interview, he said, "Dropping out of Penn was mostly a result of me realizing I chose the wrong college. By my sophomore year, I realized I wanted to go more in the creative and liberal arts direction. I didn't want to be a businessman or a doctor or a lawyer. And at the time, Penn didn't really have a big theatre program or television and film department or anything like that."
2. He's Married
W. Kamau Bell has been happily married for over a decade. He and his wife, Melissa, met while W. Kamau was working on a project for one of Melissa's friends. Initially, the relationship raised a few eyebrows because Melissa is white. However, the two have always persevered through any challenges that have arisen.
3. He's An Author
After years of being a fixture on TV, W. Kamau decided that he wanted to take another approach to sharing his thoughts. In 2017, he released a book called The Awkward Thoughts of W. Kamau Bell: Tales of a 6′ 4″, African American, Heterosexual, Cisgender, Left-Leaning, Asthmatic, Black and Proud Blerd, Mama's Boy, Dad, and Stand-Up Comedian. As the title suggests, the book was all about W. Kamau's thoughts on various subjects.
4. He's An Emmy Award Winner
United Shades of America has been getting critical acclaim since its first season, and that is all thanks to W. Kamau Bell. His approach, personality, and humor have truly been what has set the show apart. His hard work has been recognized in the form of three Emmy Awards two for Outstanding Unstructured Reality Program (2017 and 2018) and one for Outstanding Host For A Reality Or Reality Competition Program (2018).
5. He's A Rage Against The Machine Fan
W. Kamau is a big music fan, and one of his favorite bands is Rage Against the Machine (RATM). The band is best-known for songs like "Killing in the Name" and "Bulls on Parade". Bell even started a comedy collective called Laughter Against the Machine which was presumably inspired by RATM.
6. He Enjoys Giving Back To Others
Throughout his career, W. Kamau has become well-known for being the type of person who likes to help others. He has been involved with several charitable organizations and has helped raise money for many causes including initiatives to support distance learning.
7. He Often Performs On College Campuses
Despite having a very busy schedule, W. Kamau still makes time to do public speaking appearances. He is particularly active in visiting colleges and universities all over the country. From 2017 to 2018, he was the artist-in-residence at Santa Clara University which is the school his wife attended.
8. He Got A Vasectomy
W. Kamau and his wife have three beautiful children. However, after their third child they knew they didn't want to have any more. After lots of discussing, he and his wife agreed that the best option would be for him to get a vasectomy. W. Kamau documented the technical elements of the process and also shared his feelings.
9. He Believes In Teaching His Children About The Impact Of Racism
Discussing racism may be a big part of W. Kamau's job, but it's also an important part of his personal life. Even though his children are young, he thinks it's important to teach his children about racism and the harm it can cause. Both W. Kamau and his wife believe that "all conversations" should be had in their home.
10. He's Been Involved In Several Podcasts
As his platform has continued to grow, W. Kamau has gotten more involved in the world of podcasting. He has hosted three podcasts: Kamau Right Now, Denzel Washington is the Greatest Actor of All Time, Period, and Politically Re-Active. He has also appeared as a guest on many more.
Tell us what's wrong with this post? How could we improve it? :)
Let us improve this post!