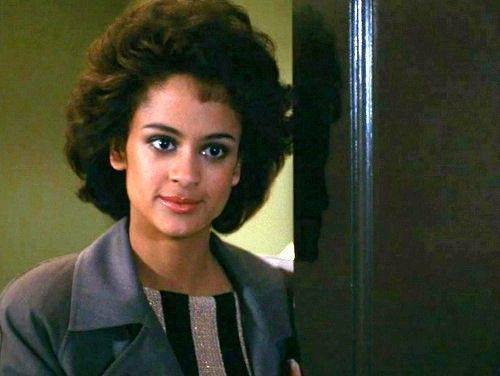 Some time back, someone asked to be updated on the cast of "In The Heat of The Night" since he loved the series so much. Some of the cast have died as per the response, but Anne-Marie Johnson is the only actress who has gone ahead to have a very successful career, mainly as a supporting actress in both film and television. Her most notable role was in "JAG," but for someone who is already approaching the legal retirement age, Anne-Marie is not ready to give up just yet on her acting career. She is active more than ever in going for auditions, so if you have not heard about or seen her lately, here is what you need to know about her.
Theater was her passion
Anne-Marie from an early age was passionate about theater, and in grade school, her primary focus was in musical theater. She even considers her time doing musical theater as her professional training though you should note that she went ahead to graduate with an acting and theater degree from UCLA. The actress still found herself being drawn to comedy, which she describes as her second nature; thus, transitioning into drama was not challenging for her. Her television debut was in the early 70s through a couple of episodes of "Homicide."
Anne-Marie is one of the few actors who can take pride in saying that they have never missed work or taken a hiatus from the acting world for any reason. Since her debut, the actress has been preoccupied almost every year with work ranging from a few to more than a dozen episodes. The first television series that put her name on the map has to be "Melrose Place," where she played Alycia Barnett for 14 episodes. However, the longest she has even been cast in a role is in "JAG" playing Rep, Bobbi Latham, for 18 episodes. All the same, by 1984, Anne-Marie described herself as a struggling actress according to her Wikipedia page. This was despite having starred in at least five series since getting her start in 1971
Making history
The actress has been very vocal about the rights of Black people, especially in the acting industry. She told Los Angeles Sentinel that back in 1995, a Californian proposition was raised to do away with affirmative action; hence she was asked to speak against that initiative. Her work attracted the SAG; therefore she joined the committee, and she said that is when she found her voice in speaking against discrimination. However, racial discrimination was not new to the actress.
Although she said that Silver Lake has a very different reputation currently, when she was growing up, it was still not a very friendly place. In 2018, a woman claimed that she and her friends were escorted out of a local restaurant, Hyperion Public, because they were screaming too loudly and offending the rest of the guests. According to the claimant, they were the only people of color hence the conclusion that it was a discrimination case. Anne-Marie added that now even the LGBT community is being discriminated against; they are forced to move out of the neighborhood, especially if they did not buy homes.
To her, the racism is something she is accustomed to since she grew up in Silver Lake, and her family experienced discrimination in every sense of the word. Still, that did not stop her father from becoming an active member of the Silver Lake community. It is that childhood experience that saw the actress also become an activist. Her fight for justice paid off, and in 1997, she became the first Black vice president of The Screen Actors Guild, and in her last letter as the vice president, Anne-Marie said that she knew some people would be happy that she was leaving. However, she does not regret holding the position since her four terms in office were the most rewarding yet challenging moments in her professional life.
What is she doing now?
Even though she retired from SAG as the vice-president, Anne-Marie is still very active in speaking out against those who are racist. In 2017 as reported on The Grapevine, she said she was not shocked that Bill Maher was comfortable in using the "n" word when referring to black people. However, she asked him to take a break from using the word and learn its history since he clearly did not understand the significance. She added that despite his use of the word, she knew Bill would not face any repercussions, which must be a disappointment to the actress who is against such racial slurs.
The actress is also not ready to venture into anything else apart from acting despite her age. She knows that once you are past a certain age, especially as a woman, being considered for a role is hard. Therefore when she auditioned for "The InBetween" and booked a role, she could only shed tears of joy. The funny thing is that she had auditioned for a recurring guest role, but she ended up being booked for a main cast role, Lt. Swanstrom.
As she told Tell-Take TV, Anne-Marie auditions all the time but that was the second time she had booked a character that she had not auditioned for, and it meant a lot. She did not even read the entire script to know she would accept the role because, with a father who was a cop, she could not pass on the opportunity to play a policewoman. Her efforts have also paid off through her most recent roles in "Cherish The Day" and "How To Get Away With Murder." Unlike Reese Witherspoon, who was rejected for a role for being too old yet she was at the time only 37, Anne-Marie Johnson is 60 and still making waves in the acting industry.