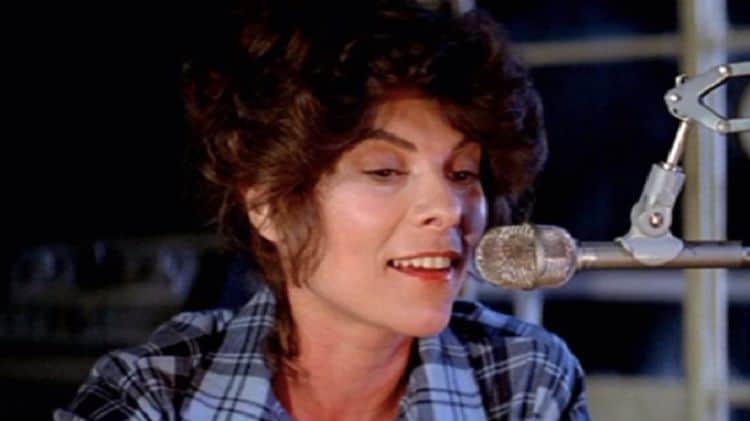 It's kind of interesting to note that Adrienne Barbeau really caught the acting bug while performing in front of the troops on several army bases when she was younger, but after that she took to it as though she'd been born to it and never looked back. If you recall her face then it's likely that you've seen her in one of many movies and TV shows since she does leave an impression depending on what her character is like. In The Fog, the original, not the failed attempt at a remake, she played DJ Stevie Wayne, who was separated from her son when the deadly fog rolled into town, bringing with it the revenants of the Elizabeth Dane, who were looking for vengeance from so long ago when their ship had been sent to the ocean floor, killing every last one of them. Adrienne's behavior and attitude tend to change with each character she plays just enough to make that character believable and it's like night and day sometimes since she can go from being charming and witty to downright horrible and absolutely nasty as she was in Creepshow. If anyone remembers that particular movie was, for the most part, pretty campy, but there were moments that were hard not to cheer for even if a person had to cheer for the monster or the bad guy and feel guilty about it later. I didn't, did you?
In Creepshow she was reunited with Hal Holbrook, who starred as Father Malone in The Fog, and played the part of his obnoxious wife Wilma ("Call me Billy, everybody does!") who couldn't stop haranguing her poor husband Henry and was just all-around nasty. In fact it got to the point that we were able to witness dream sequences in which Henry managed to kill Wilma a couple of times and was congratulated at least once in his daydream. Wilma met her end at the hands, or claws, of the thing in The Crate, a supposed monster that could have been a yeti or something similar, but was nasty as all get out and had a temper on it that was second to none. The fact that the creature ate three human beings, Wilma included, was kind of funny since one would think that it's crate would have started to reek at some point. Out of all of her appearances, and there have been a lot, that was likely one of the most fun since it really pushed her acting to a limit that demanded a great deal and made her look like a total witch with a capital B.
She was also seen in Escape from New York, but without trying to insult anyone, her part was kind of hit and miss since the main part of the action was centered on Kurt Russell, though Maggie did manage to stand her ground right before she was mowed down near the end. One fun thing about watching Adrienne on the screen is that she can switch from warm and caring to icy cold in a matter of seconds since she's one of those actors that's able to convey more with a single look than many can do with an entire monologue. While a lot of people don't remember her name probably it's still fun to think that a lot of them might know who she is if one were to speak of a certain role that they might remember. I've said it many times but I'll continue to preach it, that's the type of actor that sticks in your mind since they create a part that people care about enough to remember and therefore will carry around with them for one reason or another. It could be that they relate to the character, they find them amusing, inspirational, or somehow just unnerving enough that they can't get them out of their head. Whatever reason they keep that memory around, people are usually able to bring it back without too much trouble so long as they're given a basis as to why the memory is important. Adrienne is the type of actress you never forget entirely since, without any insult to the woman, she's not the hottest female that's ever graced the screen, but she does have an 'it' factor that is evident in her acting and yes, she is still pretty good-looking without trying to stack her up against any other starlet. It might be cliche or over-used, but watching her on screen there's an authority, a type of dignity to her, that some women just don't have on screen, as she doesn't have to trade on her looks as much and can actually get the job done through sheer acting talent.
As of now she's still active and still doing what she loves, though she's leaned heavier into the TV scene at this point throughout the years.