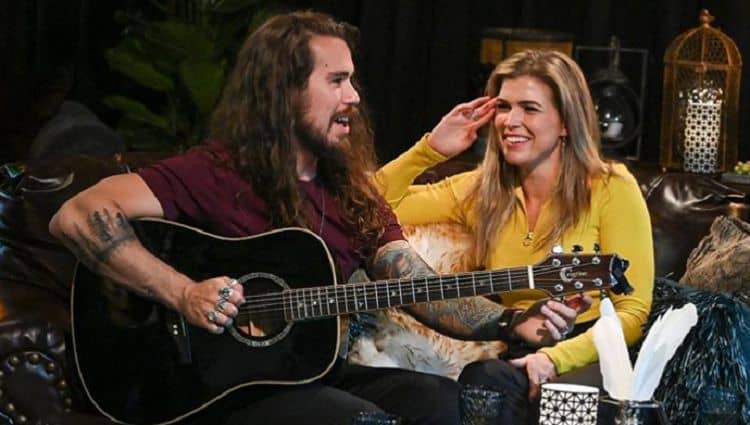 Sheridan Reed is a contestant on the reality TV show Bachelor: Listen To Your Heart. He is a musician currently living in Texas who plays the guitar and provides vocals for the songs that he has written. Here are ten things about him that you may not know.
1. He Was Born In California
He was born in the Sacramento area of California and some of his family still live here. A lot of people assume he was born and bred in Texas but this is not the case. He attended school and college in California, and only moved to Texas after he graduated. He remains very close to his family, but he is so busy that he does not get to see them as often as he would like.
2. His Dad And Brother Helped Him Learn To Play Guitar
His father bought him his first guitar and taught him how to play some basic chords. His older brother also used to teach him and help him practice. He has said that his brother was one of his inspirations when first getting involved in music, taking the time to teach him particular songs. His brother also gave him some of his guitars that he no longer used, including the one that he played in his first band.
3. He Won A Local Singing Competition When He Was Sixteen
When he was sixteen years old he won a local singing competition. He then went on to form a band while he was still in high school. Winning the competition was one of the first things that happened to make him realize he could make a career out of music. He was in bands in high school and throughout college but ultimately made the decision to become a solo artist when he moved to Texas.
4. He Lives In His Car When Going On Tour
He has toured around the United States on several occasions, but he has not always had a big budget for travel. There have been occasions where he has saved money on this by living in his car. According to the Bachelor Nation Fandom site, his car is called Sheila. All of the tours that he has carried out so far have been self-funded and so he has relied on Sheila to get him and his equipment to all the places he has been performing.
5. His First International Performance Was In Paris
The first time that he performed internationally was in Paris in January 2020. This was a big moment for him in his career and he hoped that it was the start of him becoming a more recognized artist internationally. Unfortunately, he was unable to really capitalize on this because many upcoming performances had to be canceled due to the Covid-19 pandemic. However, he still finds himself in a better position than many other artists because of his appearance on Bachelor, which will generate interest in his music.
6. Covid-19 Stopped Him Performing At His First SXSW Festival
He was due to play at the SXSW Festival before the event had to be canceled due to the Covid-19 pandemic. The festival should have gone ahead in March 2020 and it is the first time in the festival's history that it has been canceled. There is some hope that the event could still go ahead later in the year, and so he could still yet get to perform. Although it is disappointing for him not to appear, he understands the reasons why the festival was canceled and is hopeful that it won't be too long before he makes his debut here.
7. He Doesn't Like To Do Music Admin At Home
He enjoys chilling out and home and playing the guitar, but he won't do any of his music admin in his house. The Reality TV reports that he believes his home is for relaxing. In an Instagram post that is featured on the website, he reveals that he did not buy a desk when he moved into his new house. He also explained that he spends a lot of his time with his laptop in coffee shops doing all his music admin so that he can keep his home life separate.
8. He Has Spent Some Time Traveling
Before he was part of Bachelor Listen To Your Heart, he took some time out to travel around the world. There are many photos on Instagram of the things that he experienced during this time. He speaks about how grateful he is that he had the opportunity to do this, and it is something that he reflects back on regularly. He explains that it is sometimes hard for him to process everything that happens to him while it is still happening, and it is only afterwards that he can look back and think about the lessons that he has learned.
9. He Only Uses Microfiber Towels On His Hair
One of the most noticeable features that Sheridan has is his long mane of curly hair. If you have curly hair, then you will know that it can take a lot of looking after. His secret is to only use microfiber towels to dry his hair after it has been washed. Microfiber towels are good for curly hair because they do not create any friction which could lead the hair to become frizzy. Using these towels allows him to keep his hair looking good without having to spend much time on it.
10. His Music Is Available On Most Streaming Sites
His music has been heavily influenced by his time in Texas, and it does have a country feel to it. He describes the style of music that he creates as pop soul, as he explained to Mid TN Music. You will find his music available on all the most popular streaming sites including Spotify, Amazon Music and Apple Music. As fans hear him perform on Bachelor Listen To Your Heart, the music that he has already released is likely to become much more popular.
Tell us what's wrong with this post? How could we improve it? :)
Let us improve this post!