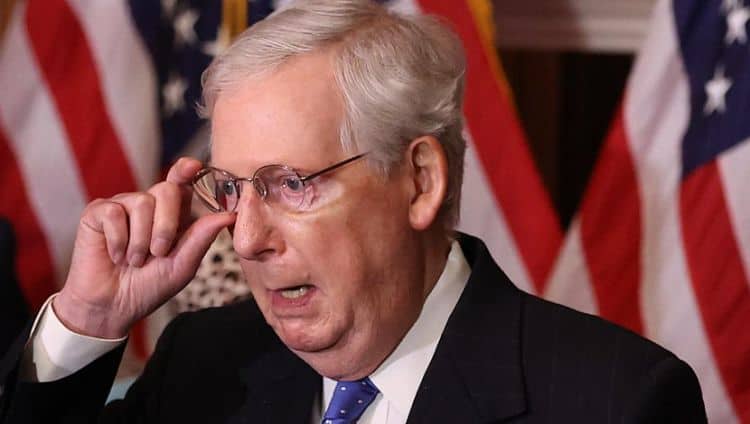 Mitch McConnell has been working in politics for more than 50 years, and over that time he's been a part of several history making moments. Recently, however, he's been getting more attention than ever before. In the wake of the 2020 election, McConnell has become a polarizing figure. His stance on president Trump as well as COVID relief has resulted in him spending lots of time in the headlines. While many conservatives still stand by him, liberals are ready to see him out of office. Regardless of how you feel about him and his politics, however, there's no denying the fact that his story would definitely make for a good movie.
Whether a biopic of his own or a supporting character in someone else's, Mitch will definitely make it to the big screen one day. With that being said, the question of who would play him is an interesting one. While there are lots of great actors who could probably do a nice job of bringing his story to life, we've narrowed the list down to 5. Keep reading for 5 actors who should play Mitch McConnell in a movie.
1. Richard Gere
In real life, Richard Gere probably doesn't subscribe to the same politics as Mitch McConnell, but that doesn't mean that he couldn't do a great job with the role. Richard has been acting for almost as long as Mitch McConnell has been in politics which means he definitely has the experience to take on such a big role. If you're a movie fan, you've probably seen Richard Gere in at least one project you really love. On top of that, Richard has proven that he's capable of playing a wide variety of characters, and that versatility would certainly come in handy when playing someone like McConnell. Gere also has experience playing real-life figures which means he has a solid understanding of what's at stake when re-telling real stories. In recent years, Richard has been focused more on Indie projects, but an opportunity like this could be the perfect re-introduction.
2. Sean Penn
Sean Penn is the type of star who can do a little bit of everything. From acting, to writing, to directing Sean brings a variety of skills to every project he works on. Needless to say, he could bring a wealth of things to the portrayal of Mitch McConnell. Playing someone like Mitch McConnell would be an interesting change of pace for Penn and it would be cool to see how he puts his personal touches on the opportunity. Plus, having a two-time Academy Award winner is always a great way to get people interested in a project.
3. Colin Firth
Colin Firth may not have been born in the United States, but that doesn't make him any less qualified to play this famed American politician. Over the course of Colin's career, he has worked hard to establish himself as one of the industry's top talents, and he's done exactly that. He has made dozens of on screen appearances over the years and he's also found a great deal of success on the stage. No matter what kind of role he's playing, he always brings a high level of professionalism and skill. Additionally, Colin has played real people on several occasions and he's always risen to the occasion. Having him play the role of Mitch McConnell would ensure an unforgettable performance and might even earn Colin a major award.
4. Bill Murray
I know, Bill Murray is probably the last person you expected to see on this list, but hear me out. Sure, Murray is best-known for playing comedic roles, but this would be an incredible opportunity for him to show his range. Although there are some people who are aware of Murray's immense talent, there are still some people who could use a crash course in just how versatile he is. What better way to show the world than playing someone like Mitch McConnell? Now that Bill is in his 70s, he can afford to take more risks with the roles he chooses and this could be the perfect risk for him to take. To top it off, Bill Murray is another actor who is no stranger to playing real life characters.
5. Dennis Quad
Dennis Quad is another actor who some people may be surprised to see on this list, but I think people would be pleasantly surprised with his portrayal of Mitch McConnell. He brings a certain level of seriousness to the screen that could really be a great match for Mitch McConnell's story. Like other people on the list, Dennis also has experience doing behind the scenes work. Dennis has never been nominated for an Academy Award, but an opportunity like this could be exactly what he needs to earn that recognition.