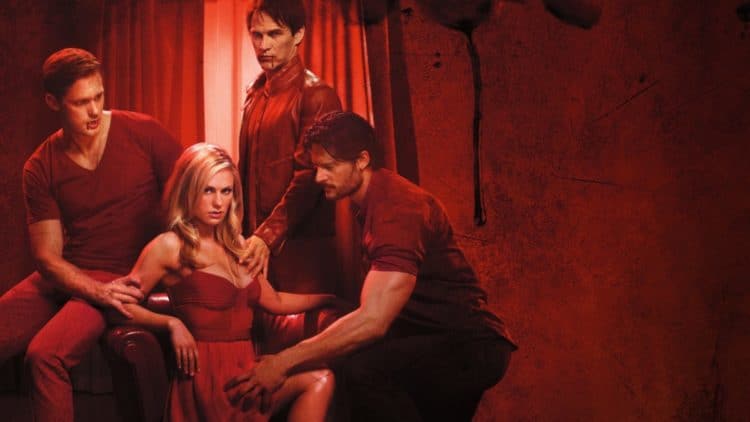 True Blood is more or less a hypothetical look at what could be possible if the world was turned on its ear and movie monsters were real and had decided, in part, that they could coexist with humans. It seems like things would be a lot more peaceful in some ways, but much more dangerous in others. The cast of this show almost all had stable and successful careers before being selected for their roles, but after the show was over it was interesting to see what direction a lot of them decided to go in. Considering that this show enjoyed a good deal of attention when it came out and was one of the more talked about series it's easy to assume that folks would like to know just where their favorite actors wound up.
Here's the low down on what happened with the cast.
Carrie Preston – Arlene Fowler
Carrie hasn't really slowed down since the show stopped airing as she's been prevalent in film and TV, making herself known in various roles that have managed to keep her career alive and allowed her to thrive as she continues to push forward. She's also taken up the director's chair for a few projects and gone back to the stage at least once or twice in order to keep herself busy and possibly entertained.
Nelsan Ellis – Lafayette Reynolds
Ellis did keep busy after the show and was in such films as The Reluctant Fundamentalist and The Stanford Prison Experiment. He was also prominent in TV as well. Unfortunately he passed away in 2017 after experiencing heart failure that was brought on by alcohol withdrawal. He'd been trying to quit and had done so only days before his passing.
Chris Bauer – Andy Bellefleur
Chris is one of those guys that pops up now and again and then seems to disappear from the public eye for a while. He's been acting since the show but you might not notice him or you might now and again since he seems to blend into the cast until the time comes for him to be prominent character. As supporting characters go he's pretty good at what he does.
Ryan Kwanten – Jason Stackhouse
As someone that's had a nice long career before reaching True Blood Ryan has managed to keep himself pretty busy and no doubt knows the ins and outs of TV shows by now. He's currently starring on The Oath, but has been staying pretty busy since True Blood concluded. He's been in several movies since then and appeared on a few different shows but until The Oath it didn't seem like anything really stuck.
Sam Trammell – Sam Merlotte
Trammell has been in a couple of movies that really pegged him as the kind of star you'll remember, as he starred in The Fault in Our Stars and I Am Wrath. He was also in the TV shows Training Day and This Is Us, which adds a lot to his credit since simply being affiliated with such shows is enough to get a person to remember him. His schedule's been pretty booked though before, during, and after the show to be honest.
Stephen Moyer – Bill Compton
Stephen Moyer is one of the few actors that really seemed to climb for the heights after his role in True Blood. Not only did he get a main role in The Bastard Executioner and get to star in The Gifted, as well as a role in Concussion, he also married costar Anna Paquin and had two children, fraternal twins with his wife. The two are still together and he's still pretty busy with his career, so it seems that he might have struck a jackpot when it comes to life.
Anna Paquin – Sookie Stackhouse
You probably remember Anna best from She's All That and the X-Men movies but she's been pretty busy throughout her career both before and after True Blood. Her TV credits aren't nearly as extensive as her film credits, but she's made a healthy career for herself. She has two stepchildren that came with her husband from a different marriage and has made a life for herself and her family thus far, proving that she's more than a one-hit wonder and is someone that deserves a great deal of credit in life and in show business.
True Blood was definitely a different kind of vampire show in that it brought the idea of vampires and humans living peacefully with one another in one respect while keeping the old hatreds and prejudices at the same time. It was one of those shows that people either loved or didn't care about though, as the reaction of the average person could have swung either way. For those that loved it and watched every episode however it was something unique and quite entertaining. If people could have it back it seems safe to assume they'd welcome the show with open arms.