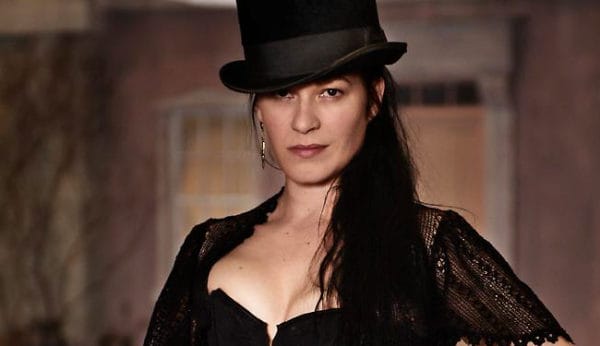 TNT has always had the pulse of American comedy on check, and 2017's release of Claws proved just as much. Claws is about a group of manicurists hustling against the gritty landscape of South Florida. Who knew the nail salon could be so absurdly entertaining? The show is full of interesting characters that only a plot like that could provide, and one of those characters is Zlata Ostrovsky. Zlata is new to the series this second season and is being portrayed by familiar German actress Franka Potente. Although she just started, she's already climbing the ranks of favorite Claws characters ever. Here are 10 reasons why we love Zlata Ostrovsky so much.
1. She's the black sheep of the family.
This one is a bit of a conundrum because we can't think of any reasons why a Russian mob family would even have a black sheep. It could be that Zlata is the worst of the mob; we'll probably find out more as the season goes.
2. She equates feminism to toughness.
She's probably the most feminine member of organized crime, and she makes it look easy and look good. Zlata is definitely tough as nails–no pun intended–but she's just as girly as the girl next door could be, at least when she wants to.
3. She's fashionably tacky.
Whoever's dressing Zlata up must be completely colorblind. We're kidding, of course. But most can probably agree that her fashion sense is definitely something to get used to. We can easily call it tacky, but it's so over the top that it's almost borderline original and dare we say it, fabulous. No doubt she's got expensive tastes as well.
4. She doesn't take no for an answer.
It just goes with her whole personality and characterization. With her sister Riva's death, she's now taken to the helms to run the show. She's definitely got a different style of management, and it's a refreshing take compared to the way Riva ran things in a matter-of-fact way. Zlata is so much more animated and upbeat; we can't help but follow her along.
5. She's got layers underneath.
We already know that she's got a crazy personality, but underneath it all is logic at work. There's much to expect from this character, and we think that she's letting on a lot less than what's actually going on in her brain. Most black sheep of the family are the smartest anyway. We think the same is the case for Zlata, and we think she's much smarter than she's appearing to be.
6. She's got the Hussers in the palm of her hands.
We already don't like Roller to begin with. As a matter of fact, we're not big fans of the Hussers altogether. It was quite interesting and amazing to see how easily Zlata let the Hussers know that she was in charge of the show and no one else.
7. She's authored a book.
The Kremlin Konnection might not be the next best seller, but it definitely has plenty of tips in there that might make sense for the world that Zlata lives in. The book might not make sense for the rest of us, but we can probably guarantee some form of entertainment. Either way, just the fact that she has a book and audiobook to promote is not lost on us.
8. She has no problem giving money away.
We know she probably has tons of it, but Zlata is not the type to do anything without reason. So when she passed out envelopes full of money, we knew it couldn't have just been out of the goodness of her heart–even though that's what she's claiming. The point is Zlata has no problem spending that kind of money towards whatever it may be she's got in mind.
9. She's got it in for Desna.
We know that there's something more there, but Zlata has taken interest to Desna for some reason. Desna's pushing back for now, but we're not sure where all of this is leading. For now, we know that Zlata either has plans for Desna or she's up to something more sinister. Whatever it may be, for now we feel as if she's really on Desna's side.
10. She's a cold-blooded killer.
She killed her sister at point-blank range with no warnings or hesitations. We believe it's safe to say that Zlata will kill anyone that gets in her way. If she can kill family, Zlata is probably capable of killing anyone.