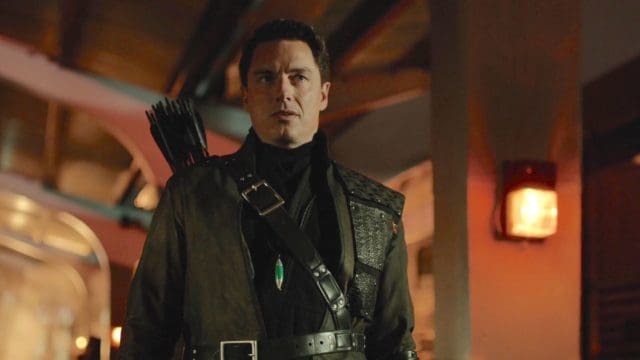 While highly popular superhero shows like Arrow have been known to feature up-and-coming young actors, they have also relied on the skills of seasoned veterans. One such actor is the highly decorated John Barrowman. Barrowman portrayed Malcolm Merlyn in Arrow and crossover series like The Flash and DC's Legends of Tomorrow. However, he recently announced his departure from the role.
This fan-favorite character was just one role in a long and highly successful career that Barrowman has enjoyed. Young fans who have only gotten to know him for his work on Arrow may not appreciate the incredible success he has had across a wide variety of media. He is one of the few actors who has had a life which is just as interesting as his characters'. Here are five of the most interesting facts about this accomplished actor, writer, and musician.
5. He owes much of his success to his teachers
Many actors are told in their youth to give up their foolish dreams of making it big in Hollywood. For some, this can be quite stifling for their creativity. Others, like Barrowman, were lucky enough to see tremendous support from role models as they grew up. His teachers in high school recognized his talent and encouraged him to pursue performance arts. As well, he was even placed in a program for gifted students to accelerate his education.
Ultimately, this led to post-secondary education. Barrowman studied performing arts at the United States International University after graduating high school. Fans of his characters therefore can thank his teachers for helping him realize his passion.
4. John Barrowman Net Worth
Barrowman may have emerged as a popular actor with young fans of comic book shows in the past several years, but his career has seen great success for many years. As such, it is no surprise that he has earned a considerable fortune. In 2017, his net worth is estimated to be around $4 million.
While this impressive sum has been largely earned through acting, he has also seen great success in other fields as well. Despite his departure from Arrow, there is no doubt that he will continue to thrive in the entertainment industry for years to come.
3. He has a distinguished theater career
Barrowman has seen remarkable success in film and television, with a filmography that dates back to the 1980s. However, his initial acting work was actually on stage instead of screen. He has had an incredible career in theater, landing lead roles in Broadway and West End productions. Some of his most notable performances include roles in Miss Saigon, The Phantom of the Opera, and The Fix, for which he was nominated for the Laurence Olivier Award for Best Actor in a Musical.
2. He is a talented musician
In addition to acting, Barrowman has also had a storied career as a musician. He has released quite a few albums as a solo artist dating back to the early 1990s. Some of his most notable work includes Reflections From Broadway, Aspects of Lloyd Webber, and Music, Music, Music. It is quite remarkable that someone with such a decorated acting career not only has the talent to be a successful musician, but also the drive and work ethic.
1. Uses his status to help others
As an actor, musician, author, and television host, Barrowman is clearly an exceptionally busy individual. However, he still manages to find time to help others. While he has supported several causes, his most notable activism has been for gay rights.
As a gay man himself, Barrowman understands firsthand how discrimination and homophobia can affect a person. Since achieving fame and fortune, he has fought so that others do not have to experience this type of abuse. Some of his most important work has been with Stonewall, a UK-based gay rights organization. He has also given speeches and attended events in order to raise awareness for the cause.
Final Thoughts
Barrowman's career has been filled with so much success it is difficult to encapsulate in a single article. While his departure from Arrow may be disappointing to fans, he will undoubtedly land a high profile role in the near future. As well, fans who know him only for his recent work may be surprised to learn that he is also a successful musician, author, and host. Despite his wealth of talent, Barrowman still finds time to help those who are marginalized and mistreated. He is one of the rare stars whose real life may be more exciting than the characters he portrays on screen.