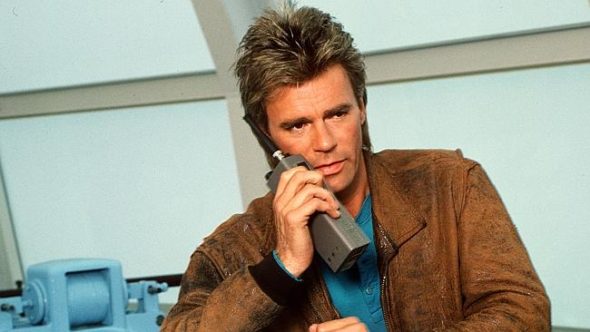 You either grew up with MacGyver or your parents simply loved watching him since the guy was just amazing. He could do pretty much anything with almost nothing. Give MacGyver a paperclip and a wad of gum, and maybe a rubberband, and he'd be able to do the impossible. So many people loved watching this show that it was eventually brought back, though at this point it doesn't seem as though the show is getting as much love as it used to. After all for a while this was one of the most beloved shows on TV and no one was ashamed to say that they had serious crush on Richard Dean Anderson. The guy was simply amazing after all since he did things that others wouldn't even think of and got out of tough scrapes that would easily kill anyone else. There was rarely a bind that MacGyver couldn't get out of, and so long as he had the right tools, which would look hopeless to most other people, he was unstoppable.
What happened to the cast though?
Michael Des Barres – Murdoc
After Miami Vice, MacGyver was the next show in line for Michael as he took on the role of Murdoc with great aplomb. From that point on he started showing up in various shows as a guest star and he even managed to show up for the next MacGyver series when it started up. He's had a moderately successful career as he's been a musician as well as an actor. A lot of people might have forgotten about him, but for the most part he helped to make the show what it was.
Elyssa Davalos – Nikki Carpenter
Elyssa had a rather modest career in both movies and TV and managed to guest star in several shows. She ended up retiring in 2007 and at this point there's really no knowledge of what she's been up to. It could have been she'd just grown tired of the business and wanted to spend more time with her family.
Robin Mossley – Wilt
It looks like Mossley did a lot of guest star roles after the show and worked behind the scenes a bit too. It's not really surprising that people from the show would either choose to take on other career paths or simply retire, as at this point in their career it would seem more amenable to work your way up or simply get out and spend some time with loved ones and enjoy yourself.
Bruce McGill – Jack Dalton
McGill, who's famous for his part as D-Day in Animal House, has been in numerous films and managed to find his way onto several shows as a guest star in his time. He's one of the most noticeable supporting actors around simply because he is so very good at what he does. He got to come back for the remake of MacGyver but he's also been busy doing his own thing as well. He's taken a year off here and there it seems but most of the time he's been on the go and constantly attached to one project or another.
Dana Elcar – Pete Thornton
Elcar had a long and very successful run as an actor but around 1991 developed glaucoma. Eventually he would go on to play the role of the blind man in a couple of different productions. He retired from acting in 2002 and passed away in 2005 from pneumonia.
Richard Dean Anderson – MacGyver
Strange enough out of all of the main cast members Richard had a much more modest career path than some. He started out on a soap opera and gradually moved his way forward, acting in sitcoms until he finally got the part of MacGyver. A lot of people would probably remember him more for the role of MacGyver than anything else, though eventually he went on to star in the TV series of Stargate. As of 2013 it kind of seems as though he's decided to take a long, extended break from filming, as he hasn't been seen back since.
Some of the older actors managed to get a spot on the new MacGyver show and others might have declined or not even been asked. But it's almost guaranteed that the newest show likely isn't quite the same no matter how much they try to recreate it. The only issue with bringing shows back at all is that attempts to make it just as great or better tend to flop even if the acting and the special effects are all in sync. It's the feel of the show as it was originally made that gets the fans and that makes them believe in it. There are probably a lot of folks that tend to like the newest MacGyver, but there are likely to be those that roll their eyes and think that they've seen it before.