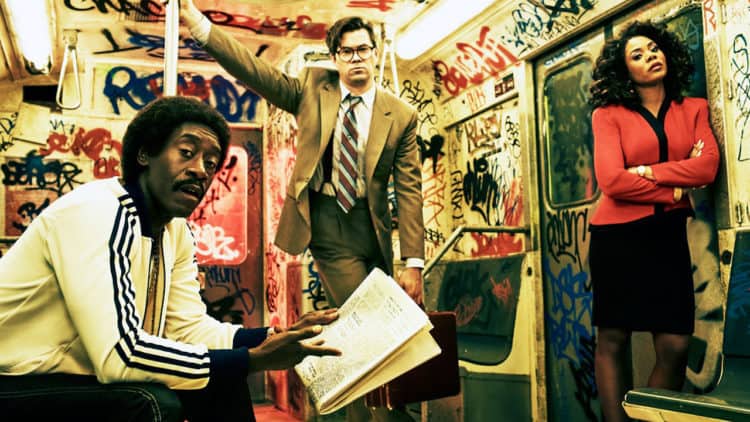 Black Monday was a waking nightmare for a lot of people on Wall Street back in 1987 as it heralded one of the worst plummets in the stock market since the crash of 1929. People were absolutely losing their minds during this time as they saw their stocks fall and their fortunes dwindle away to nothing in less time than it had taken anyone to amass the kind of wealth they'd enjoyed up to that point. Investors from all walks of life were devastated, and the brokers had almost no idea what to do since they were caught at ground zero and had to figure out how to simply survive. The show is geared to be a comedy, which means that it's not only coming from a different angle but is attempting to put a different spin on things so as to give a bit of levity rather than just hammer the idea of how depressing a time this was for so many people.
Here are a few reasons why you should check Black Monday out.
10. It's an entirely different lifestyle unto itself.
The stock market isn't as difficult as people make it out to be, provided that you know how to work with it, how to get into it, and how to understand it. A lot of folks don't pay a lot of attention to the market and as a result it becomes an entirely new culture to those that simply can't wrap their heads around it.
9. It does give people an inkling of what the stock market is about.
This is the wisdom of such shows as they tend to guide people along and give them the basics and break down some of the more difficult concepts so that the average viewer doesn't feel so overwhelmed by the overflow of data that's coming at them.
8. The show gives an entirely different perspective on Black Monday.
It does make you realize that there wasn't just one universal view of this particular day and that there were many people affected by it in many different ways. By showing something other than what people might expect the program gives them a unique look from another point of view.
7. The Wolf of Wall Street touched on the event but didn't go into full detail.
One thing a person has to remember is that the movie did go into the effects of Black Monday but then moved on with Jordan's story as it was designed to do. The whole snippet about Black Monday was there and gone within a few minutes. This show explores it in more detail.
6. Black Monday is hard for a lot of people in this era to fully understand.
The last big recession we had was nowhere near as bad, in the minds of many, as Black Monday. A lot of those born after the 80s or even in the 2000s have absolutely no idea why it was so significant and why it was such a hard time for so many.
5. The show puts together a cast that is less than elite but still works.
Don Cheadle and Regina Hall are big players but it would seem like the rest of the cast are basically those that have the skills to be in the show but aren't considered among the elite that would make people notice it just a bit more. But for all that it still works as a show considering that the leads are easily noticeable.
4. It puts a lighter spin on the crash that happened back in those days.
Black Monday and the days following were a very depressing time in American history as a lot of people lost a lot of money. But this show is aimed at showing a comedic side to the whole thing that some might argue is kind of hard to do but is still the goal of the program.
3. Don Cheadle hasn't been seen on TV all that often lately.
Quite honestly he's been off doing one movie or another for so long that it's kind of good to see him back on the small screen again for a little bit since he can excel pretty much anywhere he goes. Hopefully this show will go well for him and everyone else.
2. The show is about challenging and upsetting the status quo.
In the show's description it goes into how Cheadle's group is going to be contending against the well-established bluebloods that have been able to use Wall Street as their personal playground for so long. It should be an interesting show for this if nothing else.
1. Black Monday was a very significant moment in history.
Because of this the show should be able to gain enough prominence to be considered as one of the better programs on TV at the moment.
It should be interesting no matter what.