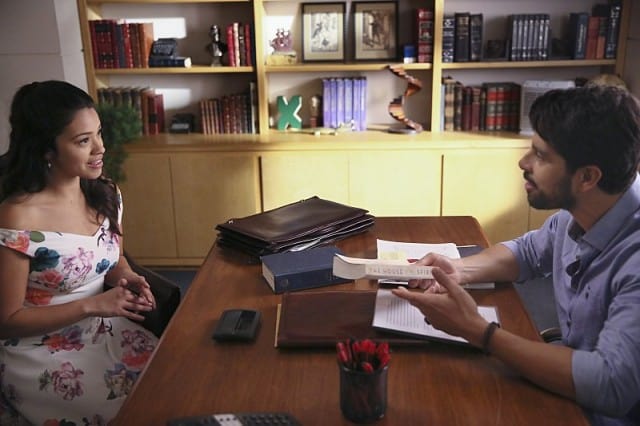 This week's Jane the Virgin was filled with enough "oooh's" and "aaaah's" to melt the heart, and it's not even Valentine's Day yet. Despite last week's upsetting cliffhanger, everyone actually ended this week on a high note.
Rogelio is still upset with Liliana for lying to him about how long she knew about his father's hidden sexuality. Xiomara, on the other hand, is overjoyed that Rogelio's mother did something wrong and got caught for it. Liliana makes a valid point though. She and her husband may not have been a conventional married couple, but she relied on him to be her partner nonetheless. During a long conversation with his father, Rogelio accepts that it is time for his parents to go their separate ways. With his father moving in with his boyfriend, Liliana needs a new purpose in her life. So Rogelio decides to rehire his mother as his manager, to Xiomara's horror. Rogelio immediately regrets this decision with Liliana starts micromanaging his set according to her standards. Before she drives away his entire staff, Rogelio realizes he has to fire his mother. Liliana hides her pain, and for once Xiomara feels sorry for her. Xiomara actually tries to make it seem like firing Liliana was her idea, but she knows the truth. It actually brings them closer, so much so that Liliana gives Rogelio his blessing, and a gorgeous ring, to give to Xiomara!
Jane finally gets going on a fantastic thesis. Jane is also overjoyed when Mateo starts to crawl, until he doesn't stop when he reaching her computer cord. Let me do the math for you: crawling baby + electronics + open liquid = deader than dead computer. Lena realizes her friend needs to have some fun, so she sets Jane up on a blind date. It goes disastrously, and hurts Rafael a little bit, but Lena's logic actually has some merit here. Jane explores the online profile Lena made her on a whim, and actually finds a nice guy to go out for coffee with. Unfortunately Jane thinks like a Mom and not a 24-year old, so she comes off as clingy. Once again it's Lena to the rescue! She takes our girl out for some fun, which is also what Jane's professor suggested to get her mind off her now non-existent thesis. So have fun Jane does, and she ends up making out with a hot skateboard riding tech guy. Unfortunately, he has a girlfriend. All of this makes Jane realize that she's not a date-to-date person, she's a relationship person. For better or for worse, Jane needs to be picky and lay all her cards out on the table. I'm not sure how fantasizing about her graduate advisor qualifies, but he's hot, smart, and into literature, so who cares?
Truly the person having the worst week is Rafael. Petra is put on bedrest for a week and she drives everyone away who tries to help her. So Rafael puts on his "Good Baby Daddy" hat and watches over Petra himself. He doesn't understand Petra's demanding attitude, until she tells him she's worried she'll have a miscarriage like the last time she was pregnant. Somehow saying it out loud helps, as does picking out names with Rafael for their baby girls. It helps Rafael to know that he is not going to be anything like his parents.
Upon realizing that his mother is a criminal mastermind, Rafael and Michael have some explaining to do. Elena was looking for the flash drive with all of Sin Rostro's criminal contacts on them. You'll recall that in the season premiere, Michael illegally traded that flash drive to Nadine in order to get a kidnapped Mateo back. Nadine was supposed to give the flash drive to Sin Rostro, but she was killed before she could. Now knowing all of this, Michael feels doubly obligated to honor Nadine's memory by getting his hands on the flash drive. He goes over the last day he had with Nadine over and over again in his mind, until he realizes that she trusted him more than he knew. Nadine hid the flash drive in Michael's skin after she purposely cut him with a broken beer bottle. How did he not feel that?
Things are beginning to look up in the love department in time for the biggest day of love all year round!
Tell us what's wrong with this post? How could we improve it? :)
Let us improve this post!