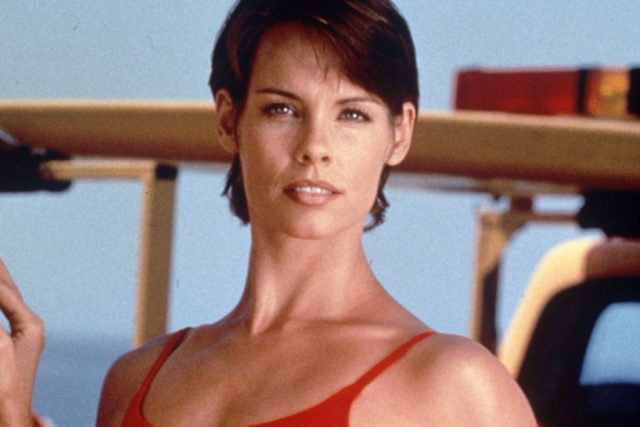 Not everyone gets to be the megastar on the shows that made them famous, but in Paul's case she was already a known woman in the film and TV industry before she put on her bathing suit. In comparison to the other women of Baywatch she didn't have the big chest, the over the top exotic looks, or even the distinction of being a bombshell. In fact she got overlooked quite a bit on the show in favor of women such as Nicole Eggert, Yasmine Bleeth, and Pamela Anderson just to name a few. She was more often the voice of reason and the balancing point of the team and therefore didn't really get as much attention because, well, she didn't bounce in the right ways. Still, she was an integral part of the team and one person that got by on her acting skills rather than just her physique.
So what's she been up to since Baywatch?
She's still acting.
If you thought she was resting on her laurels these days you'd be absolutely wrong. Despite getting older and landing lesser known roles she's still very active in Hollywood. She's done a large number of TV movies and even had a slew of big screen appearances, but they've all been fairly minor movies. Her resume has continued to expand though as she keeps doing what she loves and showing that she is still a very talented actress. She even has a part in the more recent Sharknado: The 4th Awakens.
She's a very active person.
Alexandra took part in the Hawaii Ironman race in 1997, and ran in the 2000 Boston Marathon. She's also participated in various swimming events as well, adding these to her impressive list of accomplishments. At this time she is a certified health coach and has her own wellness coaching business. It's nice to see that she's staying active in such a manner as she continues to get older. This is no doubt why she still looks as good as she does. Have you seen Hasslehoff lately? The guy looks like he could use a marathon or two to get him back into shape.
She is also an activist.
In addition to an acting career that is still very much alive, she is also firmly entrenched in animal rights, peace, gay, and environmental movements for which she has been incarcerated more than once. While she is very passionate about the causes she champions she is also willing to pay the price for her protesting as she has been held in detention centers and thrown in jail a time for two for the causes she's opted to stand for. That shows a lot of dedication as well as what some might call a lack of judgment at times. Despite all this Alexandra has remained firm in her stance and has traveled the world to stick up for the causes she believes in. That's inspirational in many ways but is also quite impressive given her acting career and the demands it puts on her time.
It's not too much of a wonder why she wasn't a presence in the newest Baywatch movie, as she wasn't always the most well-known character. But thankfully the show hasn't defined who she is or what direction she took later on.
Save
Tell us what's wrong with this post? How could we improve it? :)
Let us improve this post!