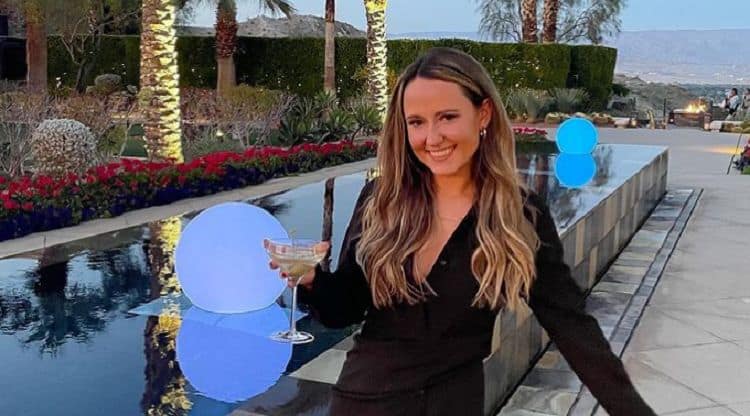 Podcasts are all the rage in the new millennium, and it's because anyone can find almost anything they want to hear – and there are no rules. The "Call Her Daddy," podcast is hugely popular, and it's brought a lot of attention to people like Lauren McMullen. However, if you're unfamiliar with the podcast and you don't have a clue who this young woman is, it's time to learn. Don't worry; we have everything you didn't know you needed to know right here.
1. She's Alex Cooper's Long-Time Best Friend
The host of the podcast is Alex Cooper, and she's been making some changes on the podcast as of late. She and her former cohost are no longer working together, and she's been having some guests come onto the podcast and talk to her. One such guest is Lauren McMullen, who almost seems like she's making some permanent type of home on the show.
2. She Just Moved to California
McMullen only recently moved to California. She and her bestie, Cooper, moved to the LA area, and they've been hanging out and having all the good times while they're here. She's not sad about it, and it seems that Cali agrees with them both.
3. She's Been Besties With Alex Cooper Forever
Well, not forever in the sense that they've known one another since birth, but forever in that they've been best friends since the second grade. That's a long time, and it tells us that their bond is a strong one. They've made it through all the things that life throws at you over the most formative years, so their friendship must be a pretty good one.
4. She's Educated
She is a smart gal. Her bestie played soccer at Boston University, but she took her college experience elsewhere. She headed south to Louisiana, and she attended university at Tulane. It's where she obtained her Bachelor's Degree, and we imagine a love of beignets and Mardi Gras.
5. She Teaches
She spent some time in the past teaching. We imagine that this means she's got a degree in education, but we might be wrong about that. Her time teaching was spent with a non-profit. It's called Teach for America. She was living in New York with Alex and her friend Sofia, and that's where she was doing her teaching.
6. She's Also Going to Columbia
Anyone who knows anything about American college is that it's harder than average to get into some universities. Columbia is one of those schools. It's not easy. You need amazing grades, and you need to be able to afford to pay the tuition there. She is doing both, and she's pursuing a higher education degree while learning.
7. She Was in A Long Relationship
We understand that she is around 26-years-old at the moment, but we aren't sure when her date of birth falls. She did, however recently discuss her recent breakup on her friend's podcast. She was in a relationship with a man for more than 7 years – so we'd imagine since they were teenagers. Things did not end well, but it's all because she didn't see this person fitting into her life in the long run. She's admitted it was not easy to come to this realization or to deal with the feelings she had about it when it was time to face the truth. We can only imagine.
8. She Was Excited for Her Move
After quarantining with the man she realized she didn't love anymore, she decided it was time to head west. She only just moved from New York to LA in December of 2020, so she's brand-new to the area, and she is currently loving it. Of course, she's got so much to learn about the city having gone from one heavily locked down city to another.
9. She's a Traveler
Prior to the pandemic arriving in the states, she was an avid traveler. Her social media profile is filled with photos of her enjoying her time all over the world. She went to Paris, and it seems she really did have the best time there. She also went to Greece and Italy, too, and all of her photos are amazing and breathtaking.
10. She Seems Happy
For a young woman who has had a lot of change in her life in the past few months, she seems as if she's doing well. She moved across the country. She left the man she was with for nearly seven years of her life, and she started helping her friend with her podcast. It's a lot, but she seems to be thriving, which makes her decisions all seem like good ones.