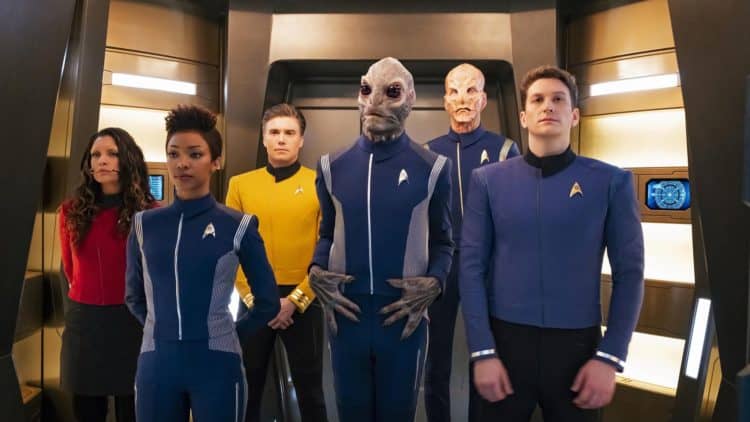 Star Trek Discovery had a rough start. Something that wasn't helped by the choice on CBS's part to make it a CBS All Access exclusive. However, it has nonetheless managed to charm a significant number of people, thus ensuring that there will be a Season 2 as well as making a number of potential spin-offs possible. Currently, it has been revealed that Season 2 of Star Trek Discovery is set to start up on January 17 of 2019, so it should come as no surprise to learn that a fair amount of information has come out so far.
What Do We Know about Season 2 of Star Trek Discovery?
For starters, Bryan Fuller won't be returning as the show-runner for Season 2 of Star Trek Discovery, which is a real shame because he has a lot of experience with the Star Trek franchise. In part, this seems to have happened because Fuller wanted an anthology whereas CBS wanted a serial, which resulted in some clashes between the two. However, it should also be noted that Fuller is involved with other projects as well, which have presumably reduced the time as well as the effort that he could spare for Star Trek Discovery.
Whatever the case, Fuller was initially replaced by Gretchen J. Berg and Aaron Harberts, who served as co-showrunners. However, said individuals have since been replaced themselves, which seems to have been based on a number of reasons. First, the first episode is said to have gone over-budget, so much so that the budgets for the later episodes had to be pared down to make it possible to continue on. Second, the two are said to have engaged in abusive behavior against the writers, with one of them outright threatening them if they chose to report the alleged incidents to their superiors. As a result, the person in charge of Star Trek Discovery is now Alex Kurtzman, who is one of the co-creators of Star Trek Discovery along with Fuller.
Content-wise, Kurtzman has stated that they will be going for a mix between Fuller's proposal for an anthology and CBS's desire for a standard serial. As a result, Season 2 of Star Trek Discovery won't be focused on the war between the Federation and the Klingons. Instead, it will be much more interested in exploration as well as other missions, which should please people who have always loved the Star Trek franchise's interest in such themes. The exact theme for the upcoming season remains unclear at this point in time, but it is known that the writers were considering something along the lines of "science versus faith," which is an explosive topic with a fair amount of potential to say the least. However, more recent statements suggest that the season won't be limited to religion but will be interested in patterns as well. In particular, there has been mentions of mysterious signals as well as the image of a red angel appearing to various characters in their visions, which sounds rather promising.
Speaking of narratives, it might interest some people to know that the writers for Season 2 of Star Trek Discovery are planning to plant the series more firmly in the Star Trek canon. This is important because there are a number of elements introduced in Star Trek Discovery that create issues at the moment, with an excellent example being why Spock never mentions Michael Burnham in the original series even though they are supposed to be adopted siblings. As a result, if the writers succeed in this endeavor, that could soothe some of the more enthusiastic Star Trek fans who have been complaining about the matter.
On a semi-related note, Christopher Pike is a character who is set to make an appearance in Season 2. For people who watched Season 1, this might be unsurprising because it ended with the USS Discovery receiving a distress call from said character onboard the USS Enterprise. However, what might be unexpected is the revelation that the character is set to be an important role in Season 2 played by Anson Mount. Besides this, a Spock has been cast as well because the character is confirmed to be appearing in flashbacks, which actually caused some debate because there was some internal reluctance at the idea of getting someone besides either Leonard Nimoy or Zachary Quinto to depict him. Hopefully, the chosen actor or perhaps even chosen actors will be able to do the character justice.