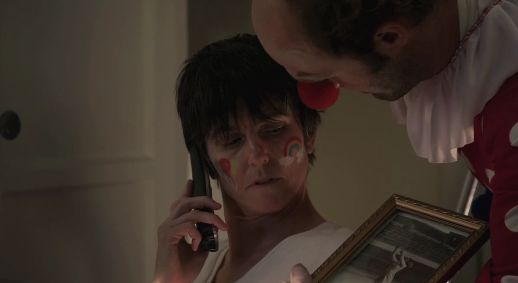 Louis C.K. has been the subject of plagiarism rumors before but he's never been the one accused of doing the plagiarizing. Remember a couple years back when it was Dane Cook accused of stealing Louis C.K. material? Now it's C.K.'s turn to face the fire. If any of you saw his most recent hosting gig on SNL you might remember a skit called "Birthday Clown." In it Louis C.K. plays this lonely guy who hires a clown for his birthday. Only C.K. is an adult, is alone, and has no one else in the house. Bobby Moynihan, who plays the clown, performs for him despite the circumstances. Check it out below:
But this skit is said to be nearly a direct copy of Tig Notaro's "Clown Service." Want to see a comparison? It's below:
So what's the deal here? Notaro actually issued her own statement:
"It has been impossible for me to ignore the cacophony of voices reaching out personally and publicly about the potential plagiarizing of my film 'Clown Service' (a film that I screened at Largo in Los Angeles for over a year and it premiered at Vulture's Comedy Festival in NYC as well as numerous film festivals around the country and I am currently screening on my national tour).
While I don't know how all this actually happened, I did find it extremely disappointing. Here is what I can tell you: First off, I have recently learned that a writer/director who was fully aware of "Clown Service" when I was making it, actually worked on Louis C.K.'s clown sketch that is in question. Secondly, Louis C.K. and I have not communicated in any way for nearly a year and a half.
And finally, I never gave anyone permission to use anything from my film. I hesitated to even address any of this, but I think it is only right to defend my work and ideas and moving forward, I plan to continue screening 'Clown Service' with the joy and pride I always have."
Whats even weirder about this whole situation is the fact that Louis C.K. is an executive producer on her project "One Mississippi" and his company, Pig Newton, Inc., produces the show. So here's the thing on this plagiarism racket. Was the idea taken? Absolutely. This I think is obvious. But was this direct plagiarism? I don't think so at all. If anything this is a parody or even a satirical reference.
The main difference between these two videos is that one is funny and one isn't even remotely funny. This is very much like music. Tons of songs sample similar rhythms and melodies from other songs but it gets extremely dicey because at what point is it direct copying? Ice Ice Baby obviously copied Under Pressure. This much we know. But how about the time that Robin Thicke "plagiarized" Marvin Gaye? I didn't think that was plagiarism at all. Sure there were similar sounds but come on, the song was totally different.
This Louis C.K. situation is more like Robin Thicke than it is Ice Ice Baby.
Tell us what's wrong with this post? How could we improve it? :)
Let us improve this post!