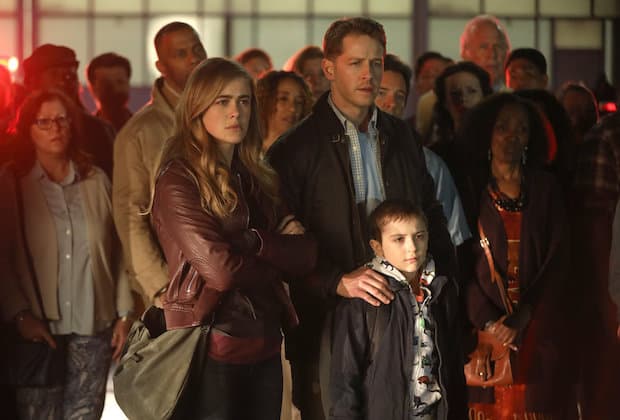 There's something about the marvel of flight that lends itself to a story in a way that opens many upon many doors that lead to various tales that people show great interest in. Manifest is the story of a flight that takes off and sets down after what seems like only a few hours to the passengers, but in reality is a re-emergence that takes five years to those on the ground. That's right, the plane seems to disappear for five whole years and then suddenly just shows up again without anyone looking any worse for wear. It almost sounds like a return to the Langoliers miniseries that came out years ago, but this is something entirely different it would seem and bears watching as it could be a story that is something just new enough that we haven't seen its like in some time. If nothing else the first episode is worth a look as it brings to bear some familiar faces that TV viewers are going to recognize.
Here's a look at the cast so far.
Jack Messina
This is apparently Jack's first time out as a character and as such it's going to be interesting to see how the kid does. But thankfully he has a great number of costars around him that have been around for a while and can help him out if need be. Being a child actor isn't too bad so long as there are those on set that are willing to help out and make the process a little more enjoyable and not as daunting.
This seems like it might be a bit of a transition for Parveen since she's starred primarily in Indian movies and doesn't seem to have a lot of experience in the US. The good part however is that when it comes to acting it doesn't typically matter where one comes from, the role that they're put into is the one that they're expected to fulfill and from that point the process is much the same. But it will be interesting to see how she acclimates to the role she has in this show.
J.R. Ramirez
J.R. has been around for about a decade now and has found himself starring in several famous shows either as a guest star or a recurring character. That being the case he's managed to prove his worth to a lot of people and has even stepped into the show Jessica Jones for about 10 episodes, further showing that he's got the kind of charisma and character that allows him to switch between one character and another as he continues to take his talents onward and upward with each role he accepts.
Athena Karkanis
Athena Karkanis has had an interesting career that's been rooted mainly in TV but has also seen her go far in movies as well. She even managed to make the cut and appear in one of the Saw movies, which is no small feat considering the popularity the movies brought. She's even lent her voice to several video games throughout her career, something that more and more celebrities seem to be doing within the last couple of decades.
Josh Dallas
If you've seen Once Upon A Time then you've seen Josh Dallas quite often as Prince Charming/David. In fact he's coming off of the success of that show to star in Manifest. His credits aren't so extensive that you'd think he was an old hand at acting but he's still got enough under his belt that he's a tried and true member of just about any cast that should be easy to rely on, especially when it comes to a leading role. As Prince Charming he's kind of a do-gooder most of the time, but maybe this character will be easier for people of this era to relate to.
Melissa is still fairly new to the TV scene but she's been doing very well since she's picked up a few key roles here and there that have allowed her to gain some attention in the industry and made it possible for her land on Manifest for the time being. How she reacts and interacts with the cast will show just how good she really is. At this point it seems fair to expect a great deal out of every cast member since a lot of them have had a good deal of experience already.
Luna Blaise Boyd
It's easier to look at a younger person like Luna and state that they have a lot to prove to the world when it comes to their acting. But after the first few gigs there's a chance at least to state that they've made their way onto the screen and are well on their way to being firmly established. Luna has a chance to do that with Manifest.
Right now the premise and the cast look pretty good and more than ready to go.