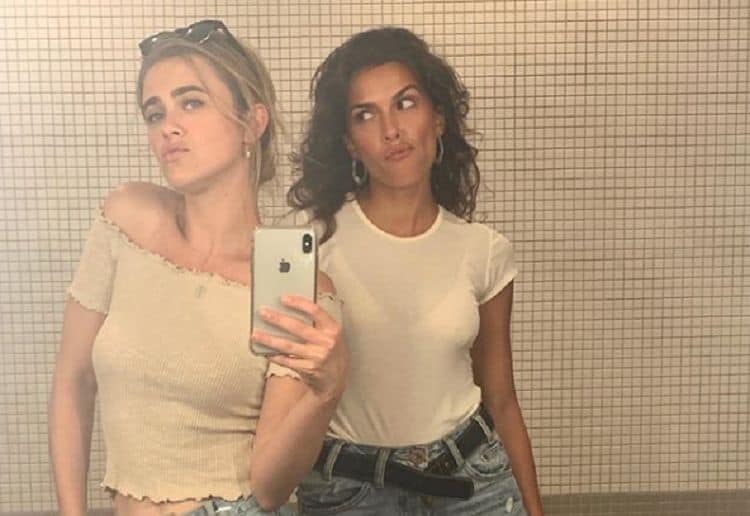 Melissa Roxburgh is a Canadian actress who is best known for her role as Michaela Stone in Manifest which has just begun its second season. She has also starred in Diary Of A Wimpy Kid. Here are ten things about her that you may not know.
1. She Is A Dual Citizen Of Canada And The United States
Melissa was born in Canada but her father was born in Chicago and this makes her a dual citizen. She has two sisters and a brother and she is the second eldest child. Her mother was a tennis player and her father was a pastor of a church that he opened in Vancouver. She moved to LA to continue with her acting and the fact that she was already a US citizen made this an easier process. She remains close to her family even though she now lives in the United States.
2. She Only Started Acting After Graduating From High School
She did not do any acting in high school as it was only something that she became interested in after she graduated. She started auditioning for roles in Vancouver and before long she won a part in Diary Of A Wimpy Kid: Rodrick Rules. She also starred in the sequel but in a different role. She has also starred in some of the most popular dramas on US television such as Supernatural, Arrow and Legends Of Tomorrow.
3. She Studied Communications At Simon Fraser University
She attended Simon Fraser University after she left high school in order to study Communications. If her career as an actress did not work out, then she probably would have become a journalist. The University is located in Greater Vancouver and this meant that she could continue to pursue a career as an actress while she was studying. Although she does not intend to stop acting anytime soon, it is reassuring for her to know that she has something else in place so she could still earn a living.
4. She Had The Lead In A Supernatural Spin-Off
She was cast in alead role in Bloodlines which was a spin-off of the CW series Supernatural. She had already appeared in the main show as the same character, Violet Duval and it was this episode that served as a backdoor pilot to Bloodlines. However, ultimately the decision was made not to go ahead with the production of the show. The show would have been written by Andrew Dabb and the Supernatural Fandom site explains why he felt the show was ultimately not ordered. The show would have been on air at the same time as another CW show with a similar plot, The Originals, and it may have been the case that the shows were just too similar.
5. She Loves To Travel
When she was younger her family spent a lot of time traveling on aid missions with the church. She visited countries all over the world such as Africa, Eastern Europe and South America. This gave her a taste for traveling and it is a hobby that she has continued with now that she is older.
6. She Enjoys Playing And Watching Tennis
Her mother was a tennis player and this meant that she has grown up with a love of the sport. She does play the game occasionally but she prefers to be a spectator. Her mother still has some contacts in the game which means that she can sometimes get tickets to high profile match. Manifest is filmed in New York which meant she recently got to attend the US open.
7. She Is Impatient To Know How Manifest Will End
She told Elite Daily that she is keen to know how all the mysteries in Manifest will come to be solved. She has confessed to trying to get as much information as she can from the show runner but he does not like to give anything away. The ending of the show is just as much a mystery to the cast as is it to the fans and they are not given any inside information.
8. She Likes To Read Fan Theories About The Show
As well as forming her own theories, she likes to know what everyone else is thinking about the show. Melissa believes that we will see some of the characters that are close find themselves at odds with each other as the situation around the missing flight develops. She also likes to read what fans think will lay in store for her character. There are several interesting theories about Micheala and the character of Zeke as the two seem to have some sort of connection that has not fully been explored yet.
9. She Has Learned A Lot From Josh Dallas
Backstage reported that Josh Dallas has been able to give her a lot of advice about working as an actor. He has more experience than she has in playing one of the lead roles in a TV show and so his advice has been really helpful to her. She has said that the personalities of their characters on the show both have similarities to their actual traits. Josh does not share in her desire to find out more information from the producers about what is going to happen next. This is because he thinks he will be able to play the part of Ben better if he is genuinely as surprised as the character of any developments that occur. This is similar to the way that the character of Ben is approaching the situation in the show, whereas her character finds it frustrating that they don't have all the information they need immediately.
10. She Is Dating Her Manifest Co-Star JR Ramirez
It has recently been revealed that she and JR Rameriz have been dating for a while, although they had been trying to keep this secret. In the show their characters were on the verge of getting engaged before the plane went missing as Michaela planned on accepting his proposal as soon as the plane landed. It is believed that the couple have been dating for around six months and they are said to be very happy.