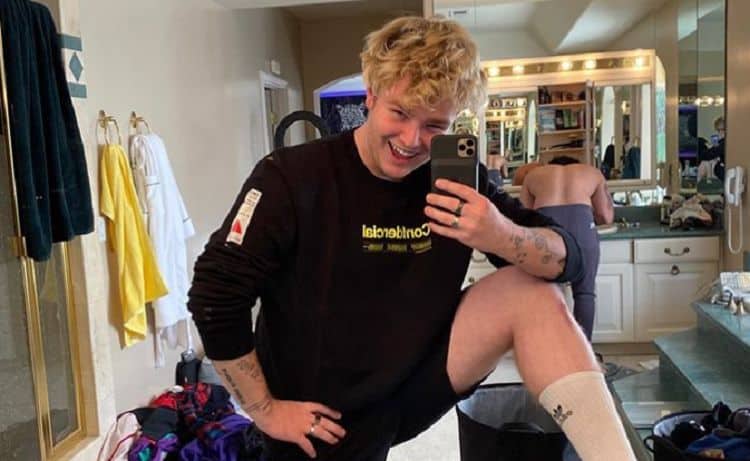 Since we've all been spending a lot more time in the house over the last few months, that also means most of us have been spending a lot more time on our phones looking at all sorts of random things. If you've ever scrolled through TikTok, there's a good chance you've stumbled across Alex Warren's videos. The popular TikToker has over 11 million followers and a total of 483 million likes. He is well known for his comedic videos and often collaborates with his girlfriend, Kouvr Annon, who has a popular TikTok account of her own. Although he's only a teenager, he's already making more money than most people three times his age. Continue reading for 10 things you didn't know about Alex Warren.
1. He Was Accused Of Plagiarism
For a creative person, there's nothing worse than having someone else steal your work and not give you credit. With that being said, things almost blew up for Alex when he was accused of copying from YouTube star, David Dobrik. Apparently, Dorbrik's fans starting noticing similarities between his and Warren's content. However, Warren denied the allegations and insisted that he has never copied Dorbrik.
2. He Is The Reason For Hype House
Hype House is one of the most well-known TikTok groups, and it wouldn't exist as the world knows it without Alex Warren. Although Alex isn't the person who came up with the idea for the group, he is the person who gave it its name. Before he came along, the name was going to be "House of Olympics".
3. He's Also On YouTube
TikTok isn't the only platform where Alex uploads video content and has a massive following. His YouTube channel has also grown substantially and now has more than 1.3 million subscribers and more than 100 million views. If you're a fan of his TikTok videos, but want to see more of Alex, his YouTube channel is definitely the place to be.
4. He Considers Himself A Good Friend
Alex has lots of strengths that extend far beyond his internet persona, but the one he is most proud of is his ability to be a good friend. He told Naluda Magazine, "My friends are like my family and we've gone through so much together, they're the only thing that keeps me going.'
5. His Father Passed Away When Alex Was 9
Most of Alex's videos are lighthearted and funny, but that doesn't mean things in his life has always been rainbows and butterflies. When he was just 9-years-old, his father passed away after a long battle with kidney cancer. Despite only getting to spend 9 years with his father, Alex has fond memories of his dad and hopes he is making him proud.
6. He's Not Afraid To Make Mistakes
Being a social media celebrity comes with a lot of pressure. It's not easy to put out content on a regular basis, especially good content. Many influencers are so afraid of making mistakes that they end up stifling their creativity. However, Alex says that he's not worried about making mistakes. He understands that he will probably make some mistakes along the way, but he's determined to learn from them and move forward.
7. He Lives His Life One Day At A Time
For lots of people, planning as far ahead as possible is one of the only ways they can feel in control of their lives. But Alex Warren likes to take the the opposite approach. During an interview with Mackenzie Amyx, he said that taking things one day at a time helps him manage the pressures of his job.
8. His Initial Inspiration Came From His Dad
Alex's love for making videos comes from his father. He says that his father "would buy like jumping houses and LegoLand tickets and then he would film our reactions by surprising us with these things". Alex's father continued to record important family moments up until his passing. Alex hopes that one day, he will be able to show his own children the content he's made.
9. His Goal Is To Make People Happy
Sure, having lots of followers, likes, and views are definitely one of the most exciting parts about being a social media star. But that's not all that matters to Alex. He says that his main goal is to make people happy, and he hopes that his videos can bring a smile to people's faces.
10. He Gives Back To Others
Helping those in need is something that's very important to Alex. He says, "I donate to St. Judes children's hospital whenever I can. When I was 5 I had a hole in my intestine and they took care of me, so I try whenever I can to give back."