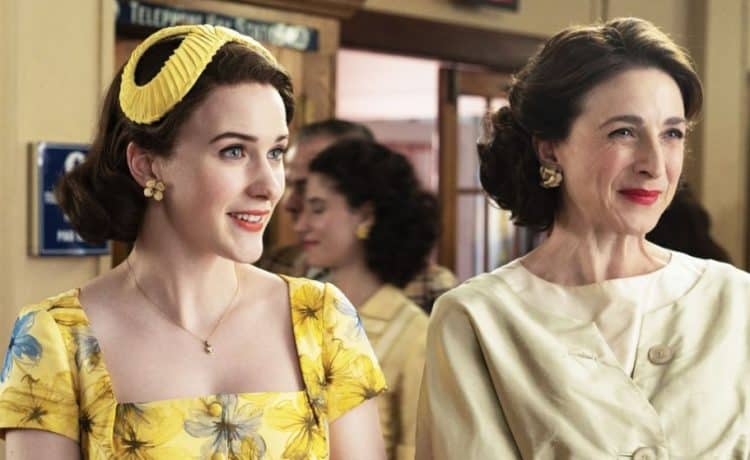 The Marvelous Mrs. Maisel is wonderful indeed–wonderful enough to sweep during the awards season during its first year. We've been waiting for the third season to arrive, and we've recently been teased with a trailer that's given us a lot of clues about what's to come. The Amazon Prime period comedy-drama stars Rachel Brosnahan as the title character. Brosnahan's career before Maisel comprised mostly of guest roles, but that changed rather abruptly when she dazzled on the Netflix stage with her show. During the end of season 2, we saw a marriage proposal happen for Midge as well as the possibility of a full time stand-up career. Here are some of the possible upcoming things we picked up from the season 3 trailer of The Marvelous Mrs. Maisel.
First off, we finally found out when the release date is. It's been a long time coming, and this show is definitely worth waiting for. We're just thankful for Amazon's release format, so at least we'll get to binge on episodes as soon as they come out. Season 3 of The Marvelous Mrs. Maisel comes out on December 6 of this year. It's essentially going to be an early Christmas present for all fans.
If we could pack the entire trailer into one word, it would be this: fun. The whole trailer shows an incredibly fun-packed season, and we can't help but smile watching the whole thing. We saw a lot of fun stage scenes, with Midge on stage or someone else. We saw a ton of laughter, eating, drinking, and just having a good time. We saw Midge and Susie traveling together quite a bit. It seems that we're going to see Midge visit the troops somewhere to give them something to laugh about. We know that at some point, Midge and Susie travel to Florida, but we're not sure what exactly they'll be doing there. We see glimpses of Florida in the 50s, and it's glamorous and sunny. We know that the duo is there to follow singer Shy Baldwin (Leroy McClain) around, but knowing Midge, she's probably mixing business with pleasure while she's there. Much of the season is going to be based in Miami, and Midge is probably just going to dive headfirst into the world of standup comedy tours.
We saw a lot of familiar faces in the trailer, but we also see some new ones. Of course, Brosnahan is around with her manager Susie, who is amazingly portrayed by the talented Alex Borstein. Midge's estranged husband Joel, played by Michael Zegen, can be seen in the first few seconds of the trailer. The two were in the courtroom, probably discussing the situation or future of their marriage. We know that the two are still married, and it's unclear whether that courtroom scene will actually clarify whether they'll still be married by the end of this season or not. Marin Hinkle is still around as Rose, Midge's mother, as well as the award-winning Tony Shalhoub, who plays Midge's father Abe in the show. Kevin Pollack, who plays Joel's father in the show, is also set to return, and we briefly saw him in the trailer on a couple of spots.
Of course, we also see Sophie around, who also happens to be Midge's ultimate rival. The marvelous Jane Lynch portrays Sophie on the show, and that alone for us is worth to watch. Lynch is excellent in all the things she's been in, and she's been excellent on the show so far. We're not entirely sure how she's going to play into this season given that Midge and Susie are traveling. The only thing we can imagine is that Sophie might be traveling with them as well. Sophie did ask Susie to become her manager, and it's been one of the biggest questions left to be answered on the show. Susie and Midge's relationship hasn't always been easy, and this offer from Sophie is a big deal for Susie. We now know that Sophie is actually not who she claims to be on stage, and it's really what caused a rift between her and Midge. Susie has been going through a rough time financially, and she could really use the money to get herself out of hot water. However, we know what her relationship to Midge means to both of them, and we know what a betrayal like this could do to Midge. We don't quite see it on the season 3 trailer, but we know that Susie is bound to make a decision whether she'll work with Midge or Sophie in the future. The trailer shows more interactions with Midge, but Susie can be seen interacting with Sophie a couple of times as well. Whether Midge can be on her own without Susie might be something we'll see answered over the course of the next season.
One of the most exciting things happening to Mrs. Maisel can also be seen on the trailer. Sterling K. Brown is joining the cast, but we still aren't sure at what capacity. We see him briefly on the trailer on a scene that appears to be an airplane scene. Brown might be portraying someone on the production team part of the tour, but we'll just have to wait and see. On the trailer, we see him interacting with Susie. This could also mean that we might see a love interest for Susie this season. There are rumors that Liza Weil (Gilmore Girls, How to Get Away with Murder) is supposed to join the cast as well this season, but she's missing from the trailer. Weil has done plenty of work with Maisel creator Amy Sherman-Palladino in the past, and Palladino has also promised to bring on previous Gilmore Girl characters to the show. This is also something we'll just have to wait on to see.