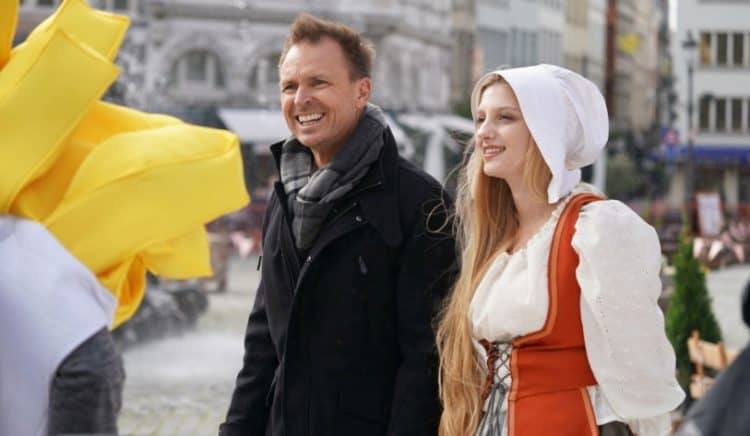 The Amazing Race is the kind of competition show that appeals to a very wide range of people, and that's exactly why it's been so successful for almost 20 years. Since the show's debut, dozens of people have competed for a chance to win a grand prize of $1 million. Unlike lots of other game shows, The Amazing Race taps into a number of different skills and contestants find themselves being put to the ultimate test. If you're a fan of the show, you may have even envisioned yourself going through the race. The good news is that being on The Amazing Race is a real possibility and getting on the show is probably even easier than you think. Keep reading to learn how to get chosen as a contestant on The Amazing Race.
How The Amazing Race Works
If you're not familiar with The Amazing Race, here's a quick run down on the show and how it operates. The show has been hosted by New Zealand native Phil Keoghan since its debut. When is referred to as a race around the world it isn't an exaggeration. The race literally takes place in countries all over the world and filming usually takes place over the course of about a month.
During each season, eleven teams of two compete against each other in an adventure style race around the world. The race is broken up into two legs and during each leg contestants participate in a series of challenges that allow them to get clues and prizes that will make it easier for them to reach their destination. Throughout each leg of the race, contestants have to use their mental and physical skills in order to put them ahead of competitors.
Since its time on the air, The Amazing Race has received numerous awards and accolades. Most notably, the show has earned 10 Primetime Emmy Awards for Outstanding Reality-Competition Program.
How To Get Cast On The Amazing Race
If getting the chance to be on The Amazing Race would be a dream come true for you, you'll be happy to know that the dream is well within reach. The Amazing Race has a website specifically dedicated to casting and people can easily apply online. According to the website, "We are looking for a Teams of two! You must have a pre-existing relationship with the person. If you are not familiar with the show, please go to CBS.com and become familiar with the show. Typically we choose teams that have known each other a minimum of one year. We choose relationships that are "relatable". For your best chance of getting on the show, please refer to past seasons 1-30." While the current message says the show is looking for teams of two, individuals are usually encouraged to apply as well.
Applications can be submitted all year long but the form must be completed in one sitting. The application process consists of the following four steps:
Make a video that gives the casting team a good idea of your personality. People who are applying as a duo should be sure to highlight their relationship as well. The casting team will want to get a feel for how you teams of two interacting with each other. The casting website includes a page with helpful information on how to make your video stand out among the rest.
Submit a close up photo of yourself.
Fill out the online application and be sure to include your video and photo.
Someone from the production team will contact you if they decide to move forward with your application. You will not be contacted if they chose not to move forward with your application.
If you've already applied for the show in the past you'll be happy to know that you can apply again. Keep in mind, however, that you must apply for each season as submissions from one season aren't carried over to the next.
What Are The Requirements To Be On The Show?
Like any other competition show, there are some requirements people must meet in order to be considered for a spot. It's important to note that applicants must meet all of the requirements in order.
All applicants must be United States citizens
All applicants must be at least 18 years of age, however, there are a few exceptions

Alabama residents must be at least 19-years-old
Nebraska residents must be at least 19-years-old
Washington D.C. residents must be at least 21-years-old
Mississippi residents must be at least 21-years-old
Are You Up For The Challenge?
Realistically, the odds of being chosen for The Amazing Race are pretty slim. Most people probably have to apply lots of times before they are chosen. Either way, the application process is so easy that giving it a shot could definitely be worth it – especially for a chance to win $1 million.