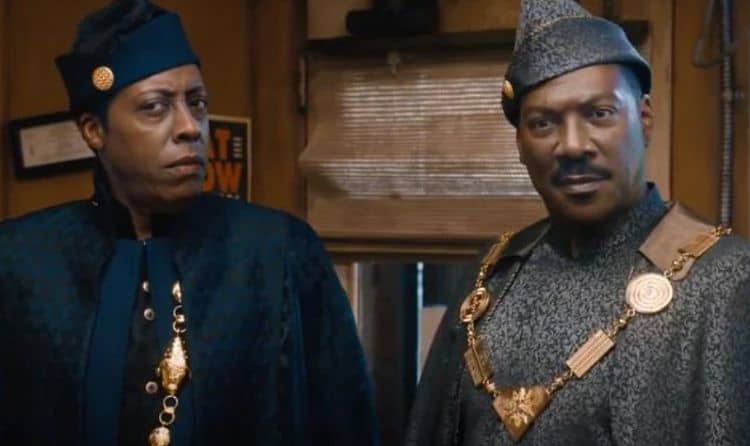 Well, the trailer for Coming 2 America has dropped and it's likely that a couple of jaws have dropped too since from the front to the back of this trailer there might be a few people willing to say a few things since the whole 'male heir' that's need to rule Prince Akeem's kingdom might raise some hackles while the idea of the barbers greeting Akeem and Semmi in their unique fashion might do the same. To those of us with a sense of humor, it's easier to get a kick out of it since this is the kind of stuff we grew up with, and being offended by what are supposed to be jokes and a bunch of humorous moments isn't bound to sink through those with thicker skin. But remember what the king said about 'sowing wild oats' in the first movie when he was talking about his son? Yeah, well, if you've seen Game of Thrones then you'd know that those royals who 'sow wild oats' are usually setting themselves up for one heck of a messed-up harvest since when it comes to fathering bastard children it would appear that it only matters when those children turn out to be boys that can ascend to the throne upon their father's passing. Yes, it's an entirely patriarchal system that we don't have in this country, which people should be glad for, but it's also a main premise of the movie that a lot of people might be hoping will be changed since it doesn't tend to vibe with what people want to see in this day and age. Okay, some people don't want to see it, the rest of us can understand how it works as a plot device.
The hope is that this movie can be treated just as any comedy and should be able to elicit a good deal of laughter from the jokes and gags that are shown. But it's bound to happen that plenty of people might find some offense with the material, if only because that is the trendy thing to do these days. But from a first-look standpoint, it does feel as though Coming 2 America is going to fall back on a lot of the same jokes and characters that made the first movie so great, and might even add a couple more. Learning that Prince Akeem has a male heir in America though is kind of funny considering that it's okay if that kid is a male, but it would likely be overlooked if the kid was female. I know, I know, a lot of controversy amid a movie that's supposed to be a sequel to one of the better movies that Eddie Murphy has made isn't exactly what a lot of people want to see, but it is interesting to note. If there aren't people foaming at the mouth about this then it's going to be amusing to point out the hypocrisy of it all.
But getting past that, this does feel like it might be the same kind of movie as the first one, the actors are simply older and the reason for coming to America is different. But there's also the indication that more of the story is going to take place in Zamunda since from the trailer it would appear that Wesley Snipes' character will be someone that might have to be dealt with in one way or another. The cast is going to be a little bigger since other big names are going to be featured, and the overall mood is going to be that the world has definitely changed in a big way, but for Prince Akeem and Semmi, New York is still New York. The addition of a son to the story is going to be interesting since obviously the idea that I mentioned that people might lose their minds that a male heir is somehow more important than a female heir is bound to come up, but it's also interesting to think that the prince might have done the deed with someone that was working in the palace and then made her way to America sometime after. Something kind of indicates that the king might have had a hand in this, and was hoping that Akeem might have another boy at some point that would be with a woman of his choosing. That doesn't sound outside the realm of possibility since it's already been noted that the king is used to getting his way in everything and wouldn't be put out by trying to influence his son's life in one way or another.
Maybe this is all conjecture and there's nothing to it, but until the movie releases, we just won't know. As it stands now the trailer is a return to the good times that people enjoyed about the movie. We'll see what happens when the other shoe lands.