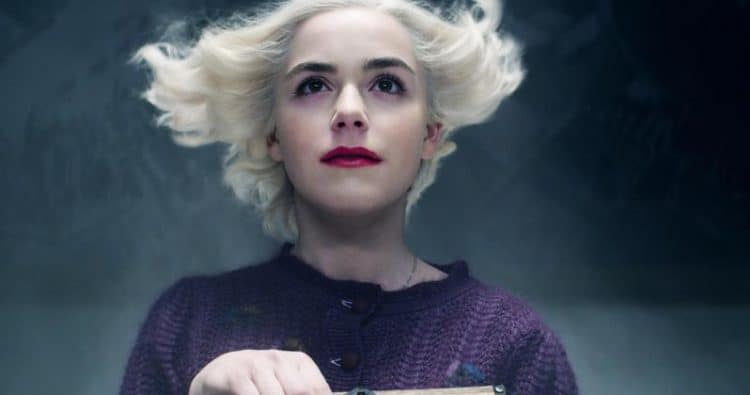 It feels a little overused to say that this isn't the Sabrina that a lot of us remember from our younger years when Melissa Joan Hart was at the helm, but as many might state, that's kind of a positive thing since the realm of witches and warlocks has been opened wide and the ensuing battle has been nothing short of insane since Netflix took on the series. It would appear that Sabrina is back in action and ready to deny the dark powers that are set to roll over Greendale, but obviously, she won't be doing this alone and it won't be a piece of cake either. At this time it does look as though the show is gearing up to say goodbye after this season, but many people are hoping that will come back for a fifth season since plenty of fans likely have an idea of how things could continue. Until that decision is made final though it would appear that things are going to heat up in a very serious way since the teaser below is making it clear that Sabrina is back in the swing of things and is ready to let the forces of darkness know just who she is and why she'd not backing down.
Shows and movies about witches and the forces of darkness have been extremely popular for decades now, but while a lot of them have tried to go off in their different directions, some shows have gone the cute route while others have tried to stick to the course that a lot of society uses when thinking about those that study the arcane. Modern-day witchcraft is far different than what is seen on TV since unless people are uniquely adept at keeping secrets there have been no serious invasion attempts from any dark forces other than those that have been seen on screen. But the fantasy of it all is very intoxicating as it draws the attention of many people in a way that allows them to experience the story in a way that's both safe and well-removed from any mortal danger that they might believe themselves to be in were they to actually engage in the occult on their own. Those that practice Wicca and other various magical arts are usually those who will warn people away from meddling with things they don't understand, and while some of them are quite serious about this matter, others simply don't want their secrets getting out since there are a number of practitioners out there that are anything but sincere and are more likely to do more harm than good when it comes to their practice of witchcraft.
Sabrina is a fantasy that a lot of people have been able to get into over the years and this updated version has been something that's definitely keeping with the times since while it's obvious that the idea of witchcraft is something that's gone commercial, it's also something that offers up a lot of different methods for marketing that have come and gone and been extremely popular. While this show isn't for everyone, especially those that happen to think that witchcraft of any sort is bound to damn one's immortal soul to the nine hells for all eternity, it's definitely for those that want to have fun with the idea and not get too serious about it. Those that do practice Wicca might see it as a slight on their own beliefs, but many of them happen to know the difference between a show and the lives they choose to lead. For one, Sabrina, and witches, in particular, are not all about Satanism, which is a term that many people would lump anyone that practices anything other than an accepted religion into. There's a much deeper argument to get into there, but I'll avoid that for now by simply stating that witchcraft is not about summoning the dreaded forces of Satan, but is an earth-based religion and practice that many people don't take the time to understand and therefore learn to fear since it's something they don't fully comprehend.
The things shown in Sabrina are pure fantasy that has been taken from old legends and given a new breath of life in this series, or have been recreated in an image that was desired for the duration, and are no more evil in nature than anything else. The whole idea of good and evil is kind of amusing when talking about TV shows since one only has to change the channel to not worry about it any longer, but many people still feel the need to gripe. This upcoming season looks like it will be one worth watching yet again since it's bound to have enough thrills and chills for anyone that's been following the series or those that are just tuning in.