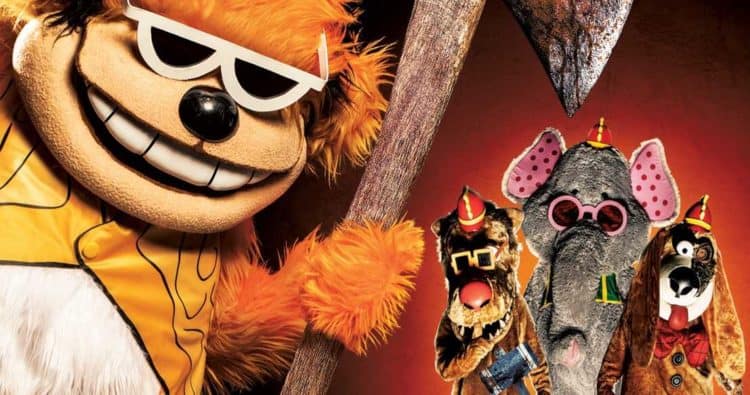 First impressions? It's creepy as hell and isn't a kids movie in the slightest. So now that we have the painfully obvious bits out of the way the Banana Splits movie looks like it's going to be Chucky in animal suits on steroids. My reason for saying such a thing is pretty obvious since all four of the characters that make up the Banana Splits are animatronic in nature and therefore are infused with faulty programming that makes them suddenly flip out and decide to go on a murderous rampage, killing a large number of people in the audience and around the studio. The way in which the people are killed is simply grotesque since everything ripping limbs off to killing someone with a car and even ramming a lollipop down a person's throat are included in the carnage that's featured in this movie. Imagine if your stuffed animals grew to human size and decided to go psychotic, this is kind of a vision of what you might get.
I was honestly thinking of foregoing the idea of saying that this movie is brainless but in all honesty it is kind of devoid of any real thought process other than mayhem, but it somehow works for the movie since that seems to be main point. And why mess with something when it works? Obviously, as Erik Piepenburg of The New York Times might suggest, this movie won't be everyone's idea of a good time but by and large as a horror movie it's something that can entertain those with a very unhealthy respect and love of gore that don't mind seeing splashes of crimson going this way and that. Some folks are really turned off by the excessive gore that some movies like to bring, but if you happen to like seeing people sawed in half then this might be the right kind of movie for you since quite honestly it does seem to get pretty grizzly in some areas and it's not shy about kicking it up a notch now and again. Movies like this aren't exactly what some people would call fine art, but then again it could be called art all the same since the word 'fine' is usually up for grabs unless you're talking to a snooty elitist that happens to think a few dots or splashes of color on a canvas print are mind-blowing. If that's the case then the lovers of abstract art would hopefully be impressed by the vivid splashes of red that are left all over the place in this gore-fest.
Steven Asarch of Newsweek brings up a very good point that the Banana Splits used to be a Hanna-Barbera property that were used for a couple of years and grew more popular as time went on, even after they'd been taken off the air. The fact that someone took these characters and decided to make them into murderous robots is kind of hilarious in a way and seems to suggest a disturbed mind that came up with one of the most messed-up ways to bring them back. You can't really be mad at the individuals that did this, but it's kind of hard to think that the murdering robots ever did anything that was positive. But then again a lot of things that we happen to think are new or groundbreaking were once known to our parents and possibly our grandparents. What seems new is usually taken from something that's come from the past, whether it's a blatant copy, remake, or otherwise. It does make a person wonder what else is going to be brought forth from the past and given a darker twist eventually, as there were a lot of cartoon characters and even live action actors that might be seen as easily corrupted if one really stops to think about it.
The idea of someone in a suit is actually creepier than an animatronic performer, though the latter is pretty spooky since there's no reasoning or even talking with a computer program that knows to do only one thing that it's been directed to do. At least with a person in a suit there's a chance that the can be reasoned with or forced to hesitate in some way. With the machine, there's likely no escape once it grabs hold of a person. Nathan Rabin of Fatherly can't help but state that the movie misses the whole point of the characters, but then again it is being touted as a horror movie so it's possible that the original point was abandoned in favor of sheer mayhem. Whoever came up with this idea is a bit twisted, but in a good way since the movie does look crazy and it does look like something that would give people nightmares, but it strikes out in a direction that isn't done all that often these days, despite the Chucky crack I made in the beginning. Want to know the only problem that the newest Child's Play movie had? It tried to completely revamp the original, and in doing so it kind of played itself out quickly, even if they dare to make a sequel.