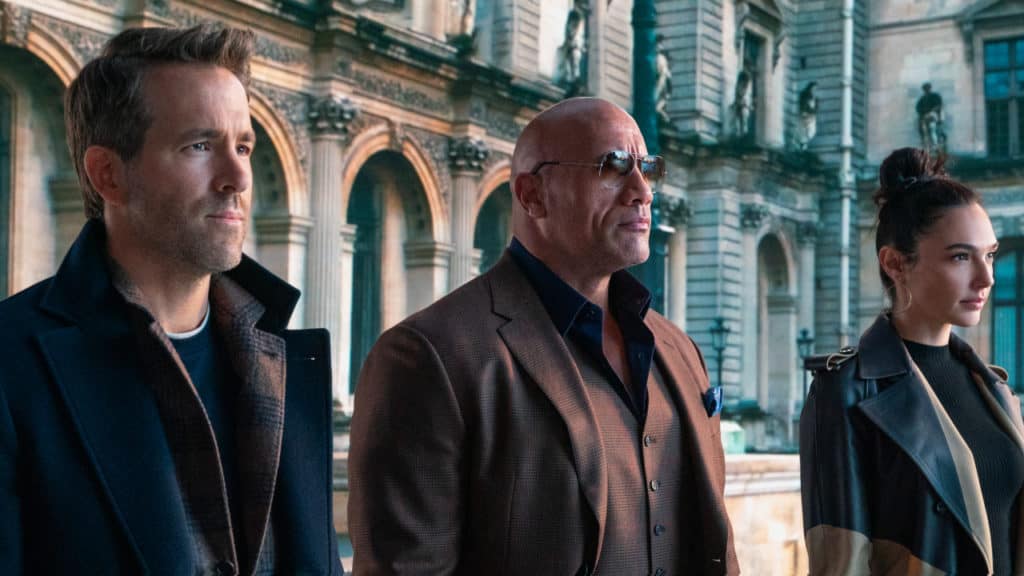 It has to be said even if it's been said more than once by now, this movie managed to get over with people due to star power, and not necessarily because it was that great of a story. While I'm not certain how many people remember the movies of the 80s and the 90s, this played out more like that since the action sequences were great, but they operated on the same type of suspension of disbelief that many movies have over the years, as the unbelievable moments within each scenario are so contrived that trying to make anything feel natural or even as though it was brushed up against a hint of realism is nearly impossible. In essence, this is an action movie that benefits from the big names that are running the show, meaning Ryan Reynolds, Dwayne Johnson, and Gal Gadot. That's not the worst thing that could happen to be fair, since all three of them are big action stars, and being able to get all three for this movie is something that might have felt more like a dream to those that thought about it, to begin with.
But there are issues in the movie that many appear to have overlooked as they praised it left and right for the effort that was given. They're also the same issues that a lot of people are bound to notice and mention even as they chuck them over their shoulder on their way to thinking about one or two possible sequels for this movie. The trouble with that is the fact that if there are two sequels in the planning stage at this moment, it's likely that they're not going to be as different as people might want to think, and we'll be in for another two action movies that will feature many of the same dynamics and possibly a few new ones that will be added in to make things a little more interesting.
It almost feels as though griping about the fact that Red Notice turned out to be so popular is pointless since it's already been seen as one of the greatest movies of the year, even if it kind of wasn't. It's a fun action movie, that's for certain, and it's another way to show off several great action characters at the same time, but other than that, there wasn't a whole lot of substance to it. The exposition that was used here and there wasn't quite as great as it could have been, but as one could easily see, it was overshadowed in a big way by the action scenes that came without hesitation now and again. The intrigue, the suspense, all of it kind of gave way to action eventually as these scenes were perhaps the best part of this movie. Even the twist wasn't quite as effective since it became more of a 'duh' moment than anything. One thing that's hard to see more than once, but appears to be what Dwayne Johnson is wanting to do, is to appear as a serious character that is connected with one federal agency or another, or at least appears to be. Plus, his turn as a con man and spy isn't the worst, but the fact that he kind of sticks out in a crowd makes it harder to think that he might succeed in such a capacity.
Gal Gadot and Ryan Reynolds could easily star in spy movies since they're far closer to an average build and tend to blend into a crowd much easier than the muscular form of Johnson, who's far more likely to be the muscle most times than the brains, even if he's proven to be capable of playing an intelligent character. Yes, that is stereotyping and typecasting in a way, but with his size and distinct appearance, Johnson is kind of hard to accept as a character that can disappear and be unrecognizable to others. Red Notice does have a few issues as well, even in the action scenes, since the fact that certain things happened during the movie makes it obvious that the writing was meant to be a little lax in order to further the story in kind of a lazy way that made it less difficult for the audience to follow what was going on and understand the overall plot.
There are times when such plot holes kind of need to be tied up and settled in order to really create something that's enjoyable as well as capable of being taken at least a little seriously. Red Notice wasn't meant to be a super-serious movie obviously, but it was also seen to go beyond a few boundaries when making sense, and sticking to something that might have been a little more realistic could have been a little more entertaining.