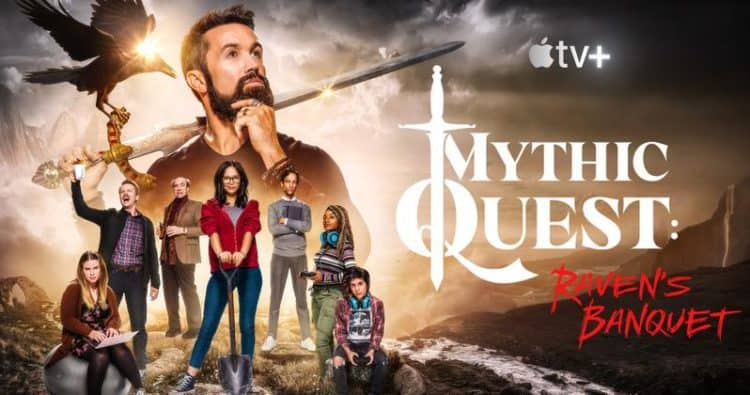 Taking from the preview it does sound as though Mythic Quest: Raven's Banquet, might be a return to what some could call normalcy when people could take a joke and not call down every bit they don't like misogyny, sexism, racism, or otherwise toxic male behavior. Oh it's in there for certain as the main character is bound to keep some people shaking their heads and wondering just how this show got the go ahead in an era when people are walking on their tiptoes in an effort to please as many people as they can and not bring down the wrath of one activist group after another on their heads for saying or doing the wrong thing or even breathing in the wrong general direction. But overall this show does look as though it could be quite amusing and shed another bit of light on the gaming world in a very amusing manner. Apple TV could be on to something here or they could be gearing up for something that might not last that long but could still make an impression. In either case it looks funny and worth a watch if only for a few episodes unless it proves to be even funnier and more engaging than the trailer appears at this moment.
The release date is coming up soon as it's scheduled to reach TV on February 7th, so there's not too much longer to wait. It does remain to be seen however if enough people are going to pick up on this show to make it worthwhile and keep it running for an extended period since again, the subject matter already sounds and looks as though it might be something that will have activists grinding their teeth and wondering just who they need to talk to in order to get something cancelled or at least flipped around so that the jokes concerning women and the 'woke' movements that have been up and down throughout the years are represented in a different way. Joseph Baxter from Den of Geek! has more to say on the matter. It's a big hope that such a thing won't happen since the show already looks as though it's bound to be funny and cast in the type of humor that a lot of us have enjoyed since the 80s and never wanted to see go away. Thankfully there are still those brave enough to tell jokes and create a story that's not entirely PC and will break a few boundaries in order to get a good, genuine laugh that's not guarded and not accompanied by a shaded looked in all directions to see who's noticing and watching with insane disapproval. Some might want to claim that such rhetoric has been toned down throughout the past couple of years but really the PC era is still here and still spoiling for a good fight thanks to those that happen to have been born without a funny bone or have learned the dubious art of ignoring its presence in favor of stamping out what they deem as offensive.
Thus far the two biggest celebrities to be seen in the show are the obvious leading character played by Rob McElhenney and F. Murray Abraham, two of the most recognizable faces in the trailer. Both men are very well known when it comes to the screen and both have a reputation for being able to entertain the fans with their very different styles of acting, so it's fair to say at this point that the show isn't going to be all of one particular genre but will hopefully be an interesting blend of comedy and drama that will allow the actors to delve a little deeper into the human condition as it pertains to the video game industry and the creation of something that is the brainchild of seemingly one person but the responsibility of a much larger team. Obviously there's no shortage of ego in this program and there's also no stop to the laugh thus far since it is somewhat similar to the same type of humor that made It's Always Sunny in Philadelphia so popular. It's there, one just has to lean in a bit and see it in order to really notice. F. Murray Abraham isn't exactly known for comedy but he's been able to deliver in the past and he's been quite good at it actually since a deadpan delivery has helped him to become a part of a comedic routine more than once.
From a personal standpoint this show does feel destined for something other than greatness but I've been wrong more than a few times in the past and the comedic aspect of it does feel kind of refreshing given that it's not looking as though it will back down to what the current era might want. At this point it's just a matter of time to see how it's going to turn out.