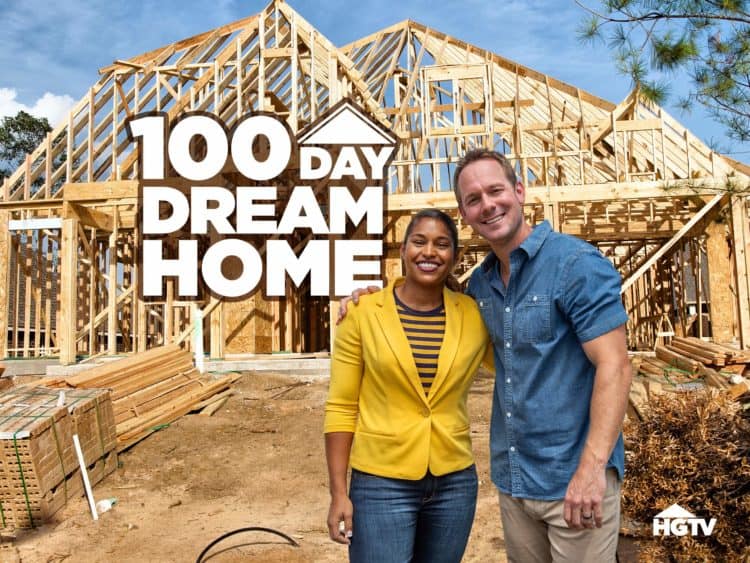 Building a new home can be challenging and no one understands how overwhelming the anticipation can be, than the new show airing on HGTV Network; 100 Day Dream Home. This show builds homes for its clients based on; budget, interest and available building materials. But, unlike other popular television programs in real estate such as Property Brothers, this show aims to build homes in 100 days or less. Additionally, the homes are custom built. The challenge of building a home in a hundred days or less has made the program to be increasingly popular among its fans. It is hosted by a couple; the Kleinschmidt's. Besides this, here are ten things you probably didn't know about 100 Day Dream Home.
1. The Professional Careers of the Kleinschmidt's
Brian and Mika Kleinschmidt had extensive careers in real estate prior to starting the show. According to HGTVs website, Brian is a real estate developer while Mika is a real estate agent. Both of them bring different skills to the table. For instance, Brian always finds ways to finish building walls and ceilings within two hours. This is quite astonishing as constructing walls and ceiling usually takes a week to be completed. Mika is responsible for the design and eventual aesthetics of the homes.
2. The show features clients from Tampa
Just like the Kleinschmidt's, the show will only feature clients from Tampa bay region. One of the main reasons to air 100 Day Dream Home was to showcase the immense development of real estate in Tampa. For this sake, the show will also feature local businesses from this region. Some of the areas that this show will build homes include; Plant city, downtown Tampa, Ruskin, Apollo Beach, Riverview and St Petersburg. In total, this show will build nine homes in these regions. The clients will be selected through a casting process by Brian and Mika's production company. Additionally, potential clients must be legit people looking to buy homes.
3. The Homes Are Custom-built
Each of the nine homes to be built will be done in accordance to the customer's tastes and preferences. Although this task is daunting, considering the tight schedule, the Kleinschmidt's usually help their clients surf for locations, plots and even the designs of the homes. With their extensive knowledge in real-estate development, Brian and Mika also guide their clients on the variety of options to choose from. These options range from the type of kitchen floors to be built, to the backyard and the costs implication of these options.
4. The Hosts Met in High School
Brian and Mika first met in Riverview high school. According to Tampa Bay, the first episode of 100 Day Dream Home will be featured in Riverview. This location is approximately five miles from where they first met. Besides, they had been working on coming up with this show for three years. Their college friend is responsible for pushing them to eventually realize their dream.
5. Producers Gift to Homeowners
Unlike other property shows in other television networks, 100 Day Dream Home producers have come up with an interesting idea that adds suspense to this show. Each client will receive a different gift from the producers. These gifts range from kitchen floors, ceiling, backyard and even interior designs. They are also fully funded by the producers. For instance, the first couple in the show was given a beautiful backyard by the producers. This not only helps to market this show but also adds to the suspense as homeowners wait to find out what gift they will receive from the producers.
6. Clients See Their Homes Only After Completion
Building a home in a hundred days or less is very challenging and this is why clients are not allowed to come in, during the building phase of their homes. According to Brian, clients tend to be easily swayed from one option to the other. These, in turn, cause delays considering the show runs on a very strict schedule. This is the sole reason as to why clients are sent away until the home is finished.
7. 100 Day Deadline Has Never Been Broken
As at now, the show has aired five episodes with three more episodes left. Despite the many challenges they have faced, Brian and Mika always strive to complete building homes within the stipulated deadline. That said, according to Tampa, Brian recalls a situation where the show merely had eighteen hours to complete building a home while the task at hand required almost thirty-six hours to be finished. Although they managed to finish the home within the required time, Brian nonetheless considers it the most challenging task they have faced up to now.
8. Construction Personnel is from Tampa
In an effort to develop and market local businesses in Tampa, Brian and Mika made sure that they sourced all personnel required to construct homes from the region.. These include; contractors, subcontractors and even home builders. Most of the construction materials used was also sourced locally.
9. Mika is a Gifted Mediator
One of the challenges this show faces is deciding on the home designs especially among couples. Often, most couples are divided on what home designs or interior décor to choose for their home. As a result, Mika customarily serves as the family mediator and helps the couples arrive at a decision that satisfies them both.
10. Price of the homes
Although the Kleinschmidt's build houses depending on your budget, each home has a starting price of $300,000. This means that they can only build a home that has a budget allocation of $300,000 or more.
Final Thoughts
Homeowners living in Tampa Bay have something to rejoice in, as they can easily be selected to be the lucky clients whose house will be built by this show. Fans will also benefit from this production as they will get to see emerging trends in real estate. As the show prepares to air its second season, you might be the next owner of a brand-new custom-built home, that is, if you come from Tampa Bay.