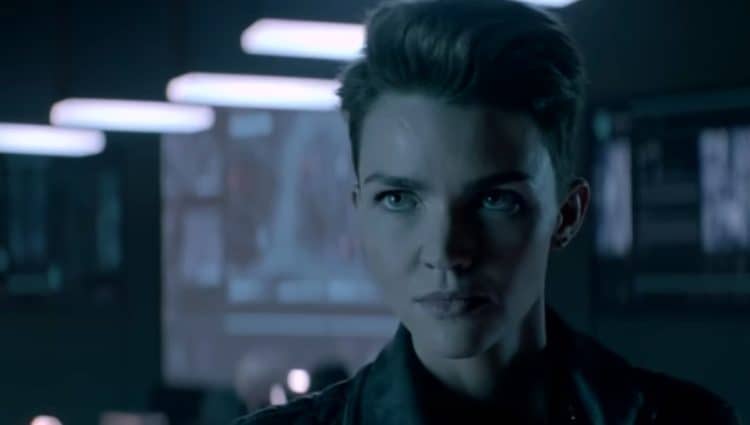 Before we get to Batwoman, we have to give a nod to Batman because that's where this all started. We do love Batman, but let's be honest; by any chronology, he's getting old. Since his first comic appearance was in 1939, we could say "Happy 80th Birthday," to the world's greatest detective. Yet, that wouldn't be truly accurate since he wasn't exactly a newborn when he first appeared in Detective Comics #27 all those years ago. Even the current incarnation, Damien Wayne, who was robin for fifteen years or so before assuming the bat-mantle is no spring chicken. We've all seen Barbara Gordon as Batgirl, but the universe was ready for this grittier, more mature female caped crusader. Hence, we present to you, the new-new incarnation Batwoman (Thanks CW)! Since the show premiered yesterday, we scanned the whole worldwide web with our superpowers of deduction and reading to see what people think of her. It looks like Batwoman is a hit, but that's only half the story. We'll take you inside the new series and share some of the thoughts fans and reviewers have had now the much-anticipated premiere has finally dropped.
Not Your Momma's Batman
Remember when Batman was an old rich guy who had grey tights, Bat-eyebrows on his mask, and a bizarre movie in the 1960s? We do. "Holy Suproses Batman!" Adam West and Burt Ward were hilarious. Over time Batman has been through plenty of permutations as a comic, cartoon, and live-action hero. He's been silly, serious, and downright macabre at times. Plus, he's been resurrected and healed about a million times, or so it seems. Regardless, even a playboy billionaire who might be immortal couldn't hold our attention forever. Bruce has been back in time, become a bitter old alcoholic, and fought both dinosaurs and gods and even seen more alternate universes than we can count. It was time for a new story.
As Batman got older, and audiences changed, the series has gone from colorful and fun with bat-nipples on the suit to a much harsher and darker place. The days when the Governator himself, Arnold Schwarzenegger, played Mr. Frost are gone. Today's audiences are happy with a batman who's left behind childish things. Don't take that wrong; we're not complaining. We love the big bat in all his forms. Whoever wears the mantle, from Adam West to Robert Pattinson, brings their own flair and interpretation to the role.
As times change, we need to make room for something new to stay relevant. Doing that without losing track of what made the original predecessor great is tough. Kate Kane (A very superheroic name) has some big shoes to fill as she takes on the mantle of the man who once saved her life. Unfortunately, she also watched as he failed to save her sister and mother. We could see a universe where she just became another of his villains instead, but Kate isn't typical even for Gotham.
Ruby Rose
This actress already has a name made for a superhero. The stunning Australian Ruby Rose is best known for her time on MTV, Pitch Perfect 3, or Orange Is the New Black, but whoever cast her could not have done a better job. Ruby is dynamic, and she has a ton of experience in action and horror movies. Rose worked on Resident Evil: The Final Chapter, John Wick, and XXX. She may once have been the face of Mabelline, but Ruby is precisely the sort of icon women want today. Gorgeous, fearless, and capable.
Survey Says
TVline.com says 1.8 million viewers turned up to watch the new Batwoman in action. That beats Supergirl by about five hundred thousand viewers. The site gives her a 0.5 rating, which is twenty percent higher than the Supergirl premiere. The viewers there gave the show a B- grade and about seventy-seven percent are planning to tune in next week to see what happens next. That's a pretty good overall reception if you ask us.
Rotten Tomatoes, which is notorious for tearing shows up for any mistakes they perceive, gave a stunning seventy-four percent on the Tomatometer. Meanwhile, Metacritic only gave the show a sixty, and IMDB was downright harsh. They allotted only three-point five out of ten stars. Some viewers seem torn about their feelings on Kate Kane.
While lots of fans love the show, it's the critics who have come out of the woodwork to support the new Batwoman. For example, Bruce Miller of the Sioux City Journal feels the role was perfectly cast.
The Downside
The two biggest complaints seem to center around the show's constant mentions of Batman and questions of whether the actress can pull the role off in the long run. Batman's absence is definitely felt, but that's kind of the point. Gotham is empty, missing a large part of its spirit without the bat-winged avenging angel hanging over the city streets. Kate Kane is there to fill in that hole with her new, yet classic brand of bravado. In the absence of a hero, someone has to rise from the rank and file to take up the position. As for Ruby Rose, we think she's got this in the bag.
Some folks complained about how far from Gotham the whole show seems to have diverged, but there's a need for backstory. Even the great Bruce Wayne didn't get all his training by hanging around town all day. Like her predecessor, Kate has gone away to learn some serious skills to tackle the job ahead of her. Again, we like this and think it's entirely in keeping with the story the writers are trying to tell here. It seems like she may have more in common with Batman than the one rescue. Kate shares his passion and drive. She also shares his solitude. Plus, Kate lost her family early on in life, in front of her eyes, not unlike young Bruce, who was unable to save his parents.
We predict there will be a reckoning at some point. After all, it was Batman who let her family fall to their deaths. He's bound to show up at some point if Kate doesn't track him down first.
Final Thoughts
We loved the new Batwoman, and we're not alone. Fortunately, you don't have to take anyone's word for it since you can watch the pilot on the CW for free right now. Once you've seen it, let us know what you think of this exciting new addition to the Arrowverse.