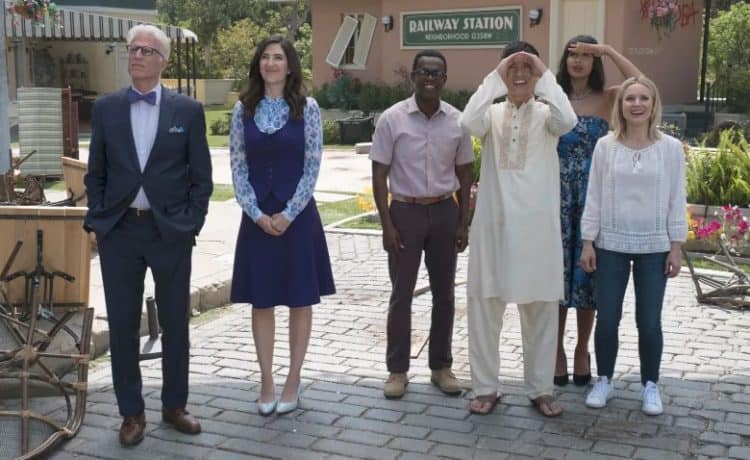 A brainchild of Michael Schur, The Good Place premiered on NBC in September of 2016. The series explored the afterlife, with morality at the center of it all. People who scored high on the moral scale were sent to 'The Good Place', while those who had low scores morally were sent to 'The Bad Place'. The show featured Kristen Bell as the star, alongside William Jackson Harper, Jameela Jamil, D'Arcy Carden, Manny Jacinto, and Ted Danson. It ran for a total of four seasons and came to an end in January of 2020. Here's what the cast has been up to since, and what the members are doing in 2021:
1. Kristen Bell (Eleanor Shellstrop)
As the star of the show, Eleanor Shellstrop found herself in the Good Place by mistake. Since the show ended, Bell has appeared in the movie Queenpins alongside Kirby Howell-Baptiste, Paul Walter, Bebe Rexha, Vince Vaughn, and Ben Stiller. On television, Bell has lent her voice to Gossip Girl, and also sang as Marge Simpson in an episode of The Simpsons. Bell continues to run the series Momsplaining on The Ellen DeGeneres Show and is currently in her sixth season.
2. William Jackson Harper (Chidi Anagonye)
As Professor Chidi Anagonye, William Jackson Harper gained notoriety for his inability to make decisions. This year has been a busy one for Harper. On the big screen, he has appeared in the film We Broke Up, where he played the role of Doug. On television, he has made appearances on four episodes of the Thuso Mbedu-led The Underground Railroad and played the role of Marcus Watkins on HBO Max's Love Life.
3. Jameela Jamil (Tahani Al-Jamil)
On The Good Place, Jameela Jamil portrayed Tahani Al-Jamil, a fashionable philanthropist. Just like Harper, 2021 has been a busy year for her. She has voiced Lady De-Clutter in an episode of Rugrats, and is in the process of shooting Star Trek: Prodigy, where she voices Ensign Asencia.2022, for Jamil, is also looking to be another busy year since she is set to play the role of Titania on She-Hulk and also narrate in The Statistical Probability of Love at First Sight, which includes Sally Phillips, Ben Hardy and Rob Delaney as part of the cast.
4. D'Arcy Carden (Janet)
As Janet, D'Arcy Carden served as the bearer of information. In the world of film, she has appeared in the Trent O'Donnell-directed Ride the Eagle, where she plays the role of Audrey. 2021 has been a quiet year for Carden when it comes to the small screen. She is however set to make an appearance as Greta in A League of Their Own, a role whose timeline is yet to be announced. The show's cast also includes Abbi Jacobson, Kelly McCormack, and Nick Offerman, who portrays the role of Casey 'Dove' Porter.
5. Manny Jacinto (Jason Mendoza)
As Jason Mendoza, Manny Jacinto doubled up as a drug dealer and a disc jockey. Since 2018, Jacinto has been off of the movie-making scene. He's set to appear in I Want You Back and Top Gun: Maverick, both of which are eyeing a 2022 release. On television, he has landed roles on Trese, where he plays the role of Maliksi, Brand New Cherry Flavor, where he portrays Code in eight episodes, and Nine Perfect Strangers, where he plays the role of Yao.
6. Ted Danson ( Michael)
As Michael, Ted Danson was an architect at a Bad Place who was in control of the Good Place neighborhood. He was intrigued by the simplest things, like playing with paper clips. Since the show ended, Dance has been quiet in the movie scene, having been an executive producer in Best Summer Ever. On television, he plays the role of Mayor Neil Bremer on Mr. Mayor. The show is the brainchild of Tina Fey and Robert Carlock, and was renewed for a second season only two months after its premiere.
7. Tiya Sircar (Vicky)
Sircar portrayed Vicky, a Bad Place demon who was also the real Eleanor Shellstrop. Her last appearance in a film was in Christmas on Wheels, where she played the role of Ashley. On television, Sircar appeared in an episode of The Simpsons, where she voiced Erin. The rest of the year is looking good since Sircar recently made an appearance as part of the main cast of Guilty Party. Sircar portrays the role of Fiona in the Paramount+ series. Guilty Party also includes Kate Beckinsale as Beth Baker and Geoff Stults as Marco Baker.
8. Adam Scott (Trevor)
As Trevor, Adam Scott earned the reputation of a bully. Just like Sircar, he has been missing from the movie scene. His last appearance on the big screen was in Have a Good Trip: Adventures in Psychedelics. Scott landed a role in a single episode of Duncanville, where he voiced Nick. He's looking to end the year on a high note, since he's set to play the role of Mark in the upcoming Apple+ television series, Severance. The show, created by Dan Erickson, is also set to feature Patricia Arquette, John Turturto, Christopher Walken and Britt Lower as part of the cast.
9. Maribeth Monroe (Mindy St. Claire)
As Mindy St. Claire, Maribeth Monroe was the ever-so-charitable lawyer who garnered more points through charity and wound up in a private Medium Place where she endured life in the 1980s. Monroe's last appearance in a film was in Jumanji: Welcome to the Jungle, where she portrayed the role of a teacher. Since 2019, she has portrayed the role of Christina Wheeler on the Chuck Lorre creation, Bob Hearts Abishola.
10. Kirby Howell-Baptiste ( Simone Garnett)
As Simone Garnett, Kirby Howell Baptiste's occupation was that of a neuroscientist. Outside that, she was Chidi's lover for a hot minute. 2021 has been a busy year for Howell in the film scene, having appeared in Happily, Cruella, Queenpins, and Silent Night. On television, she hasn't had much action. She last appeared in an episode of Hacks. 2022, however, looks like a busy year, both in the television and film scenes, as she will appear in The Sandman and Catwoman: Hunted, where she will voice Barbara Minerva/ Cheetah.
Tell us what's wrong with this post? How could we improve it? :)
Let us improve this post!