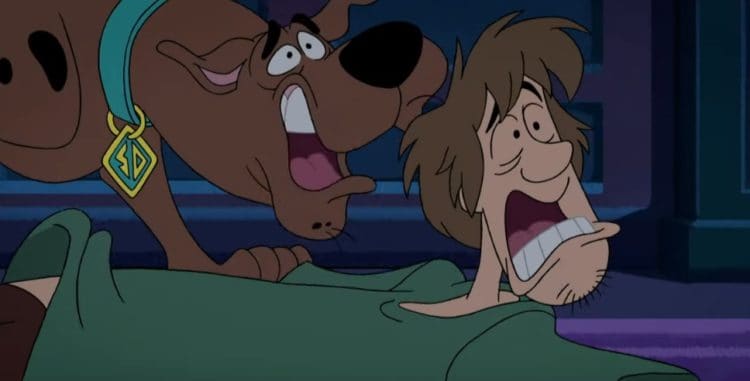 You could say that Batman doesn't like competition, and yet you could also say that he's a bit petty when it comes to sharing the spotlight since….he's BATMAN. If you didn't get that then you might need to watch the Keaton and Nicholson movie to get the reference, but it would seem as though Batman isn't quite the understanding hero that others such as Superman, Wonder Woman, and others might be. Ever notice that? Batman seems to think of everything in terms of what kind of threat another person might represent and how to neutralize said threat before really taking the time to think "Maybe these kids aren't that much of a threat and I should talk to them before tying them up and tossing them around". So yeah, that seems a little cynical and as though it might want to challenge Batman and his ways, but after so long isn't it about time? Scooby Doo and his crew have been solving mysteries for a while after all, the kind that might be seen as being beneath Batman since he tends to take on serious threats that aren't all about scaring people away from various areas. But somehow meeting up with Batman was in their future however since a writer or group of writers or a producer decided that it was a good idea. As a gimmick it's not bad really, but showing him tying up the whole crew is kind of confusing since it shows that Batman really has massive trust issues, a quality that a lot of people know about but still hasn't managed to get better after all these years.
Seriously, do Fred, Shaggy, Velma, Daphne, and Scooby look like a big threat? Compared to Batman they're about as troublesome as a group of toddlers, but he still seems to think it's okay to accost them and get all serious when it comes to asking them just what they're doing there. It's not much of a wonder why Batman doesn't usually have much to do with kids, as he seems to have never developed that part of his personality when it comes to being anything but an aggressive, overbearing individual that could possibly make a grown adult cry.
Robin S. Rosenberg Ph.D. with Psychology Today has taken on the task of trying to diagnose in a clinical manner just what is really wrong with Batman, or at the very least abnormal. Honestly, you know he's fiction, I know he's fiction, the whole world knows he's fiction, but at the same time it's kind of fun to think about just what is really going on beneath the cowl and what that brilliant but troubled mind might be thinking of on a regular basis. Batman is after all a big-time brooder and often acts like he might be depressed. He's definitely obsessive since he has a failsafe for just about any scenario he can think of, which includes his own allies if they were to ever run rampant and lose control. Obviously that didn't win him any points with the Justice League, especially when someone did exactly as he would have had the League members ever gotten out of hand. Batman is the kind of person that plans for the rainy day when the forecaster calls for sun for the next month or more, and will hold onto that safety measure and possibly scrutinize it over and over until it's as perfect as can be. This seems like obsession on a very dangerous level since it would appear that he doesn't do much aside from planning for worst case scenarios. Oh yeah, he gets out now and again to keep up appearances, but otherwise it really seems as though Batman doesn't really know how to just kick back and unwind.
It might seem less than advisable to criticize someone that seems like such a big hero, but when you think about it, as great as Batman has been seen to be, he's still kind of a problematic individual as well. He's not the friendliest of people, he plots and plans without anyone knowing what he does, and his violence is a controversial thing that seems to praise him in one moment when he's taking on the bad guys and vilify him in the next when he finally crosses the line and insures that some of the worst won't be coming back for another tour of evil. He's a confusing character at best sometimes and a vigilante that spurs people on at the worst. It's kind of thankful that Batman is fictional since if he were real then it's very likely that it would be another issue that people would spend way too much time on. But in terms of how he interacts with the Scooby Doo crew, it does seem that overkill is the name of the game.