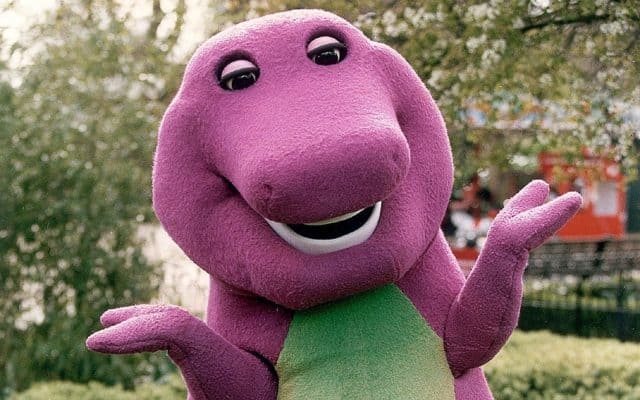 Barney doing B.I.G. seems a bit insulting to those that have been fans for so long, but it also seems pretty humorous. How the big purple dinosaur ever got popular isn't too hard to imagine. He's a big, cuddly-looking character that caters to kids' egos and likes to have fun. Plus, for kids who are so into the program the colors and likable characters are definitely a big reason why kids would find this appealing. As for adults, so long as the kids are learning they seem to be in agreement that all is well.
I wonder if they'd say the same if they heard this rendition.
Obviously it's not real but it's kind of an odd thing to do with B.I.G. and Barney in collusion. Things like this tend to make me think that someone really has a too much time on their hands and need something to do. There are worse things that could occupy someone's time obviously, but this seems a little silly. That's an opinion obviously, so listening to it is optional.
But if you're a B.I.G. fan then your reactions to this might be a little mixed. After all the Notorious B.I.G. was a legend in the hip hop game until his untimely death. His lyrics were great, his delivery was awesome, and he was experiencing an epic run as a hip hop artist. Had he kept going there's nothing to say that he wouldn't have gone on to be someone exceptional in his later years.
As for Barney, there are those that are actually glad that the big purple dinosaur is gone. There was something a little ominous about him, even creepy, and as a children's show he might have been preferable to the Teletubbies, but he was still a little out there at times. There were enough spoofs of him to fill an entire lineup on a network, and to be honest the thought of anyone dressing up in a purple dinosaur suit to play with kids seems kind of kooky.
https://www.youtube.com/watch?v=Df2S4UiRFec
Here's the original version of the song without the Barney influence. The big purple guy was good for kids but for hip hop he's kind of too far out there. I get the feeling that Biggy wouldn't have really signed off on the big guy using his music for the simple fact that it wouldn't really make sense and obviously isn't geared towards kids. They don't need to know what a player is at that point in their lives.
There are times when missing Biggy and his music is something that a lot of us feel and can't help because we can't do anything about it. But the truth of it is that his fans feel robbed because he had so much to give it seemed. Between him and Tupac the hip hop genre lost two musical geniuses that it just couldn't afford at the time. Thankfully enough artists stepped up to fill the void left behind that hip hop wasn't left to flounder, but it hasn't been the same since.
Save