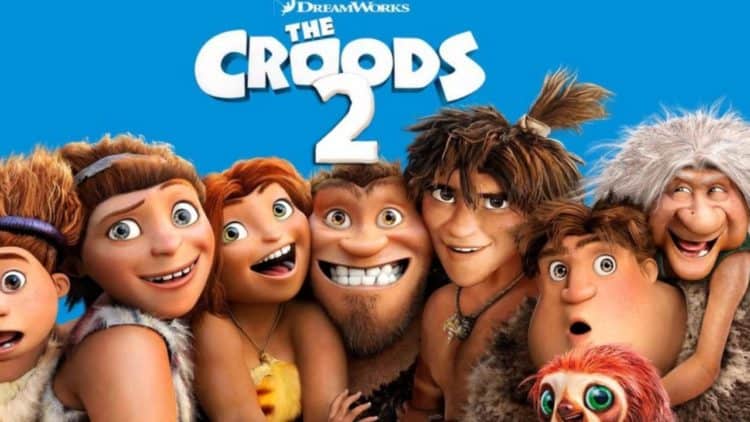 Thankfully it won't take untold millennia for The Croods 2 to come out since the project is moving ahead after being announced back in 2013 when the first one came out. As B. Alan Orange of MovieWeb reveals the original cast will be making a return and will be joined by new cast members Kellie Marie Tran, Leslie Mann, and Peter Dinklage. If you don't know who these individuals are then you really need to get out to the movies more or watch a little TV and inform yourself since Kellie Marie Tran plays Rose Tico on Star Wars, Leslie Mann is famous for movies such as This Is 40 and many others, and of course Peter Dinklage is one of the living legends of show business at this point. The Croods will be meeting up with another family, the Betterman's, who have yet to figure out what it's like to live outside of a cave, so one can imagine that this is going to be quite a bit like the first one in some ways, but maybe the gags and the jokes will be a little different since the whole point of the first movie was to show how the family moved on and came to understand the value of overcoming one's fears while moving forward.
The first movie was something of a surprise that a lot of people seemed to brush off as Mike Scott of NOLA might agree with, and people didn't seem to know much about it until they really sat down to watch it. Honestly it didn't receive a whole lot of fanfare compared to some animated movies and it almost felt like a filler movie that was being used to appease the younger fans and families that liked seeing cute animated movies together. But in truth the first movie was pretty good and had a lot of content that was geared for adults and just as much that was meant for kids. The whole idea of Grug being the big, overprotective father that was also the alpha male of the group that still had to endure a teenage daughter and an irascible mother-in-law was pretty funny since like it or not a lot of fathers with daughters can still relate. The parts were picked perfectly since Ryan Reynolds as Guy and Emma Stone as Eep were hilarious, especially since despite being evolved Guy was a lot weaker than Eep and her family. What's funny about this is that he was still stronger of will than the rest of the Croods, at least until they started to realize that they didn't have to live in fear any longer. Between his ideas, their individual strengths, and their combined ability to push through, the group was more than capable of reaching their goal.
Grug was perhaps the most surprising character of them all since at the beginning of the movie he was so set in his ways that it seemed impossible to get through to him that Eep was growing up and getting curious about a lot of things. For some fathers this is a nightmare since the moment that their daughters start noticing boys it tends to become a possible headache considering that they remember what boys can be like at such an age. Contrary to what some might think however it has nothing to do with treating one's daughter like property and everything to do with making sure that they don't meet a guy that will take advantage of them and potentially harm them later on. As Grug learns though and as father's all around the world tend to learn you don't get to hem your kid in on all sides for long since they have to go out and experience the world if they're going to learn anything and eventually grow. That leaves a big question mark as to what's going to happen when the Croods meet the Betterman's, especially since the former have moved past the idea of living in a cave and have become liberated in a big way. Such a development almost leads one to think that the Croods might encounter further difficulties in their own dynamic and might actually slip and slide back into old habits.
Whatever happens it does seem as though the second movie might not be quite as funny as the original since that seems to be the way sequels go. But there's still some faith since the movie is keeping the original cast and not subbing anyone out. This is great to hear since the original cast was great to the point of being perfect for each role and would be sorely lacking in something if they had to take anyone out. For Belt and Sandy, who actually had voice actors playing them, it doesn't seem to matter as much unless Sandy is talking in clear words now, in which case it might be best to find a young actress or someone that can cover the role.
Release the baby!