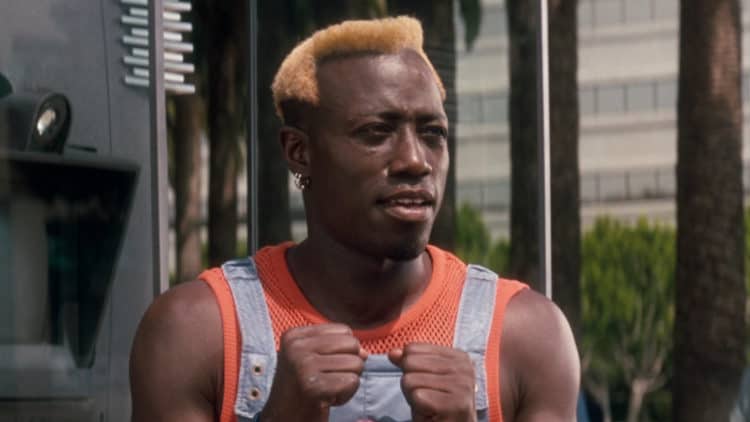 There doesn't seem to be much to go on right now for Coming 2 America, but it would seem that part of the plot, if not the whole plot, will be that Prince Akeem, thankfully still to be played by Eddie Murphy, will be coming back to America to search for his long lost son. That raises a few questions since in the original movie it would seem as though Akeem finally got what he wanted when he was allowed to marry the woman of his dreams, something that made them both insanely happy. So what happened in between then and now? It would almost seem as though the marriage didn't work for one reason or another or, quite possibly, his wife is no longer around. In any case there's hope that things will be ironed out before too long, but the main part of this article is that Wesley Snipes will be joining the cast as a new character, General Izzi.
As many people know Snipes has been trying to mount a comeback after his career kind of took a nosedive and he's been struggling a bit ever since. He's taken on roles with various movies over the years, though his time in pictures such as The Expendables 3 and Brooklyn's Finest don't seem to match up to his older roles such as New Jack City, Passenger 57, or even Blade. Some might think that he was passed over when the part of Blade came around to the MCU, but quite honestly, no matter how much he might have wanted it, Snipes had his chance. The fact that he's still being selected for movies is a great boon since it means that someone still thinks he has enough skill to appear on the big screen. There's no doubt when it comes to his physical abilities since he's always been fun to watch when it comes to a good fight scene. But his acting has been decent, not exactly Oscar-worthy, and in recent years has only really managed to get marginally better. There are those movies where he's been allowed to shine and has done quite well, such as Demolition Man, which was kind of corny at times but was still a bit ahead of its own time since the ideas used could have gone better with the advanced technology that's available now.
With that in mind Snipes isn't really the kind of guy you'd expect to see in a comedy like Coming 2 America, though it's been seen that he does have something of a funny bone and can produce laughs when it's really needed. In terms of acting though he kind of needs a definite purpose, and then he becomes someone that you can believe in. His time spent as Blade was all well and good for the first and even part of the second movie, but by the third things had gotten a bit stale and really needed an injection of something other than Ryan Reynolds and his endless supply of sarcasm. Hopefully Mahershala Ali can come up with the kind of act that will revive the Blade franchise, but at the very least thanks and respect need to go to Snipes for his part in the original movies since he was essentially the first black superhero to make it to the big screen, which a lot of people seem to forget as they fawn over Black Panther.
This coming movie however seems like it might be a stretch for Snipes or something that's right up his alley since it almost feels as though his character might be something of an ominous presence, though whether this will be good or bad is hard to say until we get to know more. Borys Kit from The Hollywood Reporter has pointed out that this isn't the first time that Snipes and Murphy have worked together since they've been working together on Dolemite Is My Name, but it will be interesting to see how this dynamic works since Arsenio Hall is coming back as well. There's no telling just how many of the original cast members will be making their way back, since James Earl Jones was a big part of the movie as well. It would be nice to see John Amos and as many of the original cast members as possible come back to this one, but again, there's no real way to know for sure until more information is given.
In truth it's still a wonder that this movie is going to be made since the first one, as I mentioned, ended on a high note and didn't seem to have any other issues that might have come along to derail the happiness. But whether it's a cash grab or a chance to stay in the spotlight, or a genuine attempt to make another movie that people will enjoy, we'll have to wait and find out.