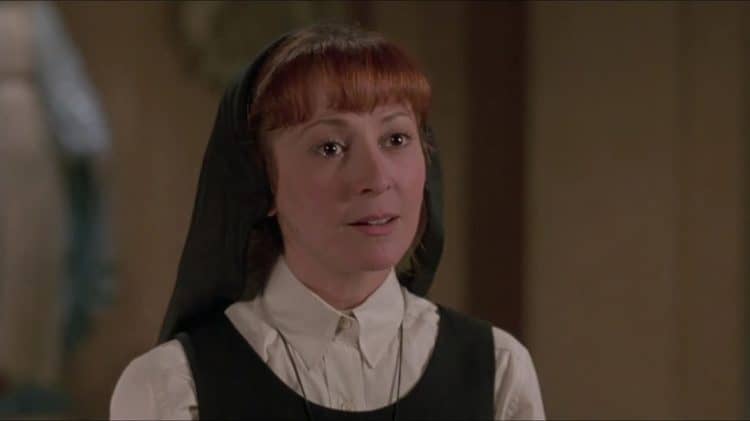 The phrase "they don't make 'em like that anymore" is one that could easily be used to describe Wendy Makkena. To put it simply, the level of talent she has isn't something you see very often. Born and raised in New York City, Wendy's career has spanned more than 30 years and she has proven time and time again that she can play any character that is presented to her. Since making her first TV appearance in 1986, Wendy has gone on to earn more than 60 on-screen credits. Although her resume is full of lots of great roles, she perhaps best known for playing Sister Mary Robert in the 1992 movie Sister Act and its sequel. She will be reprising her role in the upcoming third installment. Keep reading to learn 10 things you didn't know about Wendy Makkena.
1. She Was A Ballerina
Wendy has always loved to perform and she spent several years as a ballerina. However, an injury when she was 18-years-old forced her to retire from ballet. Despite having to change her original plan, she didn't let the injury stop her from pursuing other dreams.
2. She's A Classically Trained Musician
To say that Wendy is multi-talented is somewhat of an understatement. There's almost nothing this woman can't do when it comes to entertaining. She attended the world-famous Juilliard School where she received classical training in music. While there, she also got the chance to perform at Carnegie Hall.
3. She's A Business Owner
In addition to being a creative genius, Wendy also has a very sharp entrepreneurial mind. She is the founder of a dairy free snack brand called Ruby Rockets. According to GoDairyFree.org, Ruby Rockets are "made with fruit and veggie purees, juices, and coconut milk, but no added sugars. They're on the snack-sweet intersection with a wholesome vibe that's cool and refreshing. They do contain naturally occurring sugars, but only 5 to 6 grams per standard-sized bar."
4. She Thinks Of Herself As An Interpreter
Entertainer is probably one of the first words people would use when describing Wendy, but she links to think of herself as an interpreter. She told Creative Point On, "When I play the harp, I interpret someone's else music, when I'm acting, I'm interpreting someone's else words. Even as an entrepreneur creating a recipe, I feel like I'm interpreting something, putting my acting skills into practice for marketing purposes."
5. She's Been On Broadway
Wendy's on-screen resume is certainly impressive, but it's not the only thing she's done. She has also had a very successful theater career that includes Broadway. She made her Broadway debut in the 1987 production of Pygmalion and she has been in other Broadway shows since.
6. She Loves Helping Others
Wendy hasn't let her level of success allow her to become detached from things that negatively impact people in the 'real' world. She has made a conscious effort to use her platform to bring as much good to the world as possible. She is passionate about helping those in need and she has shown her support for several causes over the years.
7. She's A Proud Mom
Wendy's career has played a very big role in her life, but nothing is more important than family. Wendy has been married twice and she has one child from her marriage to her current husband. She has never revealed any information about her husband and little is known about her daughter.
8. She Wasn't Actually Singing In Sister Act
Despite the fact that Wendy is a classically trained musician, she didn't really sing in Sister Act. According to Grazia, Wendy " is lip-synching – very well, it has to be said – to the vocals of singer Andrea Robinson, who has lent her vocals to many TV shows and films, like The Tigger Movie and The Little Mermaid: Ariel's Beginning."
9. She's A Dog Person
If you're an animal lover, one of the first things you wonder when you meet a new person is whether they're a dog or cat person. For those who were wondering where Wendy stands when it comes to her favorite furry friend, it looks like she's a dog person. Sadly, her fur baby, Lola, recently passed away.
10. She Likes To Travel
Anyone who has gotten the chance to travel will probably tell you that it's one of the best experiences a person could have. Traveling is a great way to escape from the demands of daily life. Wendy has been fortunate to do lots of traveling over the years and she has visited places both in an outside of the United States.