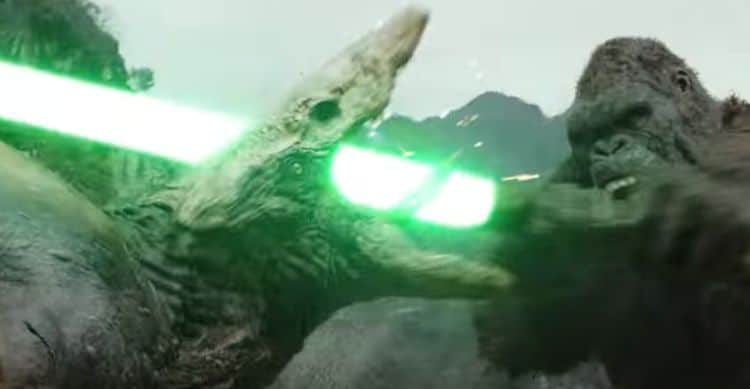 That's pretty impressive editing to be fair and quite honestly if Kong did have a lightsaber, yes, just go with it, his upcoming fight with Godzilla would be a lot more even since it does feel that as thick as Godzilla's scaley hide is, a lightsaber the size of a building would probably carve the big lizard up just fine. Heck, it might even be able to deflect or block the nuclear blast that Godzilla is known for bringing to the fight, or not, it's hard to say. But given the color of the blade, it's easy to assume that the person doing the editing on this clip sees Kong as a heroic individual and not someone that's out to inflict pain for the heck of it. That makes a lot of sense really since Kong has been lauded as a protector since returning in Skull Island, but a vengeful protector of course since he's not about to let anyone or anything push him around or threaten those he means to protect. It does feel that he would have made short work of the Skullcrawlers with a weapon like this, but it's also possible that their hides would be highly resistant to being chopped up without some sort of resistance. They were tough creatures after all and were thought to be at least partially responsible for the death of Kong's kind.
Okay, let's dip our toes into the logical side, or at least the sensible side, just a bit, since imagining the size of the crystal that would be needed to power a saber that big is insane since one might get images in their head of a deep, dark cave where the crystals that are needed for something like this might grow. Then it would stand to reason that Kong is actually pretty intelligent to build this weapon and know how to use it without cutting his own limbs off since even an ape as big as Kong couldn't stand up to the destructive power of a weapon like this considering that he's flesh and blood. But imagine the people of the island having to endure the seismic force of his training, since those that learn how to wield a lightsaber aren't bound to get everything right all at once. From Kong slicing through mountains and trees and causing an avalanche here or there, it's fair to say that things would happen that would be less than positive for the people on the island. As far as the Skullcrawlers go, Kong shouldn't have much of an issue with keeping things as peaceful as possible.
Including lightsabers in a number of different movies could change things in a big way, especially if we just ignore the idea of where the sabers would come from and the idea that they take a lot of training to master. It's fair to say that a lot of people might look down on this practice since it's not practical, rational, and demands that people give up a lot of their belief in the sanctity of the weapons. But it's too much fun to not think about it since in some movies it does make a strange bit of sense to add them in, right up until someone touches the blade with their bare skin, since then a lot of people will roll their eyes and the level of interest might drop. The whole idea of the lightsaber has become such a big thing in pop culture that the sanctity of it is something that many fans seek to keep as much as they can, and there are some folks that might actually argue against this practice while trying to sound rational as they possibly can. Some folks can't stand their fiction being mixed now and again just for fun since it has to be as serious as possible in order to keep it all rational and sensible. Keep that in mind, some folks will argue over fiction as though they were defending the honor of something within the real world. To be fair, trying to honor fiction or anything in the real world kind of depends on the perspective and whether or not the offense is real, but when it comes to some fans it doesn't really matter given the fact that they'll fight over just about anything.
Kong with a lightsaber is funny and pretty cool since one can almost imagine him swatting helicopters out of the air with the saber, which would be kind of like someone trying to swat at hummingbirds with a high-powered bug light. The size of that lightsaber is enough to make a lot of people wonder what it might be able to slice through, especially with Kong's immense strength behind it. One just has to remember that it's all in fun.