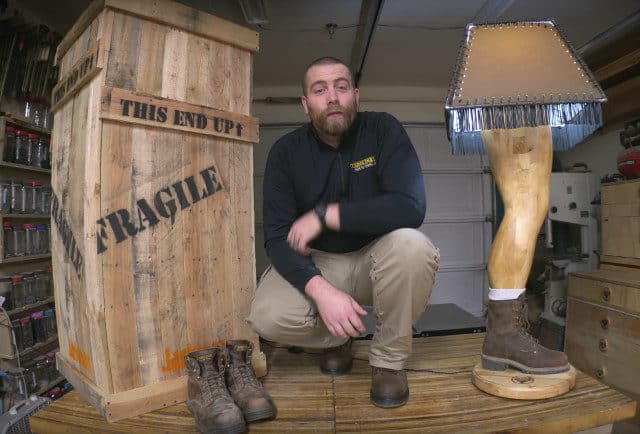 If you can watch this woodworker make a Christmas Story lamp out of his own leg and not be impressed I'm not sure what else to say. Watching this made me wish for a moment that I was a little more industrious and hands-on when it came to certain projects, but sad to say I could live until I was a thousand years old and never make anything this impressive with my own two hands. That's why writing about this project is where I flex my skills as I'll try to give the type of credit that's due to this insanely impressive feat.
But first, a few words from the creator of this awesome homage to a classic movie:
This leg is an exact full scale model of my own leg. The leg and base are made from maple butcher block scraps from previous projects. The lamp shade is welded from scrap lengths of rebar and wrapped in pleather attached using paracord that looks like Carolina's boot laces. The boot is attached using a threaded brass lamp rod through the entire leg with a nut on both ends. There are also a couple of screws into the toe of the boot/foot.
Carolina actually sponsored this video and it's easy to see why since the work this guy does is just that amazing. The tools he uses are obviously the tools of his trade since he knows how to use them to great effect and does so with what looks like the greatest of ease. I've taken a couple of wood shop courses in the past but could barely make a paper towel holder or a birdhouse. Watching this guy go about his business is enough to make me think that he's put a few thousand hours and more into various projects that would boggle the mind to understand. In fact I didn't even understand just how he was going to go about sculpting the leg until I started watching. Strangely enough it seems so rudimentary that anyone could do it, but then he gets into the meat of the project and that thought flitters away like a scrap of sawdust as he digs in.
It wasn't understood why he would say that he went through so many drill bits getting through the sole of the boot until it was shown that the work boot has a steel plate running through the bottom, which only makes sense to be honest. Work boots are meant to be tough and are made that way for a reason. After all you wouldn't want something you're working on to fall and crush your foot simply because you wanted to be fashionable instead of safe. I remember the last time I wore work boots someone dropped a log on my foot and I barely felt it. They're steel-toed for a reason.
The final product is just amazing, and the fact that he went to the length of creating a replica of the box that it came in is awesome.