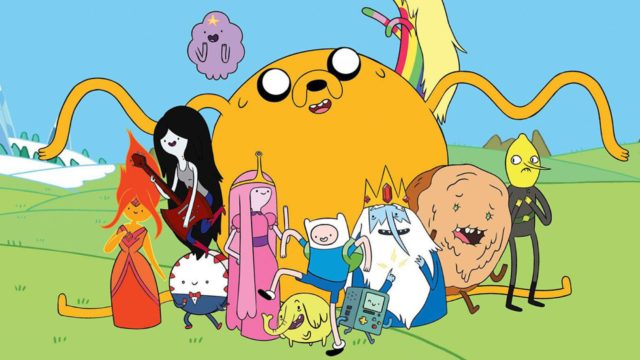 Adventure Time, created by Pendleton Ward, is an animated television series made popular on Cartoon Network. The series follows the adventures of twelve year old Finn who battles evil, assisted by Jake, his magical dog, in the post-apocalyptic Land of Ooo. This dynamic duo rights wrongs and battles evil, which generally coming in the form of the Ice King, who is searching for a wife. Believing he should marry Princess Bubblegum, he persistently tries to steal her away even though she doesn't want to get married to him. Finn, Jake, and Lady Raincorn, who is a cross between a rainbow and a unicorn, all help to keep the Princess safe and sound.
The animated series, which has won both Emmy and Peabody awards, sadly is coming to an end after eight years. However, Adventure Time content is scheduled to continue debuting over the next couple of years on Cartoon Network. The scheduled content is to include the tenth and final season plus specials and miniseries. The show has long been acclaimed for not only its groundbreaking visual style but also its mix of dark and whimsical notions. Ever since the animated series debuted in 2010, it has been one of Cartoon Network's most popular hits, with a ardent fanbase of kids as well as adults, spinning off more than a hundred global licenses for memorabilia such as video games, toys, comic books, and clothing.
Adventure Time succeeded in changing the very definition of what a TV series for kids could be while having an emphatic impact on popular culture worldwide. It was a passionate project for the crew who poured their everything into the stories and artwork. They tried putting something genuine into every episode, not only making the show personal for the crew, but for the viewers as well while also sharing jokes. It's the reason it connected with an audience for so long.
If you're looking to watch the animated series, but don't have Cartoon Network, there are other ways of watching. Here are a few ways how to watch Adventure Time episodes online.
There are several sites, such as YouTube and Amazon where you can buy the episodes for ninety-nine cents each. When buying digital copies, they are yours to keep. You may have to go to the site where you bought them for watching, but some sites allow downloading digital copies as well.
Another option for watching online is cartoon sites that offer the shows for free, such as Cartoonson.com, which offers full episodes online free in HD quality on any device. There are other free sites available for watching Adventure Time as well. All you have to do is search for "watch Adventure Time online" and the search will render several possible sites which provide episodes to watch for free. Sites such as Cartoonson may direct you to a paid advertiser's site, but you aren't required to purchase anything in order to watch, although you may be redirected to the paid site each time you start a new episode.
Sadly, after eight years, Adventure Time will be coming to an end with a four-part finale coming soon. Back in 2016, Cartoon Network announced that the award-winning animation would be entering its tenth and final season. The four final episodes are part of the finale which is collectively known as "Come Along With Me". The lyrical line is from the end credits theme and is strangely copied as vocals only at the end of the following trailer with no backing track. Watch the following video to see what the finale is going to be about:
https://www.youtube.com/watch?v=YiaRLkczxSQ.
Watch Adventure Time episodes anytime online.
Tell us what's wrong with this post? How could we improve it? :)
Let us improve this post!