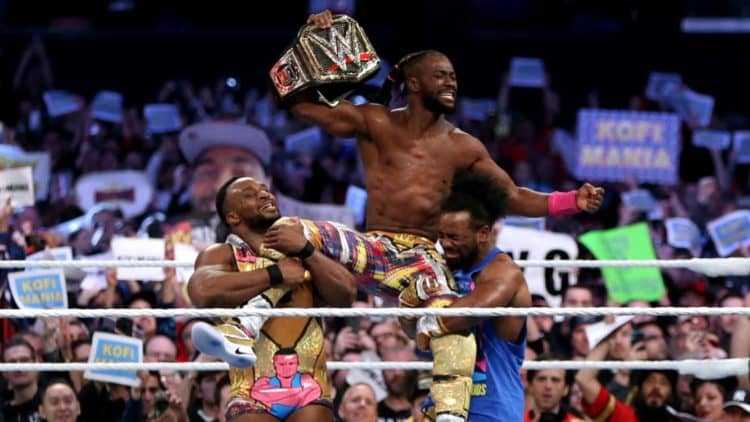 In 2009, Kofi Kingston was on the road to becoming the next big thing in WWE. He was feuding with Randy Orton and things seemed to go his way as the former WWE Champion was gaining momentum until suddenly, his feud with Orton ended and he was pushed down into the mid-card. For ten years, that's where Kofi Kingston stayed. He was consistently in the Intercontinental, United States, and WWE Tag Team title picture, and there seemed to be no hope that he would climb higher than. However, that all changed due to Mustafa Ali suffering an injury that forced him out of the Elimination Chamber match.
Kofi stepped in and his journey to becoming the WWE Champion grew. So did his momentum. Fans became invested in Kofi becoming the WWE Champion and Vince McMahon was wise to follow that wave of momentum. After ten long years, Kofi finally winning the WWE Championship was a huge moment, arguably it was the best one at WrestleMania 35. WWE had created a new star that fans generally loved; however, that wouldn't last long. Part of that reason is Kofi didn't change as a character. The former WWE Champion needed to shed his New Day image to fit one as a main event star. Kofi was too goofy to take as a main eventer. Granted, guys like Stone Cold Steve Austin, Kurt Angle, and The Rock had their goofy segments, but these guys weren't one-dimensional characters as they were felt like they belonged in the main event scene. It didn't help that WWE didn't necessarily treat Kofi as a main event star. His title bouts felt more like mid-card feuds despite being in the ring with names such as Kevin Owens and Samoa Joe. Creative did a solid job of protecting Kingston while he was champion, but without character development and a compelling story, people started to sour on his reign.
Fans became so invested in his journey because of the reasons mentioned above. When Kofi reacted to his loss against Daniel Bryan at Elimination Chamber, it was a change from the normal as WWE characters rarely showcase this type of emotion went it comes to wins and losses. The company started playing up Kofi's journey and his desire to be WWE Champion. There was growth because Kofi stopped settling for being in a mid-card tag team. He wanted more, and fans rallied behind him when his desire to be better than average was showcased. However, when Kofi's journey was finally complete, his story stopped being interesting. Sure, he was WWE Champion, which is what fans wanted, but there was no compelling reason to continue rooting for him. His feud with Dolph Ziggler didn't help. These two had countless battles in the mid-card range and at this point in the former WWE World Heavyweight Champion's career, he felt like a glorified jobber, nothing more.
However, Kingston's feud with Randy Orton should've finally turned his reign into something interesting. These two have a rich history, with Orton being the man to stop Kofi's big push altogether. The first time they feuded was magic back in 2009; however, their rivalry was in 2019 was surprising lackluster. This was the time for Kofi Kingston to truly level up and shed his goofy New Day image because Orton is a serious and dark character, but unfortunately, unless the script demanded that the former WWE Champion acted a certain way then Kingston remained the same. When Kofi finally dropped the belt to Brock Lesnar, it was overdue. He was really going nowhere as champion and fresh blood was desperately needed at the top. The thrill was ultimately in Kofi's chase for the gold. WWE once again had an interesting angle by having Lesnar destroy Kofi in seconds.
Following the match, this should've been Kofi's chance to grow as a competitor and his journey to get back what was his should've started. In fact, if the company was wise, they could've had Kof clawing his way back to a championship match at WrestleMania the following year. But that didn't happen. Once Kofi's title reign was done then so was his time at the top of the card. WWE immediately pushed him back down to the mid-card scene as if he was never in the main event to begin with. In retrospect, Kofi's title reign was a waste of time. The purpose should've been to create a new main event star, yet his lackluster run killed any momentum that he had leading up to WrestleMania. This isn't Kofi's fault as creative just couldn't top his journey chasing the title. They had the opportunity to keep his character in the main event by having him trying to overcome a new obstacle, Brock Lesnar, but WWE wasn't interested in that. It's great that Kofi finally achieved his dream of winning the WWE Championship, but at the end of the day, he's back where the company thinks he belongs.
Tell us what's wrong with this post? How could we improve it? :)
Let us improve this post!