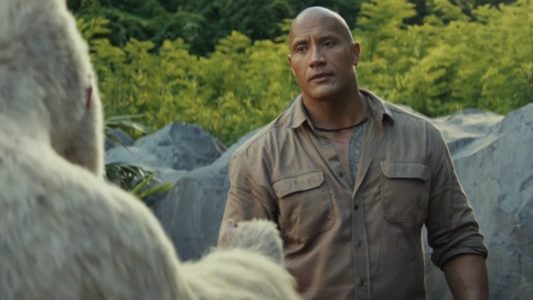 In a 2004 A&E biography focused on Dwayne 'The Rock' Johnson, actor, producer, and director Peter Berg has this to say about Johnson: "I think he's going to surprise people, tremendously. I think he's going to pick roles that people did not expect him to pick." At the time, Johnson had only made a handful of appearances on the big and small screens, and was just beginning to make a name for himself as an actor. Fast forward to nearly two decades in, Johnson has lived up to Berg's words, and given Hollywood the surprise of a lifetime, certifying himself as one of the most bankable actors in the business. In 2020, Forbes ranked Johnsons as the highest-paid actor, estimating the star's earnings at a solid $87.5 million. Here's how, in a span of two decades, Johnson has become one of the most respected players in the acting arena:
An Abandoned Football Career
At the age of 16, Dwayne Johnson was well on his way to going down a dangerous trajectory. Familywise, things weren't easy, and he was morphing into a rebel. He credits an encounter with a high school teacher as the moment that changed his life. The teacher, Johnson revealed during Oprah's Masterclass, asked him to play football, following an encounter they had at the teachers' bathroom. " He became a father figure to me and a mentor. I fell in love with the game of football." Johnson said. One to always have a winning streak, Johnson eventually joined the University of Miami on full scholarship and helped the team secure a championship nationally in 1991. Johnson's promising football career came to an end when he graduated from the University of Miami, joined the Calgary Stampeders, and got cut off the team. His failure in football, however, came full circle in 2020 when Johnson purchased the XFL.
The Seven Bucks Moment
Any chance Dwayne Johnson had of getting into the NFL was cut short in what he now calls the 'seven bucks moment'. At the time, Johnson was so broke, he could not even afford a cab to get to the airport. On the drive home, he decided to check his wallet. 24-year-old Johnson had only $7 dollars to his name. He moved back with his parents, and recounts the moment as one of the most depressing periods of his life. " Now I'm sitting at home, and I've got nothing to do. My phone is not ringing…" Johnson narrated on his YouTube channel. More depressing was the fact that some of the friends he'd started with back in Miami had become millionaires, and were already playing in the NFL. After a two-week pity party, Johnson decided to become a professional wrestler.
Becoming A Wrestling Star
In many ways, wrestling was already in Dwayne Johnson's DNA. His father and grandfather had been in the wrestling world, and, as a tribute to them, Johnson adapted both their stage names. Johnson later adopted the name 'The Rock', eventually growing to become a favorite amongst wrestlers, and one of the best of his time. Most notable during his time as a wrestler was the feud he kept going with Triple H, and the championships, most of which he won. In 2004, when he was 32, Johnson decided to take a bow. In a video explaining his reasons for retirement, Johnson said that he did so for two reasons; one, his contract had expired, and two, he felt like he had delivered. His time at the WWE was seven years long. Any avid follower of Johnson knows that the number seven is a significant number in his life. Johnson counted on that luck to help him navigate the next phase of his career: Hollywood. As is always with 'The Rock', he did revisit his WWE past in 2012 after attaining a decent level of success.
Transitioning To Hollywood
When he made the decision to pursue acting, Johnson did not set out to just be a good actor, he wanted to be great. " I knew, going in, the cards were stacked against me," Johnson said during a past interview. " There's a shelf-life to a career if I just want it to get by on popularity. I didn't want to be in that position. I wanted longevity." Since his retirement from wrestling, Johnson has bagged roles in a ton of movies, including The Game Plan, Tooth Fairy, Hercules, Jumanji, Jungle Cruise and his most unlikely one, true to Peter Berg's prophesy, Moana. According to Forbes, on a good day, Johnson commands a cheque of up to $20 million for his appearance in a movie. With his millions of followers on Instagram (256 million as of November 2021), Johnson is said to fetch figures somewhere in the neighborhood of $1million for social media posts. Johnson is the fifth most followed person on the platform, and places behind Lionel Messi.
Starting A Production Company
Actors in their prime are known to always extend their craft beyond the camera. Tracee Ellis Ross, for instance, took to directing some episodes of the hit show, Black-ish. The same goes for Angelina Jolie, who, prior to making an acting comeback, was heavy on directing behind-the-scenes. Given his level of success, it only made sense that Johnson takes the leap. A bigger leap meant an even bigger paycheck. In 2012, Dwayne Johnson and his ex-wife Dany Garcia co-founded Seven Bucks Productions. The company's name is an ode to Johnson's one-of-a-kind underdog story about having only seven dollars left in his wallet when he was in his most broke phase of life.
Seven Bucks Productions is responsible for works such as Jumanji: Welcome to the Jungle, Fast & Furious Presents: Hobbs & Shaw, Fighting with My Family, and is set to release Red Notice, in addition to having other works lined up. To say that Johnson surpassed his wildest dreams is an understatement. He is the gift that keeps on giving, both as an actor and as a businessman. Looking back, the seven bucks Johnson had in his wallet prove that, with a dream, a stellar work ethic, and the ability to be open to change, anyone can make it to the top of the chain, and stay there.
Tell us what's wrong with this post? How could we improve it? :)
Let us improve this post!