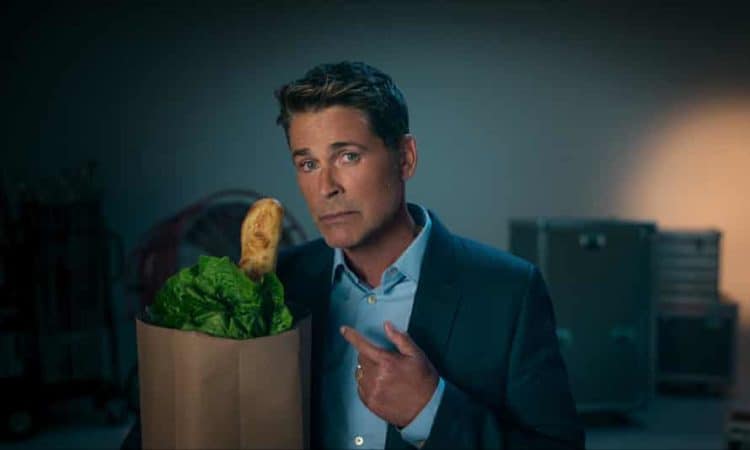 "Attack of the Hollywood Clichés!" is a current Netflix special that hilariously roasts some of the biggest clichés in movies. From the guy who loves to challenge authority and is always eating an apple, to the jump scare to the women who always run away from danger in heels, it's all in there. Host Rob Lowe (come on, he's perfect for this!) guides us through all the great clichés. It's a fun ride, and you'll find yourself nodding along and laughing in recognition at all the classic tropes that come up in film after film. You'll also find yourself thinking about some of the less humorous clichés, like the "White Savior" the "Magical Negro" and the "Smurfette Principle" – the idea that women in movies are often just there to serve and admire the men. Even the "Meet Cute" makes you pause when you realize that in real-life, engineering a way to meet a cute girl could actually come off as stalkerish. The "Bury Your Gays" segment notes that 40% of gay characters who earn people Oscar nominations are dead before the end of the movie. It's a fascinating hour of TV. But here are five things you may not have known about the movie or its host.
1. Rob Lowe has a book and it's pretty great
Actually, he has several. One is an autobiography called "Stories I Only Tell My Friends," which is funny because is he old enough to have an actual autobiography? Anyway, it's great. My book club read it right after we read Jane Eyre and I'm not even making that up. He tells stories of his upbringing in Hollywood, and he's self-aware enough to know that he sounds kinda pompous (just like in the Netflix special)…but he can't always help himself. He falls into a role in "The Outsiders," apparently because everyone in his neighborhood is in it. He talks about his Brat Pack years. Even if you don't know teenage Rob Lowe from movies, it's a fun read.
2. The show's producer is the guy behind Black Mirror
Producer Charlie Brooker is a British humorist who created "Black Mirror" and hosted shows in the UK. He also produced the Netflix mockumentary "Death to 2020" at the end of last year. That special is also chock-full of stars, and is good fun to watch after you watch this funny special. Charlie Brooker also says he didn't graduate college because he wrote his dissertation on video games, which wasn't considered an acceptable topic. He seems to be muddling along ok without the degree, though.
3. The show covers 30 clichés in just 60 minutes
Some of those clichés, like the spit take and the jump scare, don't require a whole lot of time to explain. Other segments are longer and feature interviews with actors, directors, or comedians talking about why it's always stormy out when characters are getting frisky, or why screams in several different movies sound similar (yeah, they're all the same scream).
4. The next Black Widow is in it
Florence Pugh, who plays Yelena Belova in the "Black Widow" movie alongside Scarlett Johansson, is interviewed for the special. Florence was nominated for an Academy Award and a BAFTA for her (decidedly non-clichéd) performance as Amy March in "Little Women." She suffered from tracheomalacia when she was little, and had a tube in her trachea to help her breathe properly. This led to her unique, slightly raspy voice now.
5. There are over two dozen other people interviewed for the show
Robert Englund ("Freddy" in "Nightmare on Elm Street"), Andie Macdowell, Andrew Garfield, film critic James King, Jess Cagle, comedian Sanjeev Bhaskar, and so many more Hollywood directors, film critics, stuntmen, actors, and others who work on movies are in the show. It's a whole lot of fun. If you want to watch a few movies that satirize the art of making movies, try these after you watch "Attack of the Hollywood Clichés!"
The Player: A 1980s Robert Altman movie that completely skewers movie studios for sacrificing creativity for profit. It stars Tim Robbins as a morally bankrupt movie producer and it's darkly funny but also kinda depressing…as many satires are.
Ed Wood: This is actually a loving, optimistic movie about a guy generally known as the worst filmmaker of all time. It would be easy to make a movie poking fun at him, but this one is heartfelt and ultimately very sweet.
Singin' in the Rain: It's impossible not to love this movie, but it also takes on the smoke-and-mirrors that Hollywood can employ to make their actors stars. When movies go from silent films to "talkies," the studio has a problem. Their leading lady doesn't have a Hollywood-ready voice. What follows is plenty of singing, dancing, and shenanigans and, of course, a happy ending.
"Attack of the Hollywood Clichés!" is rated TV-MA and has swearing, nudity, and violence in some of the film clips they use.
Tell us what's wrong with this post? How could we improve it? :)
Let us improve this post!