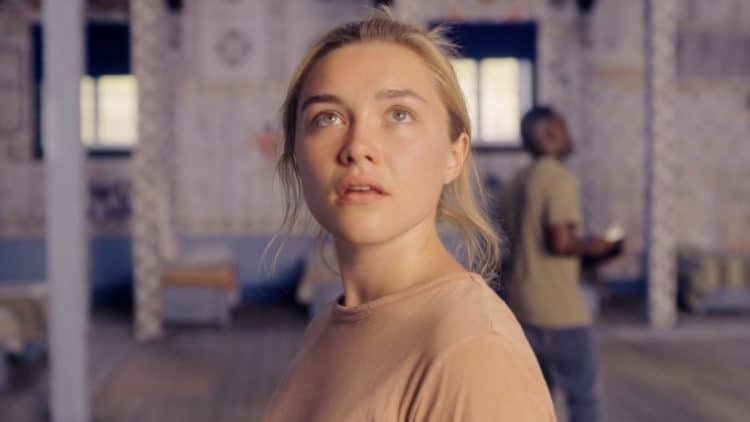 Unless you know Florence Pugh by name it's likely that you'd have to think of where you've seen her recently to know who she is. To be honest she's been tearing it up in a good way when it comes to her career since she's managed to star in some fairly big features, a couple that have been bigger than others considering that they've helped to elevate her career in a big way. Since her debut in The Falling she's been climbing without stopping towards the place she's at now, which is poised to send her even higher as she continues to climb the ranks. Her acting ability is pretty solid and while it could continue to evolve it's been absolutely brilliant for the roles she's played. As she gains a few more years of experience and knowledge it's likely that she'll get even better and possibly become a leading woman more often as her career continues.
Here are a few things about Florence you might not have known.
10. She's a talented musician.
She writes her own music, plays the guitar, and the piano, so it's fair to say that she's pretty talented and is able to rely on something other than just her acting to get noticed. In all honest it's kind of wise to have some other skill in show business just as a rule.
9. In case you were wondering she played the part of Paige in Fighting With My Family.
The movie kind of came and went in the theaters but while it was there it was something great since even the actual person that the movie was based on happened to like it and admitted that Florence did a great job. Obviously some things were changed around a few moments were altered for the movie, but it was still very impressive.
8. It sounds as though she's going to be starring in the Black Widow movie.
So far it would seem as though Jessica Rawden of Cinema Blend and many others are thinking that Florence might be cast as the rival of Scarlett Johansson's character, which would be insanely cool as a lot of fans believe. In any case she's in the movie, and if the rumors are well founded then it might be an interesting flick.
7. She's known she wanted to perform for a long time.
Florence has known what she wanted to do for years now and began as a young girl doing her best on stage and succeeding more often than not as she had the kind of drive that allowed her to go far in a short amount of time. Given how old she is now she's on the right path to becoming a legend if she keeps at it.
6. Florence does have a substantial presence on social media.
She doesn't have the most followers of anyone but it's fair to say that the number of followers she does have could grow exponentially when she hits the MCU and squares off with the Black Widow, if that is her fate. If it is then just imagine that a lot of people are going to be signing on to look at her account in order to lend their support for her role.
5. She's acted alongside Game of Thrones star Maisie Williams.
In all honesty she's been able to act alongside some of the greatest up and coming stars of her time as well as several that have already been firmly established in show business years before. After all she got to work with Dwayne Johnson, Vince Vaughn, and several WWE wrestlers in one movie.
4. Florence is in her early 20s at this time.
Like so many that are around this age or younger she has all the time in the world it would seem to make something special happen with her career and given that she's already done so much there's not a lot to say when it comes to whether or not it could happen. It's going to take a lot of work and a lot of effort but so far it seems that she's more than willing to make it happen.
3. Thus far she's kept her private life on the down low.
I can't help but clap my hands at this since the paparazzi are given enough dirt on so many actors that it becomes tiresome to think that their dirty laundry is what passes for news. Thankfully more folks are starting to keep their love life on the down low.
2. At this time her net worth is fairly low.
She hasn't really broken the $100,000 mark yet, which is odd considering how good she's been, but perhaps coming to the MCU even if for just one film will help her out and cause her net worth to climb.
1. She has her own YouTube channel where she's uploaded her music.
So far she's done quite well with her music and is rather pleasing to listen to.
Just watch, she's on her way up.
Tell us what's wrong with this post? How could we improve it? :)
Let us improve this post!