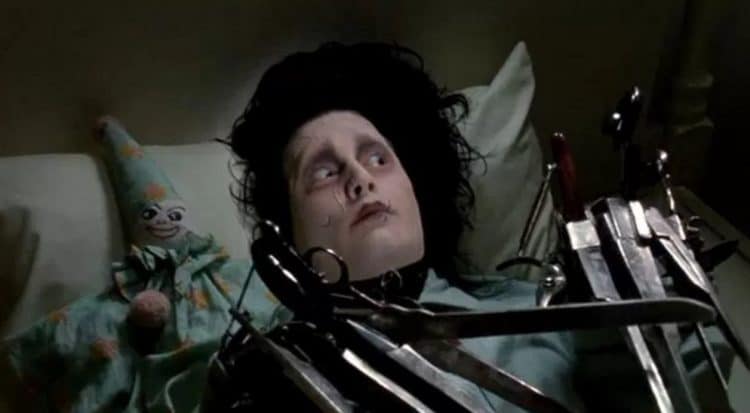 As Brian B. of MovieWeb would likely agree there are a lot of fans that would jump at the chance to walk around the set where Edward Scissorhands was filmed and would probably be all too excited to walk through the various areas that helped to make the movie what it was. It's hard to believe but there are those that might need a refresher course on just who Edward Scissorhands is, but seeing as how he belonged to another generation it's at least a little understandable that some people might have never heard of him save in passing. As one of Tim Burton's most noted creations he's definitely a nightmarish character in appearance who turned out to be as gentle and docile as anyone could be when people got to know him. The propensity for violence was something that he had to learn as throughout much of the movie Edward was not unlike a scared child that required a ton of guidance in order to allow him to get through one day and then the next. His story is one that's unbearably tragic in many ways since in a way it's kind of like a kinder, gentler version of Frankenstein, with much more lethal implications given the form he was crafted into and the very deadly lean that the story could have taken.
In any case, the story goes that Edward was the artificial creation of a very rich and imaginative man, who for some reason gave him razor sharp blades for hands, but had every intention of giving him real, workable hands of his own design. The only trouble was that the man, played by none other than the one and only Vincent Price, passed away before he could complete the job. From that point on Edward lived alone and in seclusion, and his creator's home fell into disrepair. When he was taken in by the Boggs family however he became the new oddity in the neighborhood as many people found him to be a curiosity while the Boggs, apart from Kim, the family attempts to get to know him and help Edward to assimilate into suburban life. Things go pretty well until Edward is accused of trying to seduce one of the neighborhood women that was attempting to seduce him as the story really goes, and from there it just kind of heads downhill as the suspicion and fear begin to turn inward and Edward is seen as more of freak than anything, and a danger to the community. Kim's boyfriend is particularly adamant about labeling Edward as a freak and is in part responsible for the mob that eventually makes their way to the mansion where Edward came from, where he eventually retreats to when he becomes shunned by the majority of the neighborhood, save for the Boggs family. Once he and the boyfriend have it out the boyfriend is killed and Kim does what she can to convince the rest of the neighborhood that Edward was killed as well.
The story is one of intense tragedy but it also had a decent ending as Kim, now and old woman, tells the story of her family took Edward in, she finishes with the thought that before they'd met Edward, it barely ever snowed in their town, but ever since he'd come into their lives the snow had come during the holidays. The snow of course came from Edward shaving away at blocks of ice as he continuously created one sculpture after another, sharing his love of creating wondrous works of art with others and bringing to the community a sense of wonder and change that wasn't initially welcome but came to be something positive all the same. Being able to walk through the sets where this slightly macabre movie took place might be kind of fun really since it would remind a lot of people about the movie to begin with and might even jog their memories as to why it was so great in the first place. With On Set Cinemas offering to take viewers through the very sets that helped to make some of their favorite movies come to life it's not much of a wonder why people would want to partake of this experience just for the fun of it since nostalgia is such a big thing these days and people love reliving the past in various ways. It's a wonder as to whether the mansion was included in this tour since it doesn't get mentioned, but one would hope to see the place where Edward was created and eventually returned to at the end of the movie.
All in all this sounds like an interesting and fun idea for those that happened to like the movie and might want to experience it for themselves. Mike Sprague of Joblo has a little more information that might prove useful.