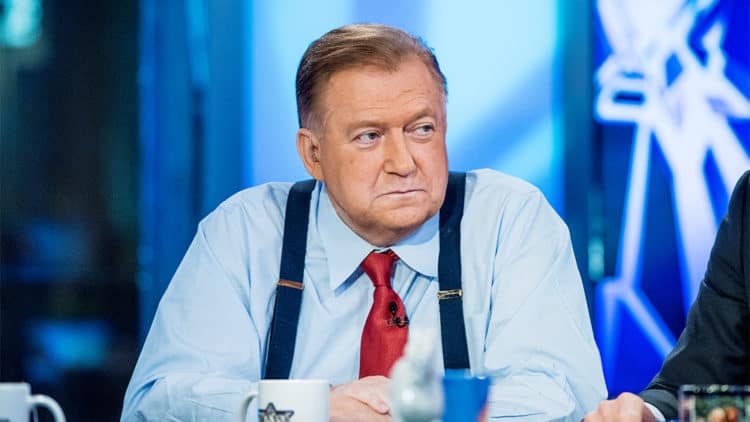 Bob Beckel is the co-host of the Fox News Channel's primetime program called "The Five." He was also a political commentator on CNN. The journalist has a long and impressive career. He's gathered some fans and some who don't care for his style of reporting and discussing current events. After being with Fox News since 2000, he was fired because of a comment that was considered to be offensive. If you're not familiar with him, here are ten things about Bob Beckel that you didn't know.
1. The Fox News Network fired him after 17 years
Beckel had been with Fox News for 17 years when a complaint was filed against him. An African-American employee alleged that Beckel had made an insensitive remark. It was reported to the HR department. After an investigation of the complaint, it was determined that there was enough evidence to let him go. He's not the first television personality to lose their job for making such a comment and he won't be the last. Just recently, Megyn Kelly was let go for also making an insensitive remark. The details of what he said were not shared.
2. He campaigned for Walter Mondale
Most people don't remember, but when Democrat Walter Mondale ran for president of the United States, Bob Beckel was his campaign manager. He has been a political consultant for many years and this has been his strong suit throughout his career.
3. He parted ways with Fox in 2015
Beckel had to leave Fox for a period of time after he had surgery on his back. He took time off to recuperate. According to Fox, the network had tried to work with Bob, but the show had to go on and his personal issues were not justification for holding it up. The executive vice-president of the network claimed that Beckel had taken advantage of the network's extension of understanding and they came to the point that they could no longer work with him and his personal issues.
4. He had a drinking problem while he was working with CNN
Bob Beckel shared publicly that at one point in his life, he had a serious drinking problem. He pointed out that it was so bad he considered it to be a miracle that he wasn't dead. he went further to say that he "should've been gon a long time ago." Most of Beckel's fans didn't realize that this was a problem as he did a great job when he was on the air. This just goes to show you that you never know what goes on in a person's private life. He said that he had had multiple brushes with death because of his drinking. He was involved in two car wrecks in which he was the sole survivor. He's also been stabbed and shot.
5. Fox signed a separation agreement and were not supposed to share the details
Beckel gave an interview after his firing from Fox Network News. When asked what they were talking about when they said he was fired for making an insensitive comment, Beckel claimed to not know. He said that the network had agreed to not say anything that would be negative. According to Beckel, it was one of the executives that had shared confidential information. Fox News denied allegations of wrongdoing or violation of the terms of the agreement with Beckel.
6. He worked at the White House under Jimmy Carter
Bob Beckel was the youngest deputy assistant secretary of state. He worked in this capacity under the Carter administration. He helped to get an important bill passed by talking to a senator who had a pivotal vote. The two came to an agreement over drinks and looking at women in a bar.
7. He turned to Christ
While at Fox News Bob was struggling to gain control of his life. An associate talked to him about his faith but didn't push it on Bob. Beckel decided that it was time for him to make some changes in his life. He became a Christian and stopped drinking alcohol.
8. He's done interventions for others
After becoming sober himself, Bob Beckel did what he could to help others. He participated in interventions. He shared how difficult it was to help people who were still in denial that they had a problem.
9. His faith helped him maintain sobriety
Beckel was asked if he still had the urge to drink. He shared that the urge was gone. Part of the reason why his desire to drink is gone is that of his involvement with interventions. He has to see what it's like to deal with a problem drinker while he's sober. He shared that these people can be impossible to deal with. It's a type of aversion therapy.
10. Beckel got involved with AA
Beckel knew that he needed extra help to get on the wagon and stay there. He began attending AA meetings. He started working with alcoholics while involved with the group. He believed that since he was still alive after so many brushes with death, that God must have wanted to keep him around for some reason.