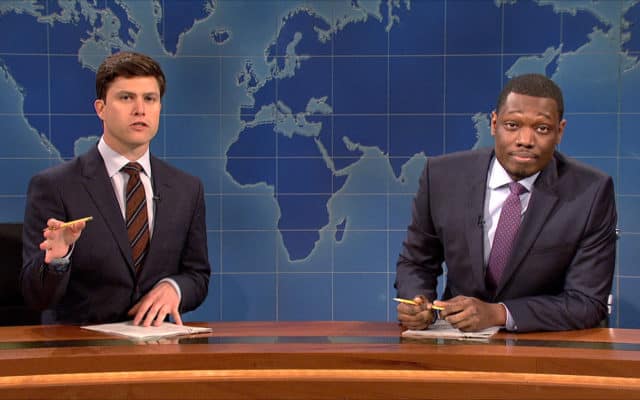 Saturday Night Live is still around, and it might actually be getting stronger with age. The sketch comedy show that features stars Colin Jost, Michael Che, Kenan Thompson, and Kate McKinnon in various weekly comedic rumpuses is getting some laughs behind the scenes also. According to data sources, ad prices for the NBC show have soared in the last season. In the most basic sense, this only means that more people are tuning in.
43 seasons later, SNL ad spots are still in demand. A 30-second spot has been reported to go for a minimum of $100k up to a maximum of $300k. Average for the upfront sales last season was roughly $180k, while in the scatter market, it's been reported that NBC has been selling spots for up to $230k. In comparison to other shows and to give it all just a bit of perspective, an ad package in AMC's The Walking Dead can go for more than $400k, while ABC's Modern Family has sold 30-second spots for a minimum of $200k.
You can say that SNL is doing well these days, but this has not always been the case in the past decade. We're well aware of this, and we're pretty sure everyone can guess why the sudden resurgence of viewership. The decades-old show is currently capitalizing on the Trump administration through satirical sketches. The show has also done a fair share of restructuring in order to lure in more viewers. Part of that restructure is a move to allow viewers from the West Coast to see the show at the same time people in the East Coast would. For decades, SNL viewers in the West Coast have had to tune in at 11:30pm PST just to catch their favorite comedians. Nowadays, with on-demand and various digital channels, fans can watch sketches without having to stay up so late.
The network also eliminated up to 30% of SNL's commercial loads. This gave viewers more time for more quality content, something that this generation of viewers is looking forward to. Many people refuse to watch network TV to begin with because of commercials. Cutting down the load is a smart move for the network, giving more viewers what they want to see. With more viewers, the network can then justify for higher ad prices.
It's a huge and bold move for the network, but we get how they're raising prices now. Nothing lasts forever, after all, and the Trump comedy will eventually phase out just like other things. When that happens, viewership for SNL will probably go back to normal unless they find a way to keep viewers happy and laughing. The Trump administration is probably the biggest thing SNL has had the opportunity to exploit in a while, and we're sure they'll milk it for all that it's worth. For now, NBC should enjoy that momentary laughter while they can. Soon enough, advertisers will have their turn laughing as ad prices go back down to the usual $90k per spot.
Tell us what's wrong with this post? How could we improve it? :)
Let us improve this post!