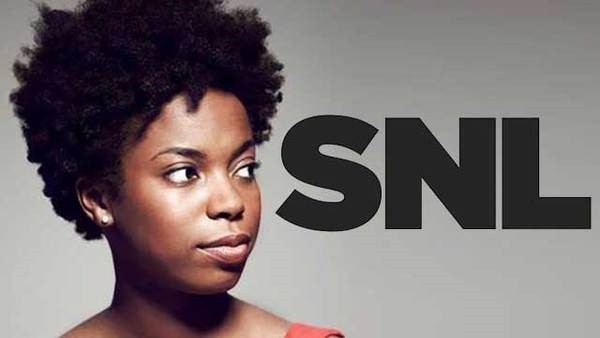 In a weekend that saw two beloved SNL members departing the show, we now have news of a third in Sasheer Zamata. Most of the news went to the fact that Bobby Moynihan and Vanessa Bayer would be leaving the show. However, just recently we found out that Zamata, 31, will be leaving the show as well. Zamata joined the cast of SNL during its 38th season in 2014, at a time when the show was being criticized for its lack of diversity. Since then, she has been known for her impersonations of Rihanna, Michelle Obama as well as Beyonce and Solange Knowles among others. Many SNL fans are wondering why Sasheer Zamata wasn't included in the farewell sketch and why she didn't get a goodbye of her own. There's more to it than that. As /film mentions,
Not every cast member gets a big, flashy send-off from the show. Jay Pharoah and Taran Killam were both cast members who made a splash on Saturday Night Live, each with their own recurring characters and signature impressions, but they weren't given what most would consider a proper goodbyefrom the show. Instead, their departure was reported late last fall, just before the 42nd season of SNL came around.
Plus, let's not forget how Kristen Wiig got a huge send-off from SNL in the spring of 2012 in the same season that also saw Jason Sudeikis and Andy Samberg leave the show, each without getting a goodbye of their own, despite their major contributions to the show's roster of characters and sketches. So this isn't some slight against Sasheer Zamata, no matter how many people will frame it that way. It's just how things happen at Saturday Night Live sometimes.
But here's my problem. While we still don't know the 100% truth to why Zamata is gone from the show, wouldn't this have been a perfect chance for her to showcase her talents more? I always felt that Zamata wasn't a particularly noticeable member of the case. Maybe it's because she wasn't featured enough? Most SNL cast members leave but after only a few season seems premature to me. If she's going after a movie career I think she should have stuck with the show longer. Just my two cents. Moynihan already had a sitcom lined up and Bayer's been in a number of shows and movies already.
Tell us what's wrong with this post? How could we improve it? :)
Let us improve this post!