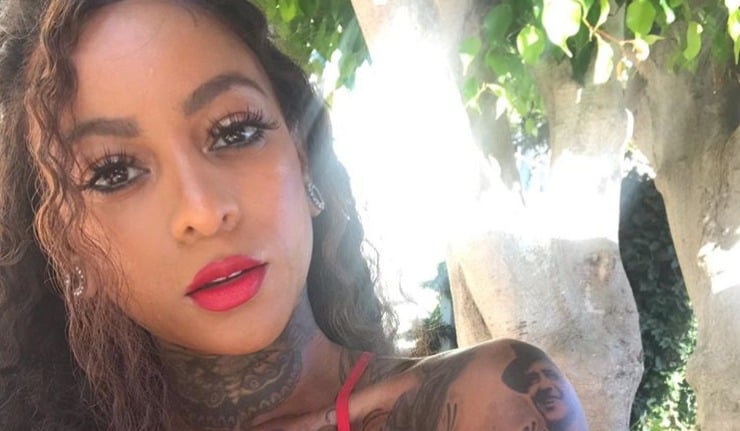 Vudu Dahl is one of tattoos' rising stars. You can find her on Black Ink: Compton, where she's working hard to make a name for herself as an artist. She shows off her unique, fun, and gorgeous style in every episode. However, there's more to this woman than a lovely face, fantastic body, and some ink. We got curious about this Vudu Dahl and decided to see what else she's done. Here are ten things you didn't know about Vudu Dahl.
1. Painter
When it comes to artistic talent, this is one woman who has more than her fair share. Of course, what many people call pure talent is actually the result of years of hard work. Painters and other artists don't get from the crayon doodles we all do in school to outstanding professional art by accident. Before she became a tattoo artist Vudu painted. She'd like to have more time to spend on her paint and dreams of doing a gallery show to display her art.
2. Cult History
Many people come from intriguing backgrounds, but few share the sort of early experiences Vudu has had. She recently started sharing the details of her youth as a member of an extremist cult. Apparently, the artist was raised by a father who leads his own cult. She managed to break free from that life, but it wasn't easy. The final straw for Vudu was when he tried to match her with a man of his choosing. If that sounds a lot like a forced arranged marriage, it's because that's exactly what it was. We have a lot of admiration for anyone who breaks away from an abusive life and works to be themselves, but Vudu's story is exceptional.
3. Arrested With Barbie
On a recent trip, both Barbie and Vudu had their stuff locked inside an RV owned by a friend. The footage of the event doesn't tell the whole story. We're not sure why their 'friends' were keeping them from their belongings. The ladies lost it a bit and broke a window to get inside after repeated requests to have their property returned. Unfortunately, even with your stuff inside, breaking someone else's stuff is still called vandalism. Barbie called the police, which was the right move when someone takes your stuff, but because of the vandalism, it was Barbie and Vudu who ended up getting cuffed and taken in.
4. Pansexual
Growing up in a cult can't have been easy for Vudu. She missed out on a lot of the ordinary experiences her coworkers and friends have had. More importantly, she was repressed and forced to conform to a life that never fit this out-of-box thinker. Vudu Dahl opened up about her sexuality. She identifies as a pansexual and says she doesn't let her gender or society define who she's attracted to. Vudu believes it's not the 'plumbing' that makes the person compatible, but the person they are inside.
5. Seattle to Compton
The idea of going to Compton was more than a little intimidating for Seattle born Vudu Dahl. Like most people, she had a certain preconceived image in her head of what Compton is, likely based on popular film and TV representations, and even music. However, like Vudu herself, Compton is more than it seems, and you can't judge a place or a person by what you heard they could be. As it turns out, she's enjoyed her time in Compton and found it was nothing like what she expected.
6. Fashion Designer
In addition to growing up in a cult, and being a painter, Vudu also started out with a very different plan for her life. She was going to design clothing. In fact, Vudu went to school for fashion design at the Art Institute of Seattle. We're glad she's found herself through tattoo, but we could also easily see her as a stunning fashion designer.
7. Alt Modeling
In addition to her tattoo career, Vudu is an alternative model. Tattooed models are extremely popular these days. You can find her art and some of Vudu's modeling shots on her Instagram feed. Some of them are NSFW, so consider yourself warned.
8. One of Thirteen
Plenty of us have siblings, but few have more than two or three. Vudu Dahl has thirteen siblings, but she's the one who left the family commune. Hopefully, she won't be the only one now that they have someone to look up to in a different way.
9. Advocate (LGBTQIA & Feminism)
If you're going to be famous, then you might as well use that exposure to rep some good causes. For Vudu, that means helping to increase awareness about LGBTQIA issues. She feels strongly that people like her, both black and queer, don't have enough folks to look up to, and she's happy to be out and proud where everyone can see it. Additionally, Vudu is a big proponent of feminism.
10. Frank Sinatra, Red Wine, Bioshock & Traveling
On her tattooed model page, Vudu talks briefly about her sources for inspiration. She loves to travel and drink red wine. Moreover, she also happens to be a classic music fan, specifically Sinatra. Ole Blue Eyes would be happy to know gorgeous young women still love him. On Facebook she also mentions that she's a fan of Bioshock. We have to give props to any woman with that much good taste in… everything.
Final Thoughts
Of all the new tattoo artists we're keeping an eye on Vudu Dahl is by far one of the most fascinating. We look forward to seeing her on every episode of Black Ink: Compton. Likewise, we'll enjoy watching both her art and her modeling career evolve over time. If you're in Compton and looking for some ink, you may want to drop in and see if she has time available for you today. What surprised you the most about Vudu? Let us know in the comments.