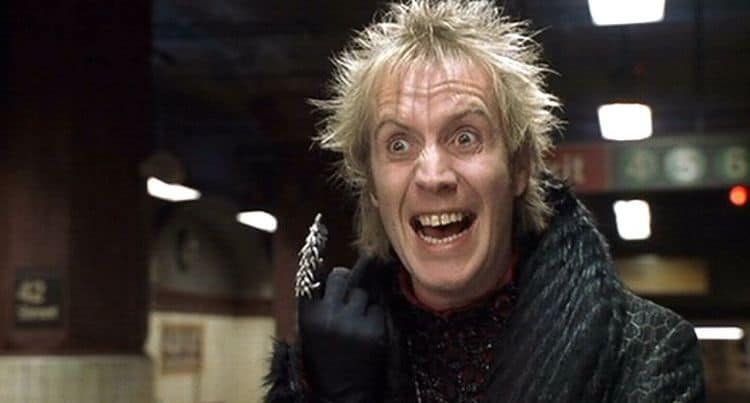 Some of his fans may find this hard to believe, but it's been over 30 years since Rhys Ifans made his first on screen appearance. When his career began, most people probably never imagined that an actor from a small country like Wales would go on to become an international star. That is exactly how things have panned out for Rhys though. His talent has been recognized all over the world and he's gotten to work with some big names along the way. Many people will recognize him for his role in films such as The Amazing Spider-Man andHarry Potter and the Deathly Hallows – Part 1. He has also had a successful TV career and has appeared in shows like Elementary. Continue reading to learn 10 things you didn't know about Rhys Ifans.
1. Welsh Is His First Language
Rhys was born and raised in a small town in Wales called Haverfordwest. He is fluent in English, but his first language was actually Welsh. For a period of time, he even attended a school where only Welsh was spoken. Rhys began his career in Welsh language projects.
2. He Is Also A Musician
Most people are familiar with Rhys for the work he's done as an actor, but he's also a musician. For a while he was the lead vocalist for a rock band called Super Furry Animals. He is currently the member of a band called The Peth (which translates to The Thing in English). In 2009, The Peth opened for the well-known British rock band, Oasis.
3. His Brother Is An Actor
Rhys isn't the only person in the Ifans family who has fallen in love with acting. His younger brother, Llŷr Ifans, is also a professional actor who has been working in the industry since the 90s. The two got the chance to work together in a 1997 movie called Twin Town. Llŷr's most recent on screen appearance was in 2019.
4. He Has Several Fan Pages
From what we can tell, Rhys doesn't have any verified social media accounts. That doesn't mean he isn't technically on social media, however. His fans have created pages in his honor where they post pictures and updates of what he has going on. They've even created a YouTube channel for him which currently has 4,500 subscribers.
5. He Studied At Guildhall School of Music and Drama
Rhys has put a lot of effort into making the most of his acting skills. He attended Guildhall School of Music and Drama on scholarship. He graduated in 1997. The school boasts a long list of other noteworthy alumni including Orlando Bloom, Daniel Craig, and Ewan McGregor.
6. He Is A Big Spider-Man Fan
Being cast in The Amazing Spider-Man was definitely a proud moment for Rhys. Not only was it a great opportunity for him as an actor, but it was a dream come true for him as a Spider-Man fan. Rhys has always been a fan of the superhero and collected the comic books as a child.
7. He Is A Private Person
If you're looking for a celebrity who is going to share their every move with the public, Rhys Ifans isn't your guy. Even after all of the years in the entertainment industry, he has always maintained a high level of privacy. In addition to not being on social media, he doesn't do a lot of interviews. Since we've all seen how poorly things can go when celebrities over share, it's easy to see why Rhys has decided to keep things to himself.
8. He Is An Atheist
Rhys religious beliefs aren't something he's discussed in great detail, but he did share that he is an atheist. During an interview with The Guardian he said, "When I was six or seven, an evangelical Sunday school teacher told me, "Don't smile, I don't like your smile." I remember feeling devastated and that fuelled my atheism."
9. He Loves Being Alone
Rhys' love for privacy doesn't just include his relationship with the public. It appears that his privacy is important to him even with people he knows on a personal level. Rhys enjoys spending time alone and told The Guardian that he has gone weeks without speaking to or seeing anyone.
10. He Likes To Swim
No matter how much you love your job, it's always important to have other hobbies and interests. When Rhys gets some time of work, swimming is one of his favorite ways to spend it. He loves swimming so much that he even purchased a wetsuit that allows him to swim in colder water.