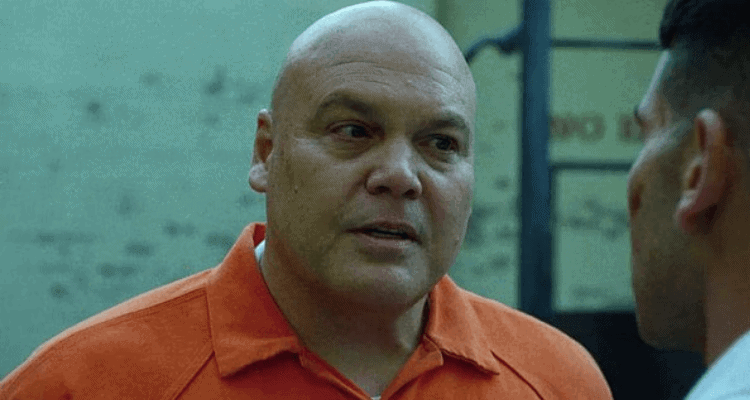 Vincent D'Onofrio is an American actor who is best known for his work in film and television. You might remember him from his role as Vic Hoskins in "Jurassic World" in 2015, and as Private Pyle in "Full Metal Jacket" in 1987. His career spans decades and he's appeared in supporting roles in many films and television series. D'Onofrio is a versatile professional in the entertainment business and we were impressed with the breadth and scope of his career. He does a lot behind the scenes that many fans are not aware of. To help you become better acquainted with him, here are 10 things you didn't know about Vincent D'Onofrio.
1. He's won multiple awards
D'Onofrio was honored with a Saturn award for his acting. In addition to this, he was nominated for an Emmy Award. In 2018 he was the winner of a Jay Award. His significant contributions to the television and film industry as a supporting actor have not gone unrecognized. You might remember him as his role as Edgar the Bug in the hit film "Men in Black" in 1997. This was the role that earned him multiple nominations and awards.
2. He's a Brooklyn native
Vincent D'Onofrio was born in Bensonhurst, Brooklyn to Gennaro and Phyllis D'Onfrio. He was born in Brooklyn, the third and youngest child, with two older sisters. After his parents divorced, Vincent was raised in Florida, Hawaii, and Colorado when he was young. His mother remarried and the family settled in Hialeah, Florida, where he spent his teen years.
3. Vincent became involved in entertainment as a teen
Vincent's dad ran several community theaters. This gave Vincent opportunities for work while he was a teenager. He became involved in set building and sound production working backstage. This was his first introduction to the entertainment world from behind the scenes. He continued to work with his father until graduating from high school, getting a good idea of what goes on behind the scenes of the theater.
4. He is a co-founder of a Film Festival
Vincent, his sister Elizabeth and his father Gene got together to establish a business together. They are the founders of the RiverRun International Film Festival, located in Winston-Salem, North Carolina. The trio accomplished this feat in 1998. The festival showcased the best films which were released from the international and independent industry, and also from students of filmmaking.
5. D'Onofrio is formally trained in theatre
In case you're wondering what it takes to land a role as Edgar the Bug, D'Onofrio has a lot of formal training under his belt. He studied at the Actors Studio as well as at the American Stanislavski Theatre. He didn't just show up and land a part in a play one day. He's devoted a lot of time and effort into learning his craft, and Vincent has earned a reputation for being one of the most versatile actors in the business today. He's played a variety of roles which shows that he's got tons of talent.
6. He's a stage actor too
D'Onofrio had his first paid part in an Off-Broadway production of "This Property Is Condemned." He worked as a stage actor in a variety of plays prior to making his Broadway debut in 1984, in the play "Open Admissions." which was followed by a variety of other roles on stage. Then his big break in film came when he landed a role in "Full Metal Jacket," which was released in 1987. From this point on he was a favorite in television and film for a variety of supporting roles.
7. Finances were tight at first
Vincent had to work to support himself when he was just starting out. He didn't make enough money as an actor prior to becoming well-known in the industry. He was a hard worker who always had something going. Before his acting career took off he worked several different jobs. He was a bouncer, a bodyguard, and a delivery man.
8. His acting portfolio is huge
Vincent D'Onofrio has appeared in numerous films so far throughout his career. He has also made appearances in five television series. Although he hasn't been an actor who has received much top billing the roles that he has played have been vital in providing the support necessary for the main characters. Whenever he appears in a film or television series he makes a definite contribution which cannot be denied.
9. He is a philanthropist
Vincent does what he can to support worthy causes. He cares about others and dedicates time to help raise funds that will help others who are in need. He and his sister Toni D'Onofrio worked together to host a series of events that raised funds for the Utah Meth Cops Project in 2008. Vincent was active as a spokesperson for the project between 2009 through 2012.
10. Vincent works to the point of exhaustion
No one can say that Vincent D'Onofrio is lazy. He is one of the hardest working actors in the business. It's not unusual for him to work a 14 hour day, such as the time when he was filming "Criminal Intent" along with the filming of a short film he produced. In November of 2004, he collapsed on the set of the show. While this was a serious indication that he was working too hard, he collapsed a second time within just a few days, at his home. He sought medical attention and was told by health care professionals that he had a diagnosis of exhaustion. He was not only managing a very busy career at the time, but he also had a family with responsibilities at home. He and his wife Carin had a 5-year-old son at the time.
Tell us what's wrong with this post? How could we improve it? :)
Let us improve this post!