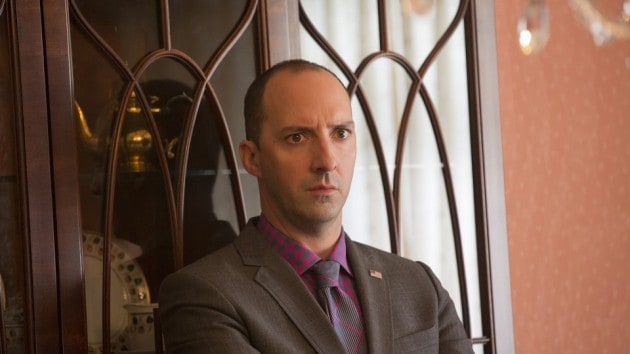 On the heels of the First Daughter's engagement, this week's Veep opens with Catherine rehearsing her speech/announcement in front of Selina's team. The poor girl, who has been the butt of the joke episode after episode, especially given how much the press dislikes her, is once again shredded to pieces by her own mother and her entourage. It is an almost impossible task not to grit one's teeth while witnessing how much of a puppet the First Daughter is, yet, Sarah Sutherland portrays her character with such artistry and comedic timing that laughter ensues. Yes, we laugh at her, as it's intended.
In parallel, just hours before Selina's official announcement for the presidential ticket will take place, Vice President Doyle decides to step out. He is still upset that the POTUS was polling other candidates, and after discovering that he now has ties to the data breach scandal, he has had enough. His decision is welcomed and timely, given that Selina's opposition has chosen a perfect campaign mate; additionally, Ben does fast preemptive damage control by letting the old man know that he should go out quietly unless he wants it to be made public that Teddy has been sexually harassing Jonah. Ends are tied so perfectly and arcs come full circle in such an effective way in the first minutes of the episode, that it was easy to anticipate that "Convention" was going to be an explosive installment.
With little time and half a ticket to fill, Danny Chung becomes the obvious option; however, after consulting with his wife, he declines the offer, which honestly, was slightly out of left field. The team regroups and take another look at every candidate they had vetted before, and as a result, there is a politician ping-pong taking place. While everyone is being helpful, weighing the pros and const that come with every potential candidate, the newest member of the team, Karen, proves to be a nightmare; she is half robot, half Stepford wife, and gets on everyone's nerves, except for Selina's.
With the clock ticking, Amy, who wants to murder Karen, does an excellent job at suggesting Tom James as VP candidate. She makes solid arguments, but Selina and Karen shut her down. It is then when the campaign manager (and the dynamo that Anna Chlumsky is) reminds us, the audience, and the president, that she takes no prisoners. Amy finally explodes and vents out the anger and frustration that she has been carrying. She is brutal and hilarious, but above all things, she is right: Selina has accomplished nothing, and there might never be another woman made president because of that. We have always known what Amy is made of (awesomeness), yet Selina has been neglecting her completely since she became commander-in-chief, and that has cost her one of her most valuable partners in crime.
After Amy's curtain call, Selina does start to notice that Karen can never conclusively give her opinion, which defeats the purpose since she should be an adviser. In an uh-huh moment, the president decides to ask Tom James (Hugh Laurie) to be her ticket mate and fires Karen. Speaking of Tom James, it comes as no surprise that Laurie kills it. The politician has such poise, and presence that it is hard to imagine how a clown like Chung was ever a conceivable option. Obviously, Amy was right. In addition, everyone seems to be enamored with the man, which gives the campaign a pretty outlook, yet I wonder if James may actually be too good of a running mate, since he seems to be far more presidential than Selina herself.
Intertwined with this story is a plot in which Dan needs to deliver for a new client who wants to meet with political animals on short notice. Being the deer in the headlights that he has become, the former White House employee summons Jonah and Richard to help him, and the three of them try to get Amy to assist. However, they reach out to Amy just as she resigns, which leaves Dan not as the deer in headlights anymore but as as the one hit by the car.
"Convention" was an extraordinary episode of Veep that more than made up for last week's underwhelming installment. Every single moving piece made the funny machine work smoothly, as the plot moved forward, ends were tied, and humor reigned supreme. Once again, Veep is a show that gives me "viewer pride" Sunday after Sunday.
Highlights:
– Gary making google eyes at Selina.
– Everything Amy. Anna Chlumsky was yet again Veep's MVP this week.
– Teddy getting fired.
[Photo via HBO]