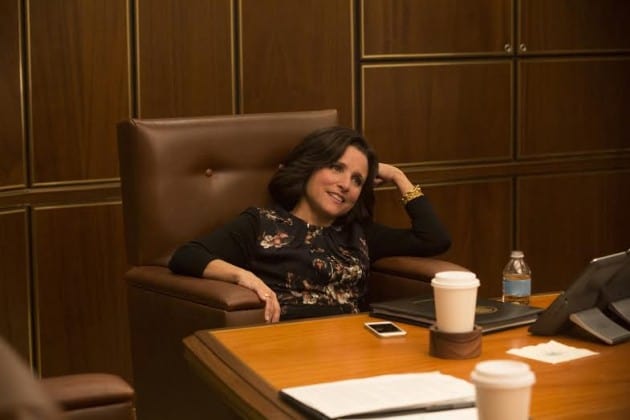 Veep is a show that has always exploited the concept of the vice president being a decorative figure, the "almost person" always fighting for the spotlight. In the current season, now that Selina is the interim POTUS, she has consistently tried to stop being eclipsed by former president Hughes, while she has also attempted to escape the mockery of being compared to the shortest-serving president, William Henry Harrison. However, "Tehran" has Selina touring the Middle East, and proudly proclaiming herself as the she-Nixon. But because Veep wouldn't be the show we love if everything went smoothly, her travels encounter more than one detour.
To begin with, Leon West, an American journalist, was detained in Iran, an event that the president and her team decide they should capitalize on. Therefore, they delay the West's release 24 hours in order to make his freedom coincide with Selina's end of the tour, which would not only credit and provide Selina with the credit his realize but also provide nice photo op. The problem with the plan is that Leon is a smart man and puts two and two together. As a result, he threatens the team with telling the reporters on board of the press plane that he was held longer than needed just for the sake of publicity. To stop him, Ben forces Leon to stay with them in the presidential aircraft. The whole situation plays out very well, and it seems very plausible. Veep perfectly articulates the push and pull between politicians and the media.
Meanwhile, on the heels of being fired as a result of the data breach in last week's episode, Dan is carefully following his former boss's endeavors, while he aware that he has become radioactive after being let go. That said, the former White House employee receives an offer to work as a lobbyist at PKM, a job that would take him out of political Siberia as long as he plays dirty, a condition he gladly accepts.
In addition, given that Selina's return to the U.S. takes an extra day, a series of events are put into motion. For starters, Vice President Doyle has to stand in for the POTUS at an event with a gay NBA star. Relying on the speech in front of him, the VP embarrasses himself in a pretty epic way, as the statement was written from a female perspective. In addition, Doyle does not know what the "Q" stands for in the acronym "LGBTQ" and aimlessly rambles about the letter. While that takes place, Jonah does his spy job and overhears Amy and Kent discussing critical information about Selina's presidential campaign. As it turns out, Kent has been polling possible running mates, which gets Amy upset, since once again, she has been blindsided.
On his part, Jonah tells Teddy that Kent has been vetting other candidates for the ticket, which leads the VP's right hand to sign off on an initiative to to leak to the press that he is unhappy with Selina. In Teddy's mind, that strategy would push Selina to redeem herself, which in other words, would give the VP & Co. a slight upper hand. As Selina greets Leon West on her plane, Mike is made privy that the story about Doyle is going to run, which, added to Leon's threat, could compromise the president's image even more.
While this is all happening, Dan does a TV spot as a political commentator, where he goes up against Amy. Then the duo decide to go for drinks, where Dan asks her for access to the White House. Though their shared scenes do not provide much information, nor do they thicken the plot, it seems as if the two could be about to rekindle whatever messy relationship they once had, which in all honesty, would be a fantastic disaster to watch.
Back at the White House, Kent and Bill question Jonah about Teddy's plan, and as far as it was shown, Doyle seems not to have a firm opinion regarding it (but that is IF he even knows about the plan). All in all, the man has been a presidential prop all along, which works very well given the dynamic of the show. Caged by questions, Jonah does not offer many explanations and instead brings up the sexual harassment he's been subjected to, while most everyone hears him. Without many options at hand, the unanimous decision among Team Meyer is to get Doyle involved in the data breach, which, granted, provides them with more than enough leverage to stop Teddy. However, the strategy is merely mentioned; the resolution is not boarded in any capacity.
All in all, "Tehran" was an enjoyable episode, but it was definitely a little overstuffed, making it the weakest episode so far of what's been an incredibly strong fourth season for Veep. In my opinion, Veep is at its best when a single issue is blown out of proportion, and the ripple effect is a bit more contained that in this installment, where even the resolution was left up in the air.
Highlights:
– Amidst the confusion and the two potential stories that threatened Selina, Mike and Gary are left stranded in Iran, where even the backup plane is out of order. As they need to get into the press plane, they bring copious amount of alcohol with them. That misadventure was one of my favorite parts of the episode. I wish they had explored it further.
– Catherine getting engaged.
– Amy's multiple freak outs and subsequent one-liners where the gift that kept on giving. Anna Chlumsky was the MVP throughout the episode.
[Photo credit: Patrick Harbron/HBO]